Best Hikes in Phoenix: Enjoy a Great Hiking Trip!
Currently ranked by the National Geographic as one of the best cities for hiking in America, Phoenix can be regarded as a mecca of hiking and many explorations. This great city of Phoenix has three remarkable mountain preserves where there exist many trail heads leading to more than 180 miles of notable and developed trails.
These trails are source of attraction for hardened trekkers and even, casual walkers. South Mountain encompasses the whole of the southern border. Camelback Mountain remains solitary and covers the Central Valley horizon. Piestewa Peak stays a series of mountains located on the northern side of Phoenix.
Inside the Phoenix city herself, there are uncountable numbers of preserves, green belts, and parks that are easily accessible for great hikes and casual walks. Are you interested in knowing some of the best hikes in Phoenix? If yes, read on!
Best Hiking Places in Phoenix
Listed below are some of the 10 best hiking places you need to know in Phoenix, these are arranged in no particular order.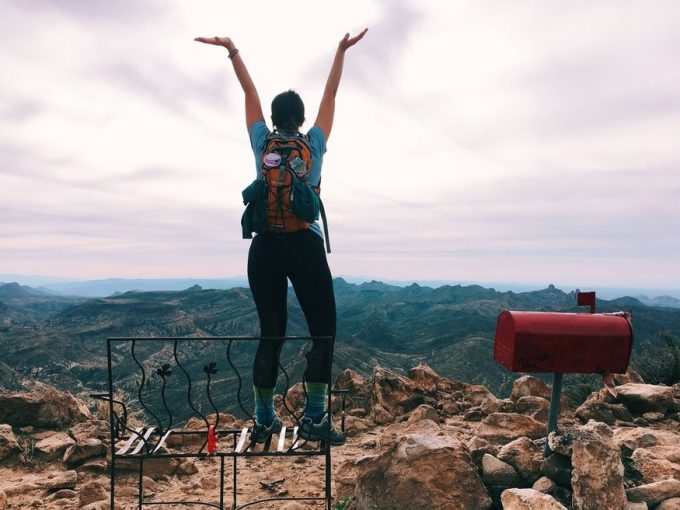 Piestewa Circumference – Freedom Trail
Average Time: 2 hours
Level of Difficulty: Moderate
Distance: 3.8 miles round trip
While Piestewa Peak is generally known for its ever-famous Summit Trail, the Piestewa Circumference Freedom Trail offers a more intensive look at and a closer involvement with the landscape of the desert. Wound around the bottom of the peak, this region holds a variety of desert flora you can ever find in the mountain preserve.
Some portion of this trail synchronizes with the Nature Trail, which offers educational plaques itemizing different flora. The trail starts at the north end of the trail park and will promptly take you over a dry, rocky spring bed, before joining with the Freedom Trail Loop. Since, this is a circumferential hike, you can take either direction.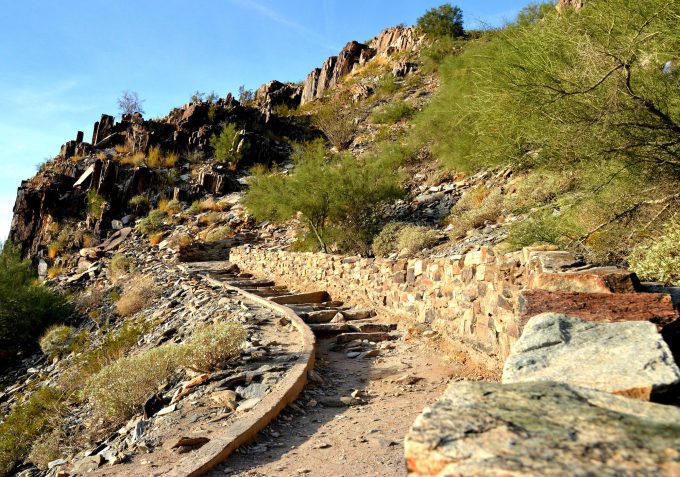 However, you should consider whether to choose a steep climb before you start a hike or go for a right at the intersection. Within Four miles in the preserve, there is some mellow rise picks up all through the hike that are ordinarily close to few memorial saddles.
These are decent chances to stop and take a proper look at the landscape: the peaks, the Phoenix horizon, and many other exciting desert landscapes.
Picketpost Mountain
Average Time: 3 to 4 hours
Level of Difficulty: Difficult
Distance: 4.3 miles round trip
With just 2,000 feet of rising, hiking in the Picketpost Mountain is one that will make you return for more. It provides you a brief trip on the Phoenix Trail before climbing a series of bent curves such that in a matter of one mile, it will make you look down toward the Valley ground floor from 2,800 feet away.
At this point, the trail gets somewhat specialized as we bend, leaning on the cliff walls and intersecting shaky edges before entering a very narrow valley. This area will test your strength and should be done with caution. Just stay focused and engaged.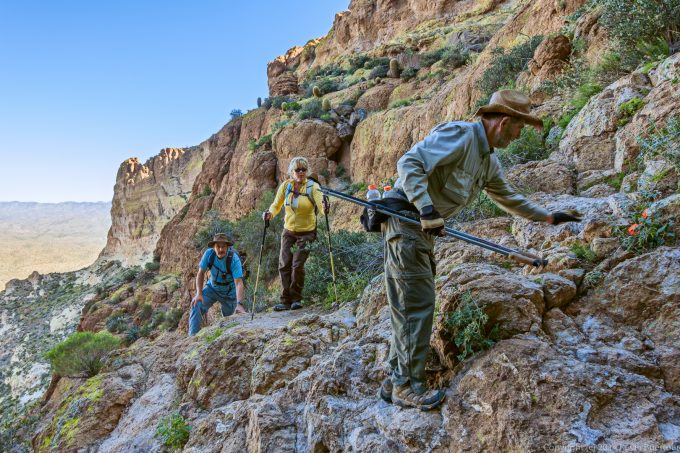 From the valley, the trail starts an upward series of bent curves and some fun stone bouncing to the upper plateau and lastly the summit. Make sure to stop a while and observe your surroundings as you climb. You will find the views amazing as you ascend.
When you reach 4,375 feet, you will find the panorama incredible, starting from the Superstition Mountains to the Four Peaks to the Weaver's Needle. During the day, you will have an extraordinary perspective of the Catalina Mountains which is located in the north of Tucson. To your surprise, there is a mailbox on top of the mountain? The Picketpost Mountain is one of a kind trail to enroll in without a doubt.
Tom's Thumb
Average Time: 3 hours
Level of Difficulty: Moderate
Distance: 4 miles round trip
Situated in the more isolated northern region of the McDowell Sonoran Preserve, you will find Tom's Thumb sitting at 140 feet and can be seen all through the East Valley and Scottsdale. Numerous hikers often call this local landmark "the dork" due to the amazing patriarch of the climbing scene.
Nevertheless, you do not have to be a climber to appreciate the sheer views of this bulging hiking scene. After climbing for a half-mile, you will reach a precarious series of bend curves. The perspectives are stunning and will help in keeping your mind off the work you are putting in.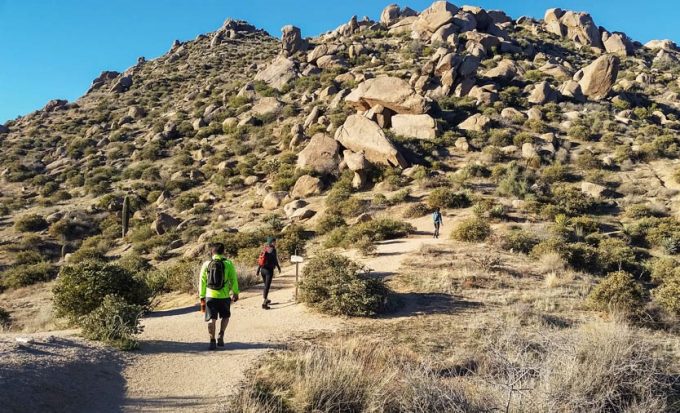 You can also anticipate for more stunning perspectives of Cave Creek Mountains, Four Peaks, and Bartlett Lake. At about one mile, you will be sitting at an amazing 3,680 feet. About a half-mile later making two miles, you will gain a saddle for another extraordinary perspective.
At that point, there remain just a half-mile to the ridgeline and an appropriate perspective of Tom's Thumb and its remarkable proportion.
Camelback Mountain's Echo Canyon Trail
Average Time: 2 hours
Level of Difficulty: Difficult
Distance: 2.3 miles round trip
Camelback Mountain should be a once in a lifetime hiking. Regardless of whether you are simply going to the Valley or living around here, Camelback Mountain hikes offer probably the most encompassing perspectives of Phoenix.
Situated in the heart of the city, this 1,264-foot climb is an extraordinary taste of the mountain tucked inside the suburban boundary, one that is certain to blow your mind in more courses than one. Throughout this hike, you will enjoy the areas of stair stepping and scrambling.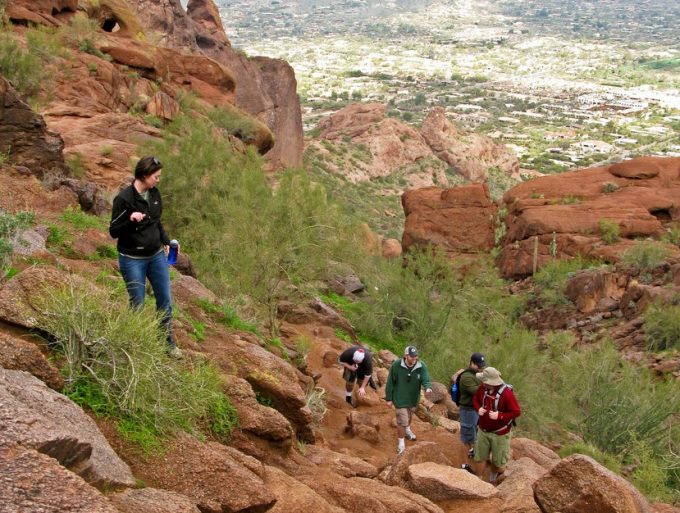 If you are a little bit nervous to climb, be rest assured that handrails have been set up for your help if necessary. At simply under a mile, you will see a false summit. While this may appear like a dreadful trick after the cardio you have been using, the main summit is some steps away from this, and you will soon be on the most remarkable top you can ever find in Phoenix.
Feel relaxed, catch your breath, and appreciate the sights of the amazing metro Phoenix right from South Mountain to Chase Field, Superstition Mountains, and Four Peaks. This is a completely remarkable way to see the beauty of the whole city.
Hieroglyphic Trail
Average Time: 1.5 hours
Level of Difficulty: Easy
Distance: 3 miles
This short climb offers awesome perspectives of the Grand Superstition Wilderness Area and in addition an ancient accumulation of Hohokam petroglyphs. Situated at the bottom of the Superstition Mountains, hiking on the hieroglyphic trail is ideal for families and even a beginner hiker.
The trail head shared something in common with the Lost Goldmine Trail, yet advance you up a little hill and you will discover two wooden sign post stamping where the trail divides. Move left and proceed towards the mountain. At about a half-mile of hiking, you will eventually see the Sombrero Butte, Camelback Mountain, and South Mountain.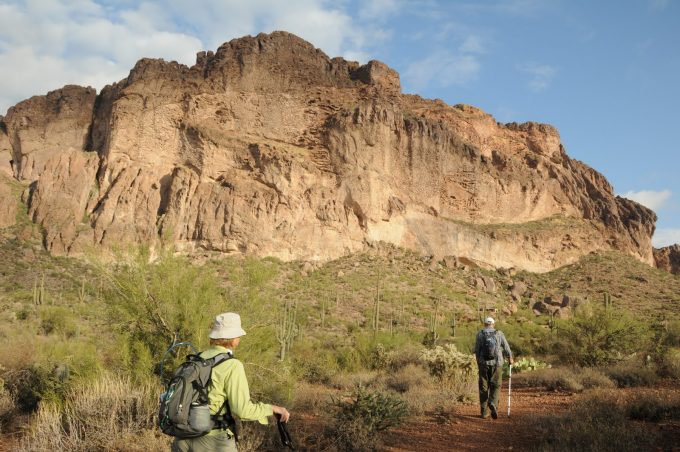 Proceed with another half-mile, and you will be entering the Hieroglyphic Canyon; move along this trail and at about five to nine minutes, you will get into an extensive rocky zone with scores of Hohokam petroglyphs and few small-scale pools of water. You might be wondering why this preserve was not given the name Petroglyphs Trail.
It appears that the early pilgrims and mine workers are to be blamed for the misconception. The Hohokams occupied the Central Arizona, roughly 800 years back, leaving a lot of petroglyphs behind that the early pioneers mixed up as Egyptian hieroglyphics. Hence, give rise to your Hieroglyphic Trail.
Mormon Trail to Hidden Valley Trail
Average Time: 2.5 hours
Level Of Difficulty: Moderate
Distance: 3.9 miles
Situated inside the biggest municipal park in the city of Phoenix, the Hidden Valley Trail of South Mountain gives you a chance to get away from the city with uncommon rock developments and two natural rock channel marking the end of this half-mile trail.
Quietness is always a common thing during this hike, as the city and its sounds look like they have vanished, abandoning you with dazzling rock formation and dry sandy washes. Now entering the Mormon Trailhead hike, the rising is prompt, because it is like half-a-mile to the saddle, where there is a fantastic perspective of downtown Phoenix.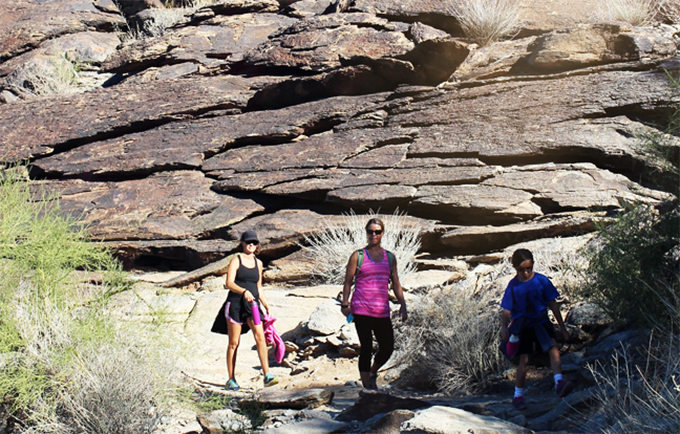 You will then hit a steep area of the trail from here, which will straighten out around the one-mile checkpoint. In a matter of minutes, you will come across the crossing point with Mormon Loop and you will need to go straight, remaining on the Mormon Trail throughout until the point that you run into the National Trail.
At this point, take a right and you will be going towards Fat Man's Pass leading to the Hidden Valley Trail. You are going to enjoy the view and exit through the other rock channel to go back through Mormon Trail.
Cave Creek Trail to Skunk Tank Loop
Average Time: 6 hours
Level of Difficulty: Moderate
Distance: 10 miles
Situated in the upper east of Phoenix within the Tonto National Forest, this particular trail features the riparian desert spring that is Cave Creek. This is more than a city; a real creek flowing through some region of Tonto National Forest, supporting a broad cluster of fauna and flora and not typically found in the desert.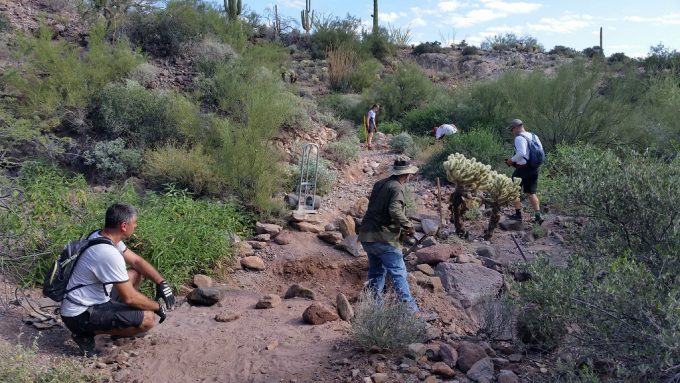 After entering this hike, you will probably overlook that you are right in the desert and some miles away from the city, all regards to the lavish vegetation and the sound coming from the streaming creek adjacent to you. This loop gives you an awesome day hiking adventure.
It starts with a quiet trek through shallow and short water intersections and underneath lavish shades of trees, before finally dropping into a limited canyon and sending you climbing along a lovely, rocky creek bed. At that point, the Skunk Tank Trail loop includes some cardio, with wonderful all-encompassing perspectives on moving hills and mountains that appear round.
It is not an awful result, and simply going over part of the way through the trail, the long bend curves have hoisted you to 3,665 feet. After just a mile, the trail makes a curve and meet up with the Quien Sabe Trail 250. This is the most elevated purpose of the hike at 4,075 feet.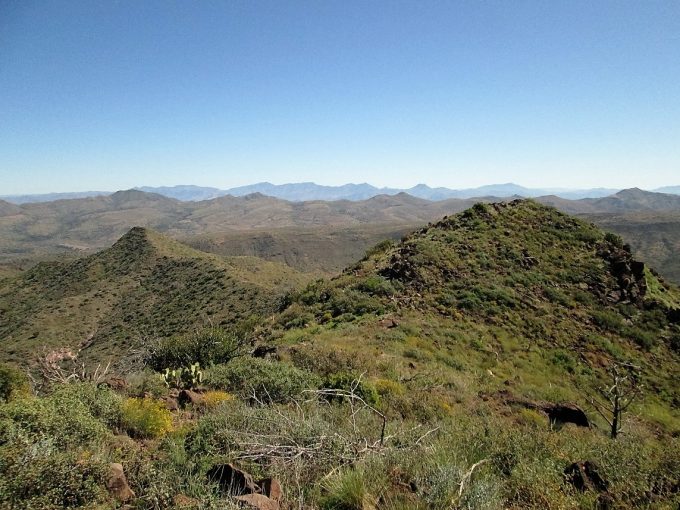 Proceed a little more, you will soon reach the Quien Sabe mine, and after, the old mine worker's camp. This is a decent place to stop by and appreciate a little history before finishing the two miles remaining.
Boyce Thompson Arboretum
Average Time: 2.5 hours
Level Of Difficulty: Easy
Distance: 3 miles
Situated at the floor level of Picketpost Mountain just close to Queen Creek, Boyce Thompson Arboretum is a headquarter for most of the desert plants throughout the world. This Arboretum hike is more than just a hike.
It is more or less an educational walk and an awesome chance to start perceiving what vegetation you have seen on the trails. For a starting hiker, what you will be amazed by what normally occurs in the Valley area you are trekking through.
Upon landing, you should desire to go through the Main Trail as it interfaces with the arboretum's remarkable elements and appealing routes. For an absolute taste of what you may experience on hikes close to Phoenix, ensure you hit up the Sonoran Desert Trail before going back to the Main Trail.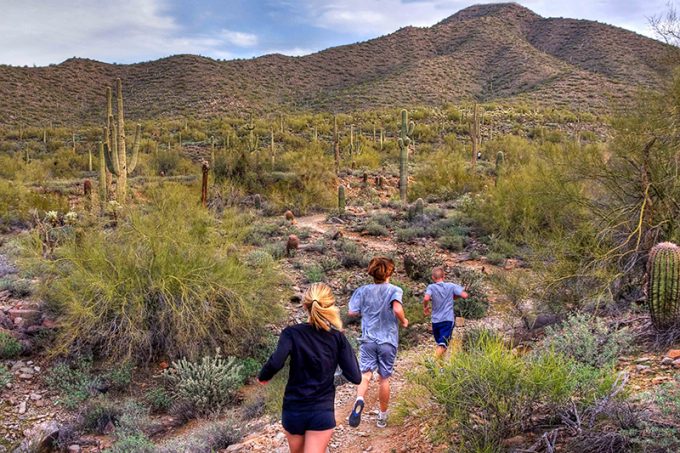 From that point, you will discover why you need to visit the Smith Interpretive Center and the Hummingbird Gardens, a memorable structure repurposed to hold two nurseries, displaying succulents and desert flora from around the globe. As you continue going on, you will soon arrive at Ayers Lake, a fabricated reservoir giving water to the whole grounds and serving as a flying creature asylum.
Past this, you will be hiking through a riparian territory, Eucalyptus Forest, an intuitive herb cultivations and a brush of palms. Your trip will be ended with a stroll over the Outback Bridge, finishing on the walkabout trail located along the Australian Desert Exhibit.
Peralta Trail to Freemont Saddle
Average Time: 3-4 hours
Level of Difficulty: Moderate
Distance: 4.9 miles
There is a considerable measure of mystery and history related to the Superstition Wilderness Area, bringing the early historians and hikers to the old mining grounds. Regardless of whether you believe the story or not, this trail is an extraordinary insight into the majesty and beauty of this amazing region.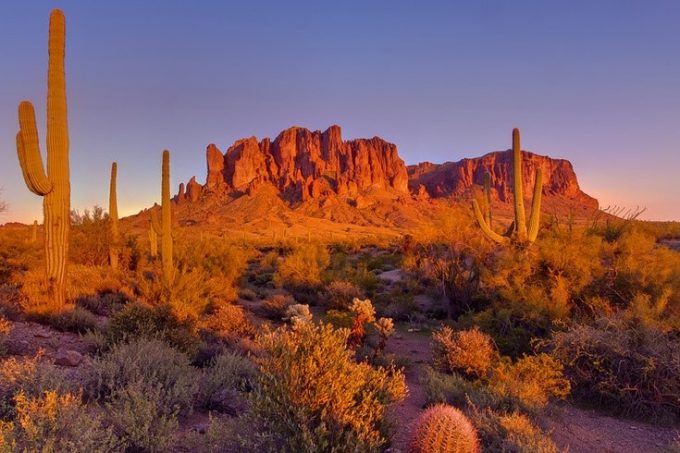 More so, it leads to one of the best perspectives of its popular landmark: the 1,220-feet-tall Weaver's Needle. Peralta Trail is named after a family from Sonora, Mexico, who mined the in this same region before an extraordinary slaughter, resulting in different stories of hauntings, lost maps, and gold.
It begins with a heading left to the trail head. At this point, you are going to appreciate the beauty of the gliding mountains that surround you before intersecting the Peralta Creek at the quarter-mile checkpoint, where you start your rising.
After a mile, you will reach a fork in the trail; keep going right and proceed through a series of bend curves upwards. At about a mile and a half, you will come across the Geronimo's Cave while looking over the canyon. The trail will cross the desert spring bed again before directing you upward and onto some brilliant colored volcanic region.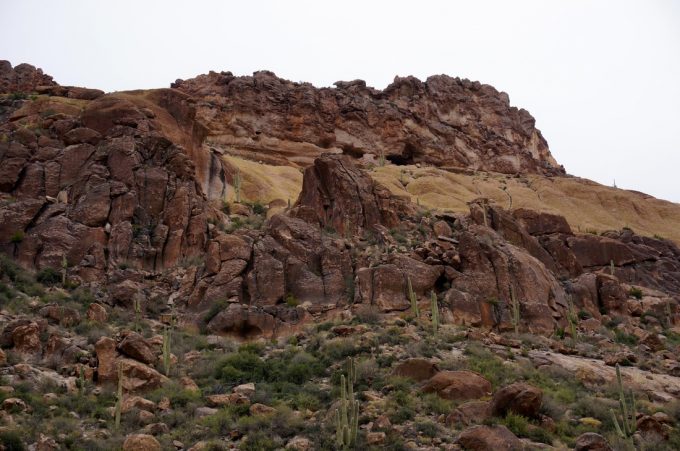 Thereafter, you will pass a cave entrance. At that point, it will be left with one-half mile Freemont Saddle for a stunning perspective of Weaver's Needle.
Reavis Falls
Average Time: 9 hours
Level of Difficulty: Difficult
Distance: 14 miles
Did you realize that there is a 140-foot waterfall just some minutes away from the city of Phoenix? Yes, the Reavis Falls is just 30 feet taller than the famous Niagara Falls. Located deep in the Superstition Wilderness, this fall is not for the swoon of heart, but rather it is unquestionably justified regardless of the effort.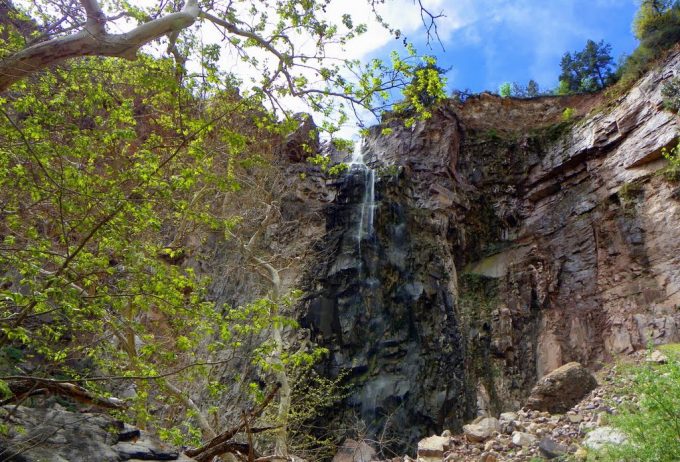 The condition of the waterfall fluctuates based on any last rainfall occurrence, so arrange in like manner. Start at Reavis Trailhead, with a wonderful perspective of Apache Lake, which is right behind you and an extraordinary visual upon your arrival.
From here, you will make a curve and move through Reavis Trail for a little more than two miles, gaining a saddle at around 4,000 feet. A snappy swing to look behind you yields an extraordinary perspective of Four Peaks. After a mile, you will start to see Castle Dome.
This is a precarious aspect of the trek arrival at a saddle at around 4,675 feet. In a matter of one mile, the trail starts to slip. The descent is around 1,625 feet. And, recall that this will be a jump while going out. At about six miles, you will get to Reavis Creek and trace it upstream, where you will traverse the creek a few times.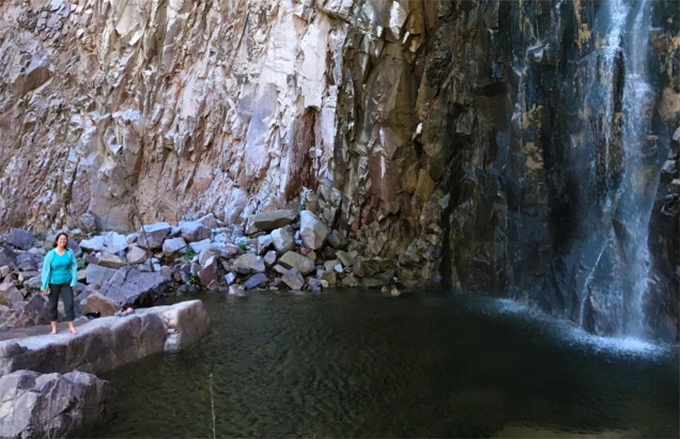 This includes much rock jumping and customarily extremely icy water. In case the stream is great, you will hear the gliding sound of the waterfall before you see it. The sounds will allure you nearer until you get to this mind-blowing sight, smack spot at the very center of the desert.
Tips for Hiking in Phoenix
Over 200 hikers are being delivered every year from the preserves, mountain stops and desert of the city of Phoenix. The essential tips below can help prevent you from adding to the number:
Tip 1: Watch the Weather
Yes. "It's a dry warmth". However, Phoenix's temperature can be misleading and fatal. Climb when it is cool outside. Attempt early mornings and nights when there exist more shade.
Tip 2: Dress Appropriately
Wear appropriate sunscreen, cap or hat, clothing, and shoes
Tip 3: Bring Water
Ensure you Hydrate before you leave for the hiking trip. Winter climate in Phoenix may fluctuate around a high of 67°, yet make sure to pack water along, regardless of what the temperature might be. Have a lot of water, more than you might predict you require.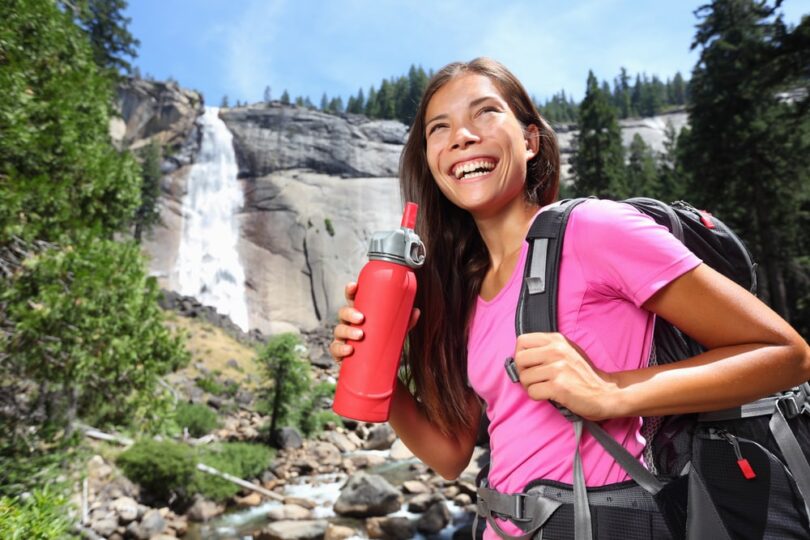 However, if you are outside in the Phoenix sun, you will require significantly, at least 8 cups of water for the day. In case you are heading outside for any reason at all, carry along a bottle of water. If the purpose of going out is hiking, carry along many bottles of water or preferably, a drinking system.
Many individuals have encountered their death after heading into the preserves inside a temperature of 110-degree heat without enough water. That is the main reason hikers are often warned to stay inside or create a shelter beside one of the pools available in the Valley until the month of October.
In case you need to go outside, you may be enticed to hold up until night when it is cooler. It is an intelligent arrangement, but you should know.
Tip 4: Keep in Contact
Convey a cell phone or a satellite phone along anywhere you go and let your friends and family know your plans and the locations you plan on visiting.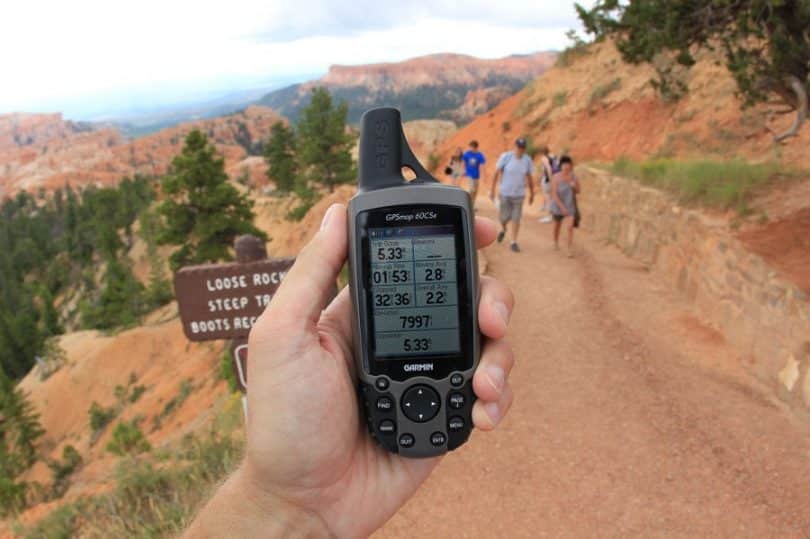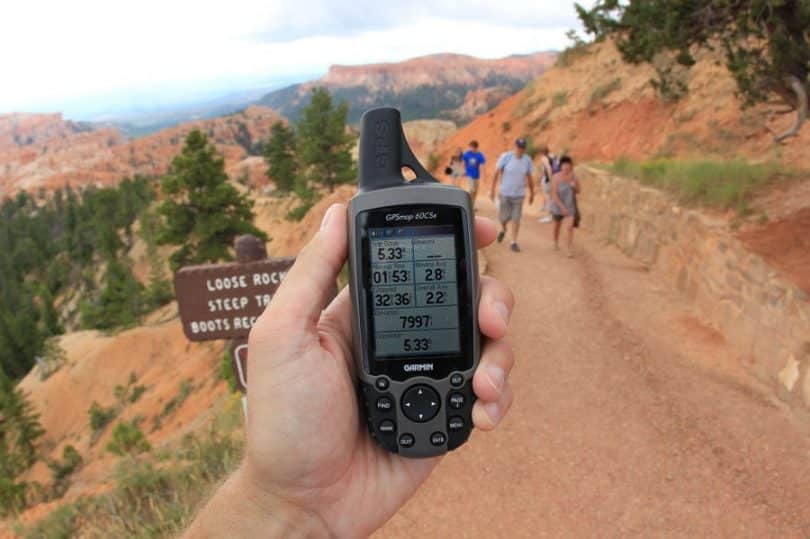 Tip 5: Team Up
Don't ever go hiking alone. In case you feel like going alone, tell somebody about your area of interest, begin times and end times.
Tip 6: Be Honest
Do you have any medical condition? Back issues, knee, diabetes, heart issues, Asthma? Try not to encourage yourself.
Tip 7: Don't Trail-blaze
You are free to enjoy the beauty of the Sonoran desert landscape. But please, remain on assigned trails.
Tip 8: Take Responsibility
Try not to be somebody that won't get ready, shouldn't have been there for wellbeing reasons or overlooked security rules. Be the mindful climber, who gets out for hiking and does it right.
Tip 9: Know the indications of heat stroke
As indicated by the Health Services Department of Arizona, the way to an existence debilitating heat stroke takes after genuinely predictable steps, with a few cautioning signs, for example, warm stroke, warm fatigue, Heat spasms, Thirsty, et cetera.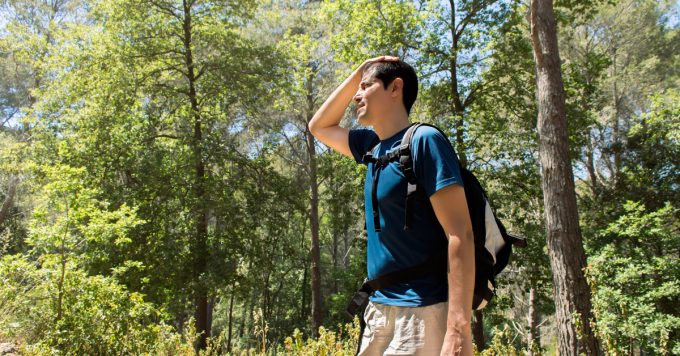 Most heat strokes can be prevented by staying inside, wearing lightweight clothing in light hues, taking even and consistent breaks, and, more importantly, drinking a great deal of water.
Tip 10: Avoid the honey bees
Based on the information provided by the Health Services Department of Arizona, you won't see a ton of animal creatures or bugs all over the place. Most turned out around evening time, so watch the path you step on when you are doing the night walk.
Phoenix honeybee season and summer go as one. Each mid-year, honeybees attack no less than a couple of individuals and dogs present around the Valley.
Tip 11: Always take your sunglasses along
With shorter storms found in Phoenix, the sun frequently set and changes roadways into mirrors, reflecting a very bright light in your eyes and making it difficult for you to see the path lines.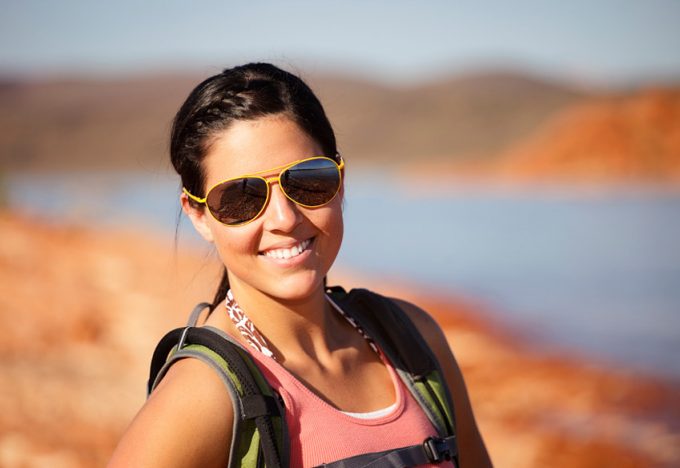 Keep your sunglasses close to you all the time and drive with caution.
Simple Life-saving Tips On Surviving Snake Bite: Learn Some Essential Skills On Surviving Snake Bite
Hopefully, what you're about to read will never have to be put into practice. Receiving a snake bite out in the wilderness is worst-case scenario. However, it is important to stay informed and prepared, just in case you do have to administer snake bite first aid. Not unlike learning CPR, it's good to know how to do it, you just hope that you never actually have to do it.
First and foremost, never hike alone! Always have a buddy, safety in numbers. Secondly, always tell someone else where you're going and for how long you'll be gone. If you're not returned by the time you said you would be, chances are that something went awry. Having someone else know your general whereabouts, can cut down on valuable hours if indeed you do need rescuing.
Getting to Know Your Snakes
There are about 50 different species of snakes found in the United States. Less than half of those snakes are poisonous. That's still 20 different types of snakes slithering around that can potentially be fatal! Most of the bites are caused by rattlesnakes, though coral snakes, cottonmouths and water moccasins (a venomous snake that traverses the water and land) can do their fair share of damage. Keep in mind that snakes only attack when they feel threatened. Not all snakes will deliver deadly amounts of venom with each bite, as they save their venom supplies for hunting and debilitating prey. More information on dry bites is detailed later in the article.
While we don't recommend getting up close and personal with a snake to see if it's venomous or not, there are some telltale signs on which snakes to give a wide berth, and which snakes pose less of a threat.
Pit Vipers
A pit viper refers to a snake with distinguishable heat sensing pit organs located on the side of the head between the eye and nostril (one on each side). The purpose of this organ is to allow a snake to accurately strike its prey or predator by sensing exactly where the heat is radiating from.
These sensors are very precise, and can detect even the slightest change in temperature.
If you hear a dry rattling sound, like a baby rattler being shaken very vigorously, then you are very close to a mature rattlesnake. Trek in the opposite direction! Rattlesnakes are found throughout nearly all of North America, but are predominantly found in the South West region of the United States. The account for the highest number of snake bites reported in the U.S. each year.
Cottonmouths and Water Moccasins look similar to some types of rattlesnakes, as they are brown and camouflage into the dry environment very well. They are missing one key feature however, they do not have the rattler. As they don't have a trademark rattling noise, understand that they can be just as deadly. They live near water and are spread from the southeastern states, and can be found as far west as Texas.
Copperheads have a distinct copper color with a series of repeating hourglass shaped figures lining their entire length. While considered a venomous snake, their venom is rarely harmful to humans as it is fairly mild in comparison to some of their more poisonous counterparts. They reside in the eastern half of the United States, with a good majority in the south and southeastern states.
Another North American Venomous Snake
Coral snakes are the only venomous snake in North America that do not have the pit organs. They have a very unique color pattern with the majority of their skin in red, with yellow and black rings surrounding the chunks of red. There is a little rhyme to help you identify if the particular snake you're looking at is venomous or not, "Red and yellow, kill a fellow; red and black friend of Jack." So, if you see a snake that is black with yellow rings, and no evidence of red on him, the snake is not venomous. If there is yellow, back away. Coral snakes are found throughout the south, spreading from Florida to Arizona.
This list is by no means comprehensive. There are hundreds of other dangerous vipers spread throughout the world. There are volumes of books and entire college courses dedicated to the study of snakes.
Prevention
We understand that you don't plan your day expecting to get bitten by a snake, especially a poisonous one. You also may not be thinking that prevention tactics are useful in snake bite first aid.
But there are a number of things you can do to prevent a snake bite from happening in the first place, and some things you can do to prevent yourself from unnecessary suffering.
Protect yourself with the tetanus vaccine. The bacteria that cause tetanus and lockjaw, Clostridium tetani, can be passed on to humans by a number of wild animals, including snakes. The snake doesn't even have to be venomous. Any wild animal bite has the potential to be carrying the dangerous bacteria. While lockjaw, is not usually fatal, it can be easily prevented. Tetanus vaccines and tetanus boosters will prevent mal effects of Clostridium tetani for ten years. So, every decade, head into the doctor's office for your vaccination!
Always carry a first aid kit with you. While you don't need to be toting around a syringe of anti-venom in your daypack, it's a good idea to have clean bandages, antihistamines in case of an allergic reaction, soap to clean hands and wounds, a towel, and bandages.
Keep a mental note of where the nearest hospital was, where the last spot you had cell service was, and where your car is. Keep a map and a compass on you at all times.
Wear hiking boots and long pants. While this doesn't exactly act like a coat of armor, it will definitely protect your feet and ankles. Unfortunately, snakes are more active in the warmer summer months when you may be more inclined to wear hiking sandals. Err on the side of caution and wear the warmer shoe options to avoid snake bite first aid measures.
Avoid clearing big rocks and logs. Snakes that are surprised by a sudden hand appearing out of nowhere will be more likely to strike. If they're not out in the open, which is where most people see the snakes and the least amount of snake bites occur, they could be hiding under rocks or nestled under tree branches where they feel safe. Always take great caution when going off trail and exploring in rocks, trees, or tall grass.
Keep your eyes peeled. Snakes only bite as a last resort if they feel threatened. If you see one in the distance, or if you accidentally come across one and it's much closer than you anticipated, respect the animal. Give it a lot of space, and don't waste time in doing so. Just like with any other wild animal, respect the fact that it is indeed wild. They are unpredictable, and often times more scared of you than you are of it. Keep your distance from snakes. No picture is worth the risk of a potentially deadly snake bite.
First Aid for Snake Bites
At this point, you have taken all the necessary precautions, have familiarized yourself with the dangers of venomous snakes, and were trying to enjoy some time in the great outdoors. But, as luck would have it, you or someone in your party inevitably fell victim to legless carnivore. First aid for the snake bite should be administered quickly and calmly. If it has been established that the snake bite was from a nonvenomous snake, it is still important to follow the proper first aid instructions to prevent any possible infection. Any open wound in the body, whether from a scrape, laceration, or wild animal bite, must be treated with haste or the possibility of infection expounds.
The main priority for a snake bite is getting to an emergency room. The only way to successfully recover from a venomous bite is to receive antivenom from a medical professional. Follow these first aid instructions while making your way to an emergency room:
Stay calm. This is perhaps the most important thing to remember. Keeping a level head is very important in any emergency situation. If you start to panic, take deep breaths. The last thing you want to do is send your body into shock.
If you suspect the snake was venomous, dial 911 as soon as possible. Additionally, call the poison control center as soon as possible to describe the incident and describe what the snake looked like to the best of your recollection. The sooner emergency services know what kind of snake it was, the sooner they can begin to administer treatment.
Lower the affected region so it rests below the injured person's heart. Snake bites commonly occur on the lower legs or hands, so have the person lie down and ensure the bite stays below the heart. Do your best to not elevate the injured person's heart rate.
Remove any jewelry, socks, or gloves as swelling may occur.
Wrap the bite loosely in clean bandages to prevent any contaminants entering the affected area.
If you have a pen or marker, mark an 'X' where the bite occurred. When you get to an emergency services facility, doctors can determine how the venom is spreading if they know where the bite occurred.
Once the wound is cleaned, bandaged, and marked, begin to make your way to a hospital as soon as you can. Keep the individual hydrated and calm. Once you get to a hospital they will administer an antivenom.
If you are absolutely certain that the snake was harmless, but it still bit (which can happen), follow these slightly less dire set of first aid tactics:
Clean the infected area. Look closely to ensure that no part of the tooth was lodged into the skin. If you see part of the tooth lodged in the skin and are unable to remove it, make your way to the nearest emergency room as you run the risk of infection.
Rinse the wound with clean water. Wash with soap and clean water after rinsing.
Wrap a sterile bandage around the affected area to prevent contaminants.
Elevate the affected area to limit swelling. Take an ibuprofen or acetaminophen for pain.
If the bite is painful, swells excessively, or causes any other symptoms such as dizziness or confusion, seek professional medical attention as soon as possible.
Here are some things not to do in any circumstance:
Do not attempt to suck out the venom.
Don't try to cut out the bitten area.
Never apply a tourniquet or attempt to slow blood flow to the affected area in any way other than elevating the limb.
Don't continue on with the hike or engage in strenuous activity, begin making your way to the emergency room.
Don't drink alcohol or caffeine, don't eat anything, and only drink water if you feel at risk of dehydration.
What to Expect – The Symptoms
Symptoms for snake bites can vary from individual to individual, and also depend on the type of snake, the amount of venom injected (if any), and the potency of the venom. Elderly people and children are more susceptible to bad reactions. The same bite delivered by a poisonous snake may have a negligible effect on a healthy, middle aged individual, while it could be deadly for a child.
Venom travels through a person's lymphatic system. Lymph nodes are organized throughout our bodies by the hundreds, and one of their main purposes is to deliver vital fluids (not blood) to the heart. As such, the venom that is introduced to the lymphatic system can reach nearly every corner of the body (including the brain) causing severe damage if not treated with an antivenom in a timely manner.
After a snake bite, if venom was indeed spread, the victim might begin to suffer from these initial symptoms:
Weakness
Dizziness or Lightheadedness
Low Blood Pressure (which could result in fainting)
Blurry Vision
Mental Confusion
More severe symptoms which can potentially develop after the bite include:
Convulsions
Muscle Cramping
Difficulty swallowing
Paralysis
Snake bites may also bleed a little initially, and bruise. If there is excessive bleeding, apply pressure with a clean bandage until the bleeding stops.
More Information about Snake Bites
Even if you received a snake bite from a pit viper (rattlesnake, copperhead) or other venomous snake, there is a high chance that it was a dry bite, meaning no venom was injected into your body. That's not to say the bite isn't painful, it's probably very painful, and there is a good chance the bitten area will redden and swell. However, a dry bite is not life threatening. Professionals sill recommend treating the bite as if it were venomous, elevating the bite and wrapping in bandages while making your way to the nearest emergency service facility.
Sometimes, the symptoms of a venomous bite will not manifest at first, it may take up to eight hours for symptoms to appear. If there are no symptoms for eight hours, post bite, the bite was likely dry. If such is the case, closely monitor the bitten area, checking for any swelling or discoloration. If the swelling does not increase or become very red, then you're safe to go about your day. The site will more than likely bruise over time, as bruising occurs whenever there is a blood vessel breakage (from fresh cuts or localized impacts).
In any case, the number one thing to do after being bitten by a venomous snake is to seek immediate medical attention. Dry bite or no, it's not worth the risk to wait and find out if you were infected with snake venom.
The Take Home Message
Always take preventative measures first. Never hike alone, wear protective footwear, and keep your wits about you. If you can prevent a snake bite by being cautious and follow practical common sense, then do so at all costs. If the unfortunate happens, your main priority is to get help from medical professionals. However, we understand that isn't always as easy as it sounds. Staying calm and getting to a safe place, are the best snake bite first aid measures you can perform.
Hiking, Calories Burn And Fitness: Reasons Why Should Add Hiking To Your Fitness Routine!
Hiking is one of those outdoor activities which you can't underestimate when it comes to losing weight. There are numerous kinds of exercises which can help you burn calories and lose weight, and hiking is a perfect example to get you back in shape.
The question that most people seem to ask is: how many calories does hiking burn? Read along, and we will shed some light on this issue.
You should always remember that the ultimate workout is not on the treadmill, air-conditioned studio, or your gym – it's in the great outdoors! According to experts, when you go hiking, you hit your muscles from different angles and engage the muscles you often miss when in the gym such as the thighs, your back, and the deep core muscles.
Additionally, the trail offers some challenges that will help you exercise and burn calories, such as ditches to avoid and logs to climb over. As a result, hiking can provide results that are similar to most grueling boot-camp activities.
Engaging in outdoor activities is also excellent for your brain. A study reveals that just about 5 minutes of activities in the natural environment can boost your mood. This makes a lot of sense: a lush scenery is more inspiring compared to a gym television program.
Research from the University of Kansas and the University of Utah found that hikers scored fifty percent better on their creativity test after they had spent a few days in the natural environment, disconnected from any electronic gadgets.
According to scientists, the mind can relax away from the tablets and cell phones, freeing up your imagination. Therefore, any individual at fitness level can take part in Mother Nature's gym. If you are capable of climbing a flight of stair, then you can hike.
Steps to follow when you go hiking to burn calories and increase your fitness
You should follow several steps if you wish to burn calories and increase your fitness during hiking trip.
Find a great trail
There is a number of useful website available online that can pinpoint some of the best places to go for a local hike. Therefore, you can search for a hiking location near you or outside your town using the online tools. You can search hiking sites using the zip code. Just make sure you know what you expect your trail to have.
Read their detailed information such as the length of the trail, the scenery you'll see and the trail's difficult levels as there are simple, moderate, and difficult trails. Alternatively, you can stop by a local outdoor or hiking shop and inquire about the best trails in your area.
If you are a beginner, make sure you go for an easy hike but make it challenging. What's impossible is making a strenuous hike easier.
Get in good form
As is the case with any other sport, you want to protect yourself from injury and obtain the most efficient workouts. When you are on flat stretches, walk like a proud individual – relaxed and shoulders pulled back, spine in line and your chest leading, not the knees.
When on the downhill, minimize your stride length so that the slope can be more manageable. When you come across a monster climb, squat slightly to get a better balance. Make sure not to walk around hunched over as this could strain your back and expose the knees to injuries, especially if you are hyper-flexing them.
Despite the amount of fun you are having, make sure you take a few breaks whenever you get tired. Also, remember to keep downing water.
Reduce pace!
You don't have to go very fast to ramp up results or tackle insane inclines. In fact, it is agreed that if you are a novice, it's better to take on trails that have a few smaller hills and moving at a slow pace. This means that you will be putting in the same amount of energy you use when in a slow jog.
When hiking, you should be in a position to speak comfortably using complete sentences without having to struggle for breath. That way, you will be able to last and remain within your fat-burning zone. When you move at a slower rate for an extended period, your body burns more fats as compared to carbohydrates. With time, you'll lose faster.
Remember not to blow through the downhill as this requires the body to work harder. When taking the downhill, your body is engaged in a plod-stop-plod-stop rhythm. That way, your body muscles must conspire to stop you, making the whole process more challenging and an excellent calorie burner.
Boost the burn
For you to enhance the benefits of your fitness during a hike, you need to undertake other activities within the hike. Jumping on and off tree stumps, lunging up slight inclines, squatting for sixty seconds and repeating the process several times can help boost the burn.
As you are walking, you may press the arms overhead, bring your elbows down your sides, repeating as you walk. Doing acts such as these will help in boosting your workout's intensity, firing up your fat-melting burner. After you are through with these exercises, continue walking at a moderate pace.
That way, you'll be able to burn about 25 percent more calories. What's more, doing some extra exercises when hiking will bump up your burn to 600 calories an hour. This is yet another reason why you need to head for the hills!
Factors that influence the amount of calories you burn
Hiking is an excellent way to get in shape by losing weight. Whether you partake in daily walks in the nearby park or engage on trips to the mountains, outdoor activities will make it possible for you to burn calories and gain muscles. However, some factors will influence the number of calories you will burn.
Body Weight
Generally, the amount of calories you will burn when hiking depends on your body weight. A 160-lb individual will burn about 430 to 440 calories in a span of an hour.
A 200-lb person will burn about 550 calories in an hour of hiking. Therefore, the heavier you are, the more the calories you will burn in one hour of hiking.
Pack Weight
You should also know that the amount of calories you burn depends on whether or not you are carrying a backpack. If you have one with you, the weight of the pack also affects the number of calories you will burn.
When you carry a light load such as the day pack, you will burn about 50 to 100 more calories in an hour than without a load. If you have a heavy load, such as backpacks for extended trips, you'll burn about 200 more calories in an hour.
Intensity
In a study conducted by the American Council for Sports Medicine, researchers discovered that a high-intensity exercise increases the number of calories you will burn even after you are through with your activity. When hiking at a high intensity for about 45 minutes, you will be able to burn an extra 190 calories later during the day.
A strenuous hike increases your metabolism, and the extra burn takes about 14.2 hours to complete once you are done with hiking. This can even continue through the first three-and-a-half hours of sleep.
Terrain
The extent of the terrain also plays a significant role in determining the number of calories you burn during a hike. Since terrains vary significantly, it's not possible to tell how hiking in a particular area will alter the number of calories you burn. For instance, you can burn more calories when walking on a rocky, flat ground as opposed to a flat, grassy land.
Nonetheless, you will even burn more calories when you walk uphill on grassy terrain as opposed to a flat rocky terrain. Ideally, you burn more calories in a challenging terrain.
Summary table
The table below provides information on the number of calories you burn for specific activities per hour for body weights of 205-lb, 180-lb, 155-lb, and 130-lb. The calculation used are based on the result from a research data conducted by the American College of Sports Medicine.
| | | | | |
| --- | --- | --- | --- | --- |
| Walking, Hiking, Climbing (1 Hour) | 205 lb | 180 lb | 155 lb | 130 lb |
| Rock climbing, ascending rock | 1024 | 899 | 774 | 649 |
| Rock climbing rappelling | 745 | 654 | 563 | 472 |
| Orienteering | 838 | 735 | 633 | 531 |
| Backpacking, Hiking with pack | 651 | 572 | 493 | 413 |
| Carrying infant, upstairs | 465 | 409 | 352 | 295 |
| Carrying infant, level ground | 326 | 286 | 246 | 207 |
| Carrying 25 t0 49 pounds, upstairs | 745 | 654 | 563 | 472 |
| Carrying 16 to 24 Pounds, upstairs | 558 | 490 | 422 | 354 |
| Walk/run, playing with kids, vigorous | 465 | 409 | 352 | 295 |
| Run/walk, playing with kids, moderate | 372 | 327 | 281 | 236 |
| Standing, playing with kids, light | 261 | 229 | 197 | 165 |
| Loading, unloading car | 279 | 245 | 211 | 177 |
| Climbing hills with a load of 9 pounds | 651 | 572 | 493 | 413 |
| Climbing hills with a load of 10-20 pounds | 698 | 613 | 528 | 443 |
| Climbing hills with a load of 21-42 pounds | 745 | 654 | 563 | 472 |
| Climbing hills with a load of over 42 pounds | 838 | 735 | 633 | 531 |
| Hiking, cross country | 558 | 490 | 422 | 354 |
| Walking downstairs | 279 | 245 | 211 | 177 |
| Bird watching | 233 | 204 | 176 | 148 |
| Walking with kids of pushing a stroller | 233 | 204 | 176 | 148 |
| Marching, rapidly, military | 605 | 531 | 457 | 384 |
| Race Walking | 605 | 531 | 457 | 384 |
| Pushing a wheelchair | 372 | 327 | 281 | 236 |
| Walking the dog | 279 | 245 | 211 | 177 |
| Mountain climbing, rock climbing | 745 | 654 | 563 | 472 |
| Run/walk, playing with animals | 372 | 327 | 281 | 236 |
| Walking using crutches | 465 | 409 | 352 | 295 |
| Walking, pushing a wheelchair | 372 | 327 | 281 | 236 |
HOW HIKING BLASTS CALORIES
Walking a mile will not burn the same amount of calories as running, but becoming a runner is challenging and not for every person.
This is true because many have tried running and failed the first times. Not everyone is going to feel the pleasure in running as is the case with others, and that's where hiking comes in. Here are some of the most important benefits you'll get from hiking:
Increased levels of caloric burn
Although many believe that burning calories is not a priority when it comes to exercising, it's important to know that this process makes a significant contribution towards weight reduction.
Hiking will burn a lot of calories per hour as opposed to walking. Judging by the increase in breathing and heart rate, the uphill section of hiking is the same to a moderately-paced run, from the perspective of calorie expenditure.
It's a logical progression
Psychologically, it's simpler to push yourself during a hike than it is when running. If you want to rev up your workout routine, and running is not on the list due to lack of interest of injuries, then hiking can be an excellent alternative. This is a perfect gateway exercise as it helps in building cardiovascular fitness as well as strengthen your leg muscles.
It's an easier outdoor activity
The best thing about hiking is that you can do it anywhere there's a hill. You don't have to drive to the Rocky Mountains for a hike. What's more, novices can undertake their hiking trips in areas with small hills to give them the same mental effect.
If you are not able to access a hill, using a treadmill at an exaggerated incline will produce a similar effect, although it's highly recommended you get outside.
Hiking can be adventurous
If you reside in the urban areas, hiking can be a great weekend activity. Make arrangements to go somewhere with hills and a fantastic view, and don't forget to take your friends with you. Questing to get to the top first will create motivation as you experience each other in an entirely different setting.
Instead of remaining inside to watch a movie, it's more challenging to embark on an outdoor hiking expedition. Additionally, this activity will help burn calories and keep you in shape.
Hiking is an excellent workout
Although a significant part of the motion takes place from your waist down, the arms can also get involved when you use trekking poles. Even when you don't, there'll be so much pumping and swinging arm movement than with walking.
The core will be engaged more, and your body will stabilize when going over rough surfaces, while the thigh, calf, and butt muscles will be burning when you are through.
The lower body will be stronger, muscular, and more tone with hiking compared to walking. Finally, since it's a challenging cardiovascular work, the lungs and heart will also benefit from it.
How to get going
Grab a pair of boots with excellent grip and ask a friend to come with you. Find some hilly terrains in your local area. The trails don't have to be complicated. Make sure you carry your cell phone and some water to keep your dehydration in check.
Begin with something smaller and assess your feelings about the exertion. If you find the activity fulfilling and you would like to push yourself further, you should prepare yourself for something more challenging.
Once you are comfortable keeping up with the pace, and after you have built up you stamina to attempt something riskier, you'll have to plan more. Challenging hikes require additional time and money, but it beats a weekend on the couch, or doesn't it?
Hiking is about getting out and experiencing nature. If you are new at this, make sure you begin with a pre-arranged group. There are numerous hiking groups within your area of residence. All you need to do is ask around or search the internet to see the options available to you.
There are some outdoor gear you will need to have with you when you are out hiking. These are:
Hiking boots
A moderately-sized backpack
Cell phone
Water and food
A first aid kit
An emergency rain poncho
Camera
Sunscreen
A hat
Bear spray for self-defense
Sunglasses
Extra socks
Replacement shoe laces
Water filter
Mosquito repellent
Emergency fire-starting tools
A flashlight
A toilet paper (just in case)
Do not forget to dress comfortably. Also, you need to remember that higher elevations are usually colder, and in other cases, the terrain may be covered with snow. Therefore, it is important to know your trail and mark the season for the hike.
In conclusion
In as much as hiking is a leisure activity, it's also an excellent way to burn calories and reduce weight. When embarking on a hiking mission, make sure you have everything planned out. Pick the right group with similar hiking objectives.
Going on a hike as a group, or with someone you're close to will give you the motivation you need to keep moving. In the end, you'll end up with many great stories to share. Remember, hiking is not a race. Enjoy it as much as you can and while at it, enjoy the scenery as well.
Health Benefits Of Drinking Water: Be Positively Hydrated!
We all know that humans simply cannot live without water. It is essential to our livelihood and helps the body in so many ways that we simply cannot function without it. Even our blood is 92 percent water! Staying properly hydrated allows your body to remove toxins and helps to send vitamins and nutrients, as well as oxygen, through the body to the proper places, keeping you energized. We will discuss all that and more as well as how long to digest water.
Water is helpful when losing weight, as it boosts your body's metabolism, and it promotes healthy skin. You may feel that you are in a happier mood when you are hydrated, because water is doing its job by working with your body. You probably have a lot of questions, such as how long does water stay in your stomach? That can vary from person to person, but we will discuss more below about water and your body.
Soon, you will know all about water, how to stay hydrated, what causes dehydration and more. Let us first talk about ingesting water.
Ingesting Water
When you drink water, it travels from the mouth to pharynx and then down the esophagus. This takes about a second. Some of that water is absorbed into the stomach, some if it is absorbed into the small intestine. Then the water enters your circulatory system and then flows through the body. Did you know that if you drink 2 liters of water each day, it can turn into upwards of 2,000 ml of urine? The bladder holds up to 16 ounces of urine. For your stomach to digest water, it can take generally 45 minutes to 2 hours. However, if you have not eaten anything, and are drinking water, it can sometimes digest in just a handful of minutes.
On average, a person needs at least 64 ounces of water in their body per day. If you are highly active, you may need more water. Depending on your fitness level, you may need to increase your water intake as well. Ingesting this much water will keep toxins flushing out of the body and will keep you full so you will not want to snack. It boosts your metabolism, keeping you going through the day. The best part? Water has no sugar, no fat, and no calories!
Ways to Stay Hydrated
Besides drinking water and increasing your intake if necessary, you can find many foods also have a lot of water. Stay away from the caffeine, which acts as a diuretic. Many fruits and meats contain a high amount of water.
Some great examples of foods that will keep you hydrated include:
Hamburger Meat
Chicken breast (not fried)
Soups, Broths, and Stews
Smoothies
Flavored Water or Sports Drinks like Powerade
Watermelon
Grapes
Real Fruit Juice
Jell O
There are many things you can do to improve your body's hydration level.
Making small changes like replacing that soda with some water, can help your body work better and less harder.
Here are some ways to improve your hydration level:
If you do not like plain water, you can always eat foods that are high in water, such as those mentioned above.. Some foods can contain up to 90 percent water. While you do want to drink water regularly, you can always add lemon for flavor.
Stay away from drinks that will steal water from your body. These would be the sodas, coffees, and teas because not only are they diuretics, causing you to lose more water when you urinate. If you are already dehydrated or sick, stay away especially from apple juice and prune juice as you will lose even more water in the form of stool.
To increase your water intake, carry a bottle of water with you wherever you go. Whether it is exercising at the gym, working in your office, or driving your car, keeping water nearby will allow you easy access to hydration.
If you are flying, you may notice that your mouth feels dry. The air in the cabin dries out your body. Drink water before and during your flight so you do not feel this way. During this time, you should also avoid soda pop and alcohol while you are in the air.
Stay away from any "water diets" that claim to help you lose weight fast. Drinking too much water can be dangerous. Not only that, but your body can only absorb so much water before it just goes straight to your bladder. You will not burn fat doing a water diet.
Water is hard to digest when you are eating it with a meal. It also dilutes the digestive acids. If you do want to drink water with your dinner, try drinking sips of room temperature water. Drinking ice water will slow the digestion process.
As we said before, drinking two glasses of water when you wake up can help jump start your body for the day. It keeps your body in balance and allows your mood to improve. This is definitely a must when it comes to hydration.
Lay off the carbonated water as it only makes you burp. The gas from this will make you feel full in the stomach, which means you will not drink as much as you would with regular water. If you cannot live without a little fizz in your drink, you can always put some seltzer in your water.
You can lose weight by drinking more water. It can help to burn calories and can help you feel full between meals. Water will flush the kidneys and release toxins from your body, as well as some fat. If your kidneys are in great shape, the rest of your body will improve.
What Causes Dehydration?
There are many things that can lead to dehydration, namely lack of giving yourself water for your body. If you do not ingest water, you can die within days. Some foods can cause dehydration as well.
Below are 9 foods and drinks that can dehydrate your body.
White Asparagus: This vegetable has aspartic acid, which affects the kidneys, depleting water from your body. This will, in turn, cause you to be dehydrated.
Alcohol: Since alcohol is a diuretic, it will make you need to use the restroom more. Thus, you are losing water from your body. Too much alcohol will cause a hangover, leading to a headache, because of lack of water. If you do drink, try to drink water as well to keep yourself from a hangover later.
Cured Meats: Because of the high amount of protein and salt in cured meats, your body will lose water. It is recommended to drink water along with your cured meats to ensure the salt does not dry up the water within you.
Coffee: If you drink just one or two cups of coffee, you do not have to worry about it dehydrating you. However, if you drink a lot of coffee, it dehydrates you like alcohol does because coffee is also a diuretic. Plus, the caffeine is thought to speed up the process of dehydration.
Soy Sauce: We all like to add a little soy sauce to our rice now and then, but it does contain salt, which will soak the water up from your body. In 2013, a girl almost died from drinking a quart of it and it gave her an imbalance of electrolytes, causing dehydration. If you use it a lot, though, you should drink some water along with it.
Bouillon Cubes: Used for making soup, bouillon cubes contain a very high amount of salt, which aids in dehydrating you. Essentially, when it is used in soup, you are drinking flavored salty water. Even though water is used in the process of making soup, you will still need additional water to stay hydrated. If you are sick, you will want the extra fluids so water can replenish your body.
Popcorn: High in sodium, popcorn can cause you to feel very thirsty. Many like to drink a soda with their popcorn, especially in the theater. Try to replace that soda with water or flavored water to gain some fresh water for your body.
Fried Foods: French Fries. Cheese Sticks. Fried Chicken. If it is fried, it is going to dehydrate you. Fried foods and processed foods usually have a lot of salt, which can be over your daily intake amount. Avoid these foods or eat sparingly. Always replenish yourself with some water after eating these foods.
Sugary Drinks: Many sodas or juices contain a high amount of sugar, which are acidic as well. While they may be tasty, they are sucking water right out of your body. In turn, all of your organs are working harder to process the sugars, and your body has lost water. Cut back on the sugary drinks, by including more water within your daily diet.
What Happens to Your Body without Water?
Dehydration will occur when you do not have enough water in your body. You need to replace the water throughout the day to keep your body functioning properly.
Some signs that you are being dehydrated include:
Dry mouth
Feeling tired
Headache or dizziness
Muscle cramps
Dry skin
Constipation
There are more signs if you happen to be severely dehydrated, such as:
Irritability
Sunken eyes
Fast heartbeat
Fever
Little to no urine
Low blood pressure
There are more signs, but those are the major ones. The major causes of dehydration are: frequent urination, sweating, vomiting, diabetes, and diarrhea.
Nobody is immune to dehydration and it can affect you more, and this is especially true for certain people like:
The elderly
Sick people
Infants
Diabetics
Alcoholics
Those with adrenal gland disorders
Those with cystic fibrosis
The elderly are more likely to become dehydrated because as a person ages, the thirst mechanism in the body is not as strong. Therefore, they will lose water faster. If an elderly person has dementia, they will experience dehydration and the need to stay on top of their water consumption. Infants and small children are at risk of dehydration because their little bodies go through water faster, so they need to be sure to get water regularly.
While a person can live up to 3 weeks without food, the body can only go 3 days without water. Survival experts, stick by the Rule of Threes: You can live only 3 minutes without oxygen. You have 3 hours to find shelter in a harsh weathered environment. You can live 3 days without water, and you can live 3 weeks without food. There have been cases where people have lived a week without water, but those are rare. Since the body is nearly 70 percent water, you can see how essential it is for living.
Best Time to Drink Water
Believe it or not, there are times in the day that are better for drinking water, as well as a few guidelines that will help your body get all of the water it needs.
So, when is the best time to drink water?
Drink 2 glasses of water upon waking up. This helps to wake up your internal organs and get them ready for the day.
Drink 1 glass of water a half hour before any meal as it helps the digestion process.
If you are taking a bath, drink 1 glass of water to keep your blood pressure down.
Before going to bed, it is recommended to drink 1 glass of water for heart health. This aids in preventing a heart attack or stroke.
Another trick is, after drinking the 2 glasses when you wake up, you can brush your teeth and eat about 45 minutes later. From there, eat your breakfast and do not eat again for another 2 hours. This helps water to process through your body more efficiently.
Best Ways to Drink Water
There are three great ways to drink water and keep yourself healthy:
Drink at a slow pace. Keeping a steady pace when drinking water will keep you more hydrated than if you were to down a whole bottle in just a few moments. This is because your intestines can only take so much water at once. If water moves too fast, you will lose it through urination, instead of it being absorbed into your body.
Drink water with some lemon! Lemon has many health benefits as you will see below. You will feel more energetic and your body will be able to digest food better. Using a water pitcher that has an infuser will allow you to infuse your water with whatever fruit you want and the fruit will pour into your glass with the water.
Timing is key for drinking water, as we stated above. Knowing when to drink water will allow you to better absorb it giving you more energy and releasing more toxins. Drinking water is simple if you have some next to you at all times. You can use a tumbler and fill it wherever you need to, at school, at the office, or at home. Drinking as you eat will slow down the digestion process, as some people think.
Add a Little Lemon
Lemon is not only for enhancing your water with taste, but it can do wonders for your body. Here is how:
Lemon keeps you alert and full of energy because it contains potassium. This helps nerve function and brain function, and it reduces stress.
Lemon boosts your immune system with Vitamin C. This helps the body heal and helps to break up phlegm if you are sick.
A little lemon in your water will keep you not only hydrated but will not hold onto fat cells. They also absorb nutrients.
Since lemon has Vitamin C, your skin will produce more collagen, which keeps wrinkles at bay.
Lemons have pectin fiber, which keeps your metabolism regulated. This can help you lost weight and curb craving.
The liver loves lemons because it helps produce enzymes for your body. The liver works better and the bile helps in digestion. It also keeps toxins flowing out of your body by urination. Plus, lemons help bowel movement regulation.
Wrapping it up
Water is our life, truly. We need to take care of our bodies by drinking an appropriate amount each day. This lessens our risks of heart attacks, strokes, and sickness. It keeps your skin beautiful and helps boost your mood. Without water, we cannot survive. Hopefully, you have learned many things about water and can improve your daily regimen. Thanks for reading!