Essentials About Camping With Toddlers: The Ultimate Guide For All Hikers
Not so long ago, you had a baby and you think you won't be able to go camping any time soon – you're wrong! Camping with infants is very much possible. Parents are divided when it comes to camping with toddlers and infants.
Some parents think this as a dreadful situation, asking everyone why would they put themselves through that, but some parents are more casual and much less stressed about it, giving them advice.
If you're a true camping lover and really enjoy being in the nature, don't be scared to bring your baby with you. Of course, it will be a bit more challenging than it used to be, but that's life, right?
We have to be honest and agree that simple packing, throwing a backpack into the car, and heading down into the woods, won't be that simple as it was before you had a baby, but it certainly won't be as difficult, as some "perfect moms" say it would.
First of all, mobile phones and smartphones make emergency situations much less scarring and the fact that there are lots of kids backpacks and gear, not to mention portable "Pack 'n play" cribs, makes taking your infant to camping a bit less stressful. How to do it then, you ask? Read on to find out!
Basic things you need to do before you head off
There almost isn't a parent who has a small baby, that will leave the house without the bag of necessary things. A camping trip is no different, as you'll carry almost the same amount of necessities as you would if you are heading to the park or a field trip.
You should carefully research the destination where you plan on staying and plan for all the things that "might happen". Having a detailed plan and lists of everything you need to bring with you is not over-planning.
It is pretty obvious that you need to carry a fair amount of stuff, but you already carry it anyway, so pack carefully. You are probably driving yourself in the woods, so you can stuff your car as much as you like, without having to worry how you are going to bring all those things with you.
Be smart about picking a destination
Keep in mind that your child or an infant, can't withstand long car drives so choose a destination that is not that far from your home. Do some research on whether there is a supermarket or a grocery store near the campsite. If the answer is no, then we suggest you pick another destination.
You don't want to think about if you carry enough diapers and whether it is okay to change your baby now or a bit later because you don't have enough diapers.
Search for campgrounds with running water and flush toilets, or perhaps rent a cabin or a room in the motel in the woods (just in case). Some national parks adjusted their resorts and made them kid-friendly, where you can rent a small cabin while some recreation areas and parks are placed by the strategically placed motels.
Rest before you take off
If you start your trip tired and anxious, there is no way this trip will be a vacation. Give yourself some time to rest, although, it is questionable that you're going to truly rest unless you ask someone to take care of the baby while you take a 2-3 hrs nap, a long shower, and some time to enjoy the coffee/tea.
Leave early
Be prepared to give yourself enough time to arrive at your camping destination, especially long before dark. It is not a good idea to have a screaming kid and no daylight while you have to set up a camp and a tent. You will only stress yourself with why you even decided to go on camping with an infant and be sorry.
Basic things you need to bring with you
Keep in mind not to bring too much baby stuff with you. We know you will think hundreds of times "but what if I need this?" but you need to not get carried away once you start packing your infant's things in the car. This is why we listed some basic things (and those that can assist in "making things easier").
Hydration pack
A hydration pack system such as Camelbak water bottle won't be so heavy to carry even when full. You and your baby, need to be hydrated when going on hikes or short walks.
The First- Aid Kit
Bandages, alcohol-free cleansing wipes or Curel, sunscreen for babies, bug spray for infants, etc. Every hiking gear store sells first-aid kits, and if you still don't have it, make sure you buy one, plus some other necessities like medicine for infants, creme for dermatitis (kids often find Poison Ivy to be an interesting plant) and definitely something for bee stings, as this might be the worst injury that you will have to deal with.
It is better to be prepared than finding yourself panicking around because you didn't bring everything you need. Infants need more mosquito and sun protection. They can't tell you if they feel sunburns or if they have been stung. This is why you need to use high, baby-safe SPF sun protection and a mosquito protection for babies. Apply it often during the day.
Food
If you're still breastfeeding then this will be a fairly easy thing to do as you don't have to carry around anything. You won't have to bother yourself with filtering water, sterilizing baby bottles and mixing baby formula. If you're feeding your baby on the bottle, don't worry about it too much. It's not a very hard thing to do. Just make sure you always filter water before you mix it with a baby formula.
If you don't want to bother yourself with boiling and filtering the water, buy a pack of already treated water in any drug store that sells baby food. You also have to wash your infant's face and hands as you don't want your baby to get sick.
Besides water, you don't have to worry too much about it. Also, a bit of dirt on your baby's pacifier won't do any harm and is actually a good thing. Just think of how you ate the dirt when you were a kid and you are still alive to read this article.
Of course, you will rinse the pacifier, you won't let it eat dirt, but don't worry about stopping and boiling it in the water every time the pacifier touches the ground. You can also carry a small pack of sanitizing tissues in your pocket or use a clean, bottled water to rinse it.
Clothes
Bringing a headwear is really important if you're taking your infant to camping, as up to 20 percent of human's heat is transmitted from our heads and you know that infants have bigger heads than their bodies, so they often lose heat faster than you would in cold weather. Also, keep your baby's little toes and fingers covered as they also get cold faster than ours.
Keep in mind that they are not moving, therefore infants are not generating heat. You need to dress your baby in layers (hoods are okay if you dress it over a beanie, but is not a replacement because they don't fit as close to the baby's skin as they should in order to keep the body heat). Layered clothes will provide adjusting the clothing as per weather conditions.
If the weather is nice and warm, you need to make sure you have everything to protect your baby from overheating. You can simply lose some clothing that covers the body, and putting some shaded clothes is mandatory. Keep your infant hydrated and you can even use Pedialyte, as this is an encouragement for drinking, due to its subtle flavor. Your baby will love it.
A lot of baby clothes are made out of cotton material, which is actually not a good material to wear, especially during too hot or too cold weathers. Cotton transfers body heat faster and holds its moisture longer. Pick something that is made out of merino wool for the colder weather and synthetics for the warmer weather.
The material must be able to dry quickly because a wet cotton onesie can lower the body temperature pretty fast even if it is 80 degrees outside, which is not a good thing and it gets smelly really fast. Both synthetic and merino wool are materials that dry fast and even if you hand-wash your baby's clothes, it will be dry before you know it.
Blankets
Bring a few blankets with you, as you will use them to cover your baby, lay your baby on the ground, shade a baby or cover yourself if nursing.
The Poop Collector
If you're going on camping in the woods, be prepared for introducing a lot of hassle and extra weight with packing disposable diapers. Therefore, you will need a diaper bag. No, we're not talking about the standard diaper bag that you're carrying everywhere. We are talking about a dry, waterproof bag that is easy to close and seal. This is where you're going to store all the used diapers and dispose it on your way home.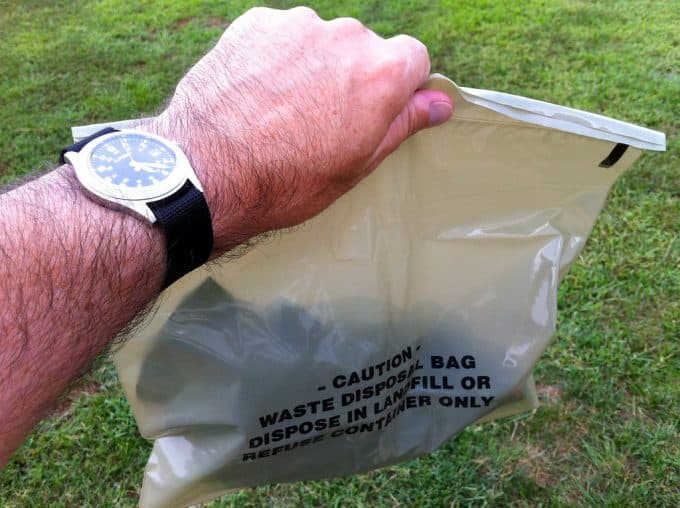 Why, you wonder? Well… You can't leave dirty diapers in the woods, can't you? Babies usually need 3-5 changes per day, if you plan to stay, let's say 2 days, that's 6 – 10 dirty diapers, minimum, you can't leave in the woods. On your way home, find the nearest dumpster and empty the bag or, better yet, find a sanitary dump (the one RV travelers are using) and empty your bag there.
As for the cloth diapers, they are eco-friendly and all, but you still can't leave them in the woods and, be honest, you don't want to deal with hand-washing and drying all the dirty diapers outside during your camping vacation.
Infant Carrier or Toddler Backpack
This is something similar to your backpack, but is intended for babies and infants. You can use it to carry your infant on your back or in front of yourself and make sure you don't carry a baby in your arms all the time. This is an especially smart thing to use if you are going on hiking as you're gonna need free hands because you never know when you can trip over some rock or piece of wood.
Choose a pack that has a safety harness in order to keep your infant from sliding in (if your baby is smaller) or sliding over (if the baby's bigger)
"Pack 'n play"
If your baby is an early walker or a crawler, a necessity like a "Pack 'n play" will save you lots of nerves, especially if you choose to sleep outdoors. It has a functionality as a crib, but can also be a playpen during the day. This way you will have time to hang out or work something you enjoy around camp.
"Clamp-on booster seat"
Although this is not a necessity, this can also save you some nerves, especially if your child is really active and you are afraid to leave kids wander around the camp. This item is useful as a safe spot to put your kid down as well as eating.
Foam Floor Tiles
An alternative to the blanket or a mat is the foam floor tiles. When comparing to a regular mat, kids floor tiles are more comfortable to crawl on. You can put them in the tent or even the play pen. It's colorful and safe. It's not heavy to carry around and although setting tiles on the ground inside the tent can be a drag, it'll worth your while as you can freely let your baby crawl inside the tent.
Something to keep them occupied
If you stake out a big tarp you will have a nice, clean place for you to deal with any infant duties. You will see that it is a lot easier to go camping with infants than crawlers or beginners in walking. Bring a few toys for chewing, but keep in mind to keep them clean.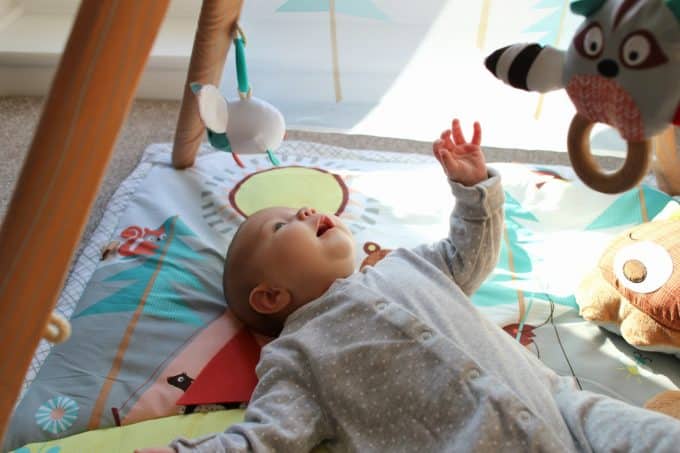 How to manage sleeping
Sleeping with infants is actually quite easy. Just zip together a few sleeping bags and put your baby between you. We understand that some parents are scared about rolling over the baby and have a weird feeling that they are going to crush them, but we never heard of this happening. If you are still not sure and uncomfortable of sleeping with your infant beside you then wait until the baby is a bit older before you go camping with it.
Another option is to use a baby backpack that we mentioned above. They improved a lot in the last twenty years as they hold an infant more comfortable and fit a human body better. So, investing in a good baby backpack might be a good idea here, or you can use a car seat that you can place inside your tent beside you.
Simply use your common sense as you will know what works best for your baby. Babies and infants lived outside for millions of years through the history and they survived. Don't be afraid to put a baby on the ground in a car seat or a backpack – a dingo won't eat your baby.
Important Tips
Many doctors and pediatricians suggest that a child can spend the night outdoors if older than 5 months so don't get too ambitious and bring your 1-month baby to a camping trip. Use good judgment and common sense.
Keep an eye on your infant all the time. No matter what you do, there are lots of dangers outside, especially in the woods and in a campsite. Don't leave it out of your sight.
What have we learned?
Keep in mind that kids, even though they are out camping with you still need to sleep and eat regularly, so make sure you're on their schedule and put your infant to sleep at its usual time. Don't forget the naps, they are equally important too.
Check if your baby can take a nap in your front carrier, if it can – great; if not – plan your activities later or around your baby's napping and eating schedule. This way you won't have to unnecessarily stress yourself. Enjoy sharing some time camping with your infant.
Hopefully, you like our article on camping with an infant. We would love to hear your stories about camping with your kids, the good, the bad and the ugly plus some interesting pictures. In case we maybe missed something – a good idea or a recommendation is always more than welcome.
Simple Life-saving Tips On Surviving Snake Bite: Learn Some Essential Skills On Surviving Snake Bite
Hopefully, what you're about to read will never have to be put into practice. Receiving a snake bite out in the wilderness is worst-case scenario. However, it is important to stay informed and prepared, just in case you do have to administer snake bite first aid. Not unlike learning CPR, it's good to know how to do it, you just hope that you never actually have to do it.
First and foremost, never hike alone! Always have a buddy, safety in numbers. Secondly, always tell someone else where you're going and for how long you'll be gone. If you're not returned by the time you said you would be, chances are that something went awry. Having someone else know your general whereabouts, can cut down on valuable hours if indeed you do need rescuing.
Getting to Know Your Snakes
There are about 50 different species of snakes found in the United States. Less than half of those snakes are poisonous. That's still 20 different types of snakes slithering around that can potentially be fatal! Most of the bites are caused by rattlesnakes, though coral snakes, cottonmouths and water moccasins (a venomous snake that traverses the water and land) can do their fair share of damage. Keep in mind that snakes only attack when they feel threatened. Not all snakes will deliver deadly amounts of venom with each bite, as they save their venom supplies for hunting and debilitating prey. More information on dry bites is detailed later in the article.
While we don't recommend getting up close and personal with a snake to see if it's venomous or not, there are some telltale signs on which snakes to give a wide berth, and which snakes pose less of a threat.
Pit Vipers
A pit viper refers to a snake with distinguishable heat sensing pit organs located on the side of the head between the eye and nostril (one on each side). The purpose of this organ is to allow a snake to accurately strike its prey or predator by sensing exactly where the heat is radiating from.
These sensors are very precise, and can detect even the slightest change in temperature.
If you hear a dry rattling sound, like a baby rattler being shaken very vigorously, then you are very close to a mature rattlesnake. Trek in the opposite direction! Rattlesnakes are found throughout nearly all of North America, but are predominantly found in the South West region of the United States. The account for the highest number of snake bites reported in the U.S. each year.
Cottonmouths and Water Moccasins look similar to some types of rattlesnakes, as they are brown and camouflage into the dry environment very well. They are missing one key feature however, they do not have the rattler. As they don't have a trademark rattling noise, understand that they can be just as deadly. They live near water and are spread from the southeastern states, and can be found as far west as Texas.
Copperheads have a distinct copper color with a series of repeating hourglass shaped figures lining their entire length. While considered a venomous snake, their venom is rarely harmful to humans as it is fairly mild in comparison to some of their more poisonous counterparts. They reside in the eastern half of the United States, with a good majority in the south and southeastern states.
Another North American Venomous Snake
Coral snakes are the only venomous snake in North America that do not have the pit organs. They have a very unique color pattern with the majority of their skin in red, with yellow and black rings surrounding the chunks of red. There is a little rhyme to help you identify if the particular snake you're looking at is venomous or not, "Red and yellow, kill a fellow; red and black friend of Jack." So, if you see a snake that is black with yellow rings, and no evidence of red on him, the snake is not venomous. If there is yellow, back away. Coral snakes are found throughout the south, spreading from Florida to Arizona.
This list is by no means comprehensive. There are hundreds of other dangerous vipers spread throughout the world. There are volumes of books and entire college courses dedicated to the study of snakes.
Prevention
We understand that you don't plan your day expecting to get bitten by a snake, especially a poisonous one. You also may not be thinking that prevention tactics are useful in snake bite first aid.
But there are a number of things you can do to prevent a snake bite from happening in the first place, and some things you can do to prevent yourself from unnecessary suffering.
Protect yourself with the tetanus vaccine. The bacteria that cause tetanus and lockjaw, Clostridium tetani, can be passed on to humans by a number of wild animals, including snakes. The snake doesn't even have to be venomous. Any wild animal bite has the potential to be carrying the dangerous bacteria. While lockjaw, is not usually fatal, it can be easily prevented. Tetanus vaccines and tetanus boosters will prevent mal effects of Clostridium tetani for ten years. So, every decade, head into the doctor's office for your vaccination!
Always carry a first aid kit with you. While you don't need to be toting around a syringe of anti-venom in your daypack, it's a good idea to have clean bandages, antihistamines in case of an allergic reaction, soap to clean hands and wounds, a towel, and bandages.
Keep a mental note of where the nearest hospital was, where the last spot you had cell service was, and where your car is. Keep a map and a compass on you at all times.
Wear hiking boots and long pants. While this doesn't exactly act like a coat of armor, it will definitely protect your feet and ankles. Unfortunately, snakes are more active in the warmer summer months when you may be more inclined to wear hiking sandals. Err on the side of caution and wear the warmer shoe options to avoid snake bite first aid measures.
Avoid clearing big rocks and logs. Snakes that are surprised by a sudden hand appearing out of nowhere will be more likely to strike. If they're not out in the open, which is where most people see the snakes and the least amount of snake bites occur, they could be hiding under rocks or nestled under tree branches where they feel safe. Always take great caution when going off trail and exploring in rocks, trees, or tall grass.
Keep your eyes peeled. Snakes only bite as a last resort if they feel threatened. If you see one in the distance, or if you accidentally come across one and it's much closer than you anticipated, respect the animal. Give it a lot of space, and don't waste time in doing so. Just like with any other wild animal, respect the fact that it is indeed wild. They are unpredictable, and often times more scared of you than you are of it. Keep your distance from snakes. No picture is worth the risk of a potentially deadly snake bite.
First Aid for Snake Bites
At this point, you have taken all the necessary precautions, have familiarized yourself with the dangers of venomous snakes, and were trying to enjoy some time in the great outdoors. But, as luck would have it, you or someone in your party inevitably fell victim to legless carnivore. First aid for the snake bite should be administered quickly and calmly. If it has been established that the snake bite was from a nonvenomous snake, it is still important to follow the proper first aid instructions to prevent any possible infection. Any open wound in the body, whether from a scrape, laceration, or wild animal bite, must be treated with haste or the possibility of infection expounds.
The main priority for a snake bite is getting to an emergency room. The only way to successfully recover from a venomous bite is to receive antivenom from a medical professional. Follow these first aid instructions while making your way to an emergency room:
Stay calm. This is perhaps the most important thing to remember. Keeping a level head is very important in any emergency situation. If you start to panic, take deep breaths. The last thing you want to do is send your body into shock.
If you suspect the snake was venomous, dial 911 as soon as possible. Additionally, call the poison control center as soon as possible to describe the incident and describe what the snake looked like to the best of your recollection. The sooner emergency services know what kind of snake it was, the sooner they can begin to administer treatment.
Lower the affected region so it rests below the injured person's heart. Snake bites commonly occur on the lower legs or hands, so have the person lie down and ensure the bite stays below the heart. Do your best to not elevate the injured person's heart rate.
Remove any jewelry, socks, or gloves as swelling may occur.
Wrap the bite loosely in clean bandages to prevent any contaminants entering the affected area.
If you have a pen or marker, mark an 'X' where the bite occurred. When you get to an emergency services facility, doctors can determine how the venom is spreading if they know where the bite occurred.
Once the wound is cleaned, bandaged, and marked, begin to make your way to a hospital as soon as you can. Keep the individual hydrated and calm. Once you get to a hospital they will administer an antivenom.
If you are absolutely certain that the snake was harmless, but it still bit (which can happen), follow these slightly less dire set of first aid tactics:
Clean the infected area. Look closely to ensure that no part of the tooth was lodged into the skin. If you see part of the tooth lodged in the skin and are unable to remove it, make your way to the nearest emergency room as you run the risk of infection.
Rinse the wound with clean water. Wash with soap and clean water after rinsing.
Wrap a sterile bandage around the affected area to prevent contaminants.
Elevate the affected area to limit swelling. Take an ibuprofen or acetaminophen for pain.
If the bite is painful, swells excessively, or causes any other symptoms such as dizziness or confusion, seek professional medical attention as soon as possible.
Here are some things not to do in any circumstance:
Do not attempt to suck out the venom.
Don't try to cut out the bitten area.
Never apply a tourniquet or attempt to slow blood flow to the affected area in any way other than elevating the limb.
Don't continue on with the hike or engage in strenuous activity, begin making your way to the emergency room.
Don't drink alcohol or caffeine, don't eat anything, and only drink water if you feel at risk of dehydration.
What to Expect – The Symptoms
Symptoms for snake bites can vary from individual to individual, and also depend on the type of snake, the amount of venom injected (if any), and the potency of the venom. Elderly people and children are more susceptible to bad reactions. The same bite delivered by a poisonous snake may have a negligible effect on a healthy, middle aged individual, while it could be deadly for a child.
Venom travels through a person's lymphatic system. Lymph nodes are organized throughout our bodies by the hundreds, and one of their main purposes is to deliver vital fluids (not blood) to the heart. As such, the venom that is introduced to the lymphatic system can reach nearly every corner of the body (including the brain) causing severe damage if not treated with an antivenom in a timely manner.
After a snake bite, if venom was indeed spread, the victim might begin to suffer from these initial symptoms:
Weakness
Dizziness or Lightheadedness
Low Blood Pressure (which could result in fainting)
Blurry Vision
Mental Confusion
More severe symptoms which can potentially develop after the bite include:
Convulsions
Muscle Cramping
Difficulty swallowing
Paralysis
Snake bites may also bleed a little initially, and bruise. If there is excessive bleeding, apply pressure with a clean bandage until the bleeding stops.
More Information about Snake Bites
Even if you received a snake bite from a pit viper (rattlesnake, copperhead) or other venomous snake, there is a high chance that it was a dry bite, meaning no venom was injected into your body. That's not to say the bite isn't painful, it's probably very painful, and there is a good chance the bitten area will redden and swell. However, a dry bite is not life threatening. Professionals sill recommend treating the bite as if it were venomous, elevating the bite and wrapping in bandages while making your way to the nearest emergency service facility.
Sometimes, the symptoms of a venomous bite will not manifest at first, it may take up to eight hours for symptoms to appear. If there are no symptoms for eight hours, post bite, the bite was likely dry. If such is the case, closely monitor the bitten area, checking for any swelling or discoloration. If the swelling does not increase or become very red, then you're safe to go about your day. The site will more than likely bruise over time, as bruising occurs whenever there is a blood vessel breakage (from fresh cuts or localized impacts).
In any case, the number one thing to do after being bitten by a venomous snake is to seek immediate medical attention. Dry bite or no, it's not worth the risk to wait and find out if you were infected with snake venom.
The Take Home Message
Always take preventative measures first. Never hike alone, wear protective footwear, and keep your wits about you. If you can prevent a snake bite by being cautious and follow practical common sense, then do so at all costs. If the unfortunate happens, your main priority is to get help from medical professionals. However, we understand that isn't always as easy as it sounds. Staying calm and getting to a safe place, are the best snake bite first aid measures you can perform.
Hiking, Calories Burn And Fitness: Reasons Why Should Add Hiking To Your Fitness Routine!
Hiking is one of those outdoor activities which you can't underestimate when it comes to losing weight. There are numerous kinds of exercises which can help you burn calories and lose weight, and hiking is a perfect example to get you back in shape.
The question that most people seem to ask is: how many calories does hiking burn? Read along, and we will shed some light on this issue.
You should always remember that the ultimate workout is not on the treadmill, air-conditioned studio, or your gym – it's in the great outdoors! According to experts, when you go hiking, you hit your muscles from different angles and engage the muscles you often miss when in the gym such as the thighs, your back, and the deep core muscles.
Additionally, the trail offers some challenges that will help you exercise and burn calories, such as ditches to avoid and logs to climb over. As a result, hiking can provide results that are similar to most grueling boot-camp activities.
Engaging in outdoor activities is also excellent for your brain. A study reveals that just about 5 minutes of activities in the natural environment can boost your mood. This makes a lot of sense: a lush scenery is more inspiring compared to a gym television program.
Research from the University of Kansas and the University of Utah found that hikers scored fifty percent better on their creativity test after they had spent a few days in the natural environment, disconnected from any electronic gadgets.
According to scientists, the mind can relax away from the tablets and cell phones, freeing up your imagination. Therefore, any individual at fitness level can take part in Mother Nature's gym. If you are capable of climbing a flight of stair, then you can hike.
Steps to follow when you go hiking to burn calories and increase your fitness
You should follow several steps if you wish to burn calories and increase your fitness during hiking trip.
Find a great trail
There is a number of useful website available online that can pinpoint some of the best places to go for a local hike. Therefore, you can search for a hiking location near you or outside your town using the online tools. You can search hiking sites using the zip code. Just make sure you know what you expect your trail to have.
Read their detailed information such as the length of the trail, the scenery you'll see and the trail's difficult levels as there are simple, moderate, and difficult trails. Alternatively, you can stop by a local outdoor or hiking shop and inquire about the best trails in your area.
If you are a beginner, make sure you go for an easy hike but make it challenging. What's impossible is making a strenuous hike easier.
Get in good form
As is the case with any other sport, you want to protect yourself from injury and obtain the most efficient workouts. When you are on flat stretches, walk like a proud individual – relaxed and shoulders pulled back, spine in line and your chest leading, not the knees.
When on the downhill, minimize your stride length so that the slope can be more manageable. When you come across a monster climb, squat slightly to get a better balance. Make sure not to walk around hunched over as this could strain your back and expose the knees to injuries, especially if you are hyper-flexing them.
Despite the amount of fun you are having, make sure you take a few breaks whenever you get tired. Also, remember to keep downing water.
Reduce pace!
You don't have to go very fast to ramp up results or tackle insane inclines. In fact, it is agreed that if you are a novice, it's better to take on trails that have a few smaller hills and moving at a slow pace. This means that you will be putting in the same amount of energy you use when in a slow jog.
When hiking, you should be in a position to speak comfortably using complete sentences without having to struggle for breath. That way, you will be able to last and remain within your fat-burning zone. When you move at a slower rate for an extended period, your body burns more fats as compared to carbohydrates. With time, you'll lose faster.
Remember not to blow through the downhill as this requires the body to work harder. When taking the downhill, your body is engaged in a plod-stop-plod-stop rhythm. That way, your body muscles must conspire to stop you, making the whole process more challenging and an excellent calorie burner.
Boost the burn
For you to enhance the benefits of your fitness during a hike, you need to undertake other activities within the hike. Jumping on and off tree stumps, lunging up slight inclines, squatting for sixty seconds and repeating the process several times can help boost the burn.
As you are walking, you may press the arms overhead, bring your elbows down your sides, repeating as you walk. Doing acts such as these will help in boosting your workout's intensity, firing up your fat-melting burner. After you are through with these exercises, continue walking at a moderate pace.
That way, you'll be able to burn about 25 percent more calories. What's more, doing some extra exercises when hiking will bump up your burn to 600 calories an hour. This is yet another reason why you need to head for the hills!
Factors that influence the amount of calories you burn
Hiking is an excellent way to get in shape by losing weight. Whether you partake in daily walks in the nearby park or engage on trips to the mountains, outdoor activities will make it possible for you to burn calories and gain muscles. However, some factors will influence the number of calories you will burn.
Body Weight
Generally, the amount of calories you will burn when hiking depends on your body weight. A 160-lb individual will burn about 430 to 440 calories in a span of an hour.
A 200-lb person will burn about 550 calories in an hour of hiking. Therefore, the heavier you are, the more the calories you will burn in one hour of hiking.
Pack Weight
You should also know that the amount of calories you burn depends on whether or not you are carrying a backpack. If you have one with you, the weight of the pack also affects the number of calories you will burn.
When you carry a light load such as the day pack, you will burn about 50 to 100 more calories in an hour than without a load. If you have a heavy load, such as backpacks for extended trips, you'll burn about 200 more calories in an hour.
Intensity
In a study conducted by the American Council for Sports Medicine, researchers discovered that a high-intensity exercise increases the number of calories you will burn even after you are through with your activity. When hiking at a high intensity for about 45 minutes, you will be able to burn an extra 190 calories later during the day.
A strenuous hike increases your metabolism, and the extra burn takes about 14.2 hours to complete once you are done with hiking. This can even continue through the first three-and-a-half hours of sleep.
Terrain
The extent of the terrain also plays a significant role in determining the number of calories you burn during a hike. Since terrains vary significantly, it's not possible to tell how hiking in a particular area will alter the number of calories you burn. For instance, you can burn more calories when walking on a rocky, flat ground as opposed to a flat, grassy land.
Nonetheless, you will even burn more calories when you walk uphill on grassy terrain as opposed to a flat rocky terrain. Ideally, you burn more calories in a challenging terrain.
Summary table
The table below provides information on the number of calories you burn for specific activities per hour for body weights of 205-lb, 180-lb, 155-lb, and 130-lb. The calculation used are based on the result from a research data conducted by the American College of Sports Medicine.
| | | | | |
| --- | --- | --- | --- | --- |
| Walking, Hiking, Climbing (1 Hour) | 205 lb | 180 lb | 155 lb | 130 lb |
| Rock climbing, ascending rock | 1024 | 899 | 774 | 649 |
| Rock climbing rappelling | 745 | 654 | 563 | 472 |
| Orienteering | 838 | 735 | 633 | 531 |
| Backpacking, Hiking with pack | 651 | 572 | 493 | 413 |
| Carrying infant, upstairs | 465 | 409 | 352 | 295 |
| Carrying infant, level ground | 326 | 286 | 246 | 207 |
| Carrying 25 t0 49 pounds, upstairs | 745 | 654 | 563 | 472 |
| Carrying 16 to 24 Pounds, upstairs | 558 | 490 | 422 | 354 |
| Walk/run, playing with kids, vigorous | 465 | 409 | 352 | 295 |
| Run/walk, playing with kids, moderate | 372 | 327 | 281 | 236 |
| Standing, playing with kids, light | 261 | 229 | 197 | 165 |
| Loading, unloading car | 279 | 245 | 211 | 177 |
| Climbing hills with a load of 9 pounds | 651 | 572 | 493 | 413 |
| Climbing hills with a load of 10-20 pounds | 698 | 613 | 528 | 443 |
| Climbing hills with a load of 21-42 pounds | 745 | 654 | 563 | 472 |
| Climbing hills with a load of over 42 pounds | 838 | 735 | 633 | 531 |
| Hiking, cross country | 558 | 490 | 422 | 354 |
| Walking downstairs | 279 | 245 | 211 | 177 |
| Bird watching | 233 | 204 | 176 | 148 |
| Walking with kids of pushing a stroller | 233 | 204 | 176 | 148 |
| Marching, rapidly, military | 605 | 531 | 457 | 384 |
| Race Walking | 605 | 531 | 457 | 384 |
| Pushing a wheelchair | 372 | 327 | 281 | 236 |
| Walking the dog | 279 | 245 | 211 | 177 |
| Mountain climbing, rock climbing | 745 | 654 | 563 | 472 |
| Run/walk, playing with animals | 372 | 327 | 281 | 236 |
| Walking using crutches | 465 | 409 | 352 | 295 |
| Walking, pushing a wheelchair | 372 | 327 | 281 | 236 |
HOW HIKING BLASTS CALORIES
Walking a mile will not burn the same amount of calories as running, but becoming a runner is challenging and not for every person.
This is true because many have tried running and failed the first times. Not everyone is going to feel the pleasure in running as is the case with others, and that's where hiking comes in. Here are some of the most important benefits you'll get from hiking:
Increased levels of caloric burn
Although many believe that burning calories is not a priority when it comes to exercising, it's important to know that this process makes a significant contribution towards weight reduction.
Hiking will burn a lot of calories per hour as opposed to walking. Judging by the increase in breathing and heart rate, the uphill section of hiking is the same to a moderately-paced run, from the perspective of calorie expenditure.
It's a logical progression
Psychologically, it's simpler to push yourself during a hike than it is when running. If you want to rev up your workout routine, and running is not on the list due to lack of interest of injuries, then hiking can be an excellent alternative. This is a perfect gateway exercise as it helps in building cardiovascular fitness as well as strengthen your leg muscles.
It's an easier outdoor activity
The best thing about hiking is that you can do it anywhere there's a hill. You don't have to drive to the Rocky Mountains for a hike. What's more, novices can undertake their hiking trips in areas with small hills to give them the same mental effect.
If you are not able to access a hill, using a treadmill at an exaggerated incline will produce a similar effect, although it's highly recommended you get outside.
Hiking can be adventurous
If you reside in the urban areas, hiking can be a great weekend activity. Make arrangements to go somewhere with hills and a fantastic view, and don't forget to take your friends with you. Questing to get to the top first will create motivation as you experience each other in an entirely different setting.
Instead of remaining inside to watch a movie, it's more challenging to embark on an outdoor hiking expedition. Additionally, this activity will help burn calories and keep you in shape.
Hiking is an excellent workout
Although a significant part of the motion takes place from your waist down, the arms can also get involved when you use trekking poles. Even when you don't, there'll be so much pumping and swinging arm movement than with walking.
The core will be engaged more, and your body will stabilize when going over rough surfaces, while the thigh, calf, and butt muscles will be burning when you are through.
The lower body will be stronger, muscular, and more tone with hiking compared to walking. Finally, since it's a challenging cardiovascular work, the lungs and heart will also benefit from it.
How to get going
Grab a pair of boots with excellent grip and ask a friend to come with you. Find some hilly terrains in your local area. The trails don't have to be complicated. Make sure you carry your cell phone and some water to keep your dehydration in check.
Begin with something smaller and assess your feelings about the exertion. If you find the activity fulfilling and you would like to push yourself further, you should prepare yourself for something more challenging.
Once you are comfortable keeping up with the pace, and after you have built up you stamina to attempt something riskier, you'll have to plan more. Challenging hikes require additional time and money, but it beats a weekend on the couch, or doesn't it?
Hiking is about getting out and experiencing nature. If you are new at this, make sure you begin with a pre-arranged group. There are numerous hiking groups within your area of residence. All you need to do is ask around or search the internet to see the options available to you.
There are some outdoor gear you will need to have with you when you are out hiking. These are:
Hiking boots
A moderately-sized backpack
Cell phone
Water and food
A first aid kit
An emergency rain poncho
Camera
Sunscreen
A hat
Bear spray for self-defense
Sunglasses
Extra socks
Replacement shoe laces
Water filter
Mosquito repellent
Emergency fire-starting tools
A flashlight
A toilet paper (just in case)
Do not forget to dress comfortably. Also, you need to remember that higher elevations are usually colder, and in other cases, the terrain may be covered with snow. Therefore, it is important to know your trail and mark the season for the hike.
In conclusion
In as much as hiking is a leisure activity, it's also an excellent way to burn calories and reduce weight. When embarking on a hiking mission, make sure you have everything planned out. Pick the right group with similar hiking objectives.
Going on a hike as a group, or with someone you're close to will give you the motivation you need to keep moving. In the end, you'll end up with many great stories to share. Remember, hiking is not a race. Enjoy it as much as you can and while at it, enjoy the scenery as well.
Health Benefits Of Drinking Water: Be Positively Hydrated!
We all know that humans simply cannot live without water. It is essential to our livelihood and helps the body in so many ways that we simply cannot function without it. Even our blood is 92 percent water! Staying properly hydrated allows your body to remove toxins and helps to send vitamins and nutrients, as well as oxygen, through the body to the proper places, keeping you energized. We will discuss all that and more as well as how long to digest water.
Water is helpful when losing weight, as it boosts your body's metabolism, and it promotes healthy skin. You may feel that you are in a happier mood when you are hydrated, because water is doing its job by working with your body. You probably have a lot of questions, such as how long does water stay in your stomach? That can vary from person to person, but we will discuss more below about water and your body.
Soon, you will know all about water, how to stay hydrated, what causes dehydration and more. Let us first talk about ingesting water.
Ingesting Water
When you drink water, it travels from the mouth to pharynx and then down the esophagus. This takes about a second. Some of that water is absorbed into the stomach, some if it is absorbed into the small intestine. Then the water enters your circulatory system and then flows through the body. Did you know that if you drink 2 liters of water each day, it can turn into upwards of 2,000 ml of urine? The bladder holds up to 16 ounces of urine. For your stomach to digest water, it can take generally 45 minutes to 2 hours. However, if you have not eaten anything, and are drinking water, it can sometimes digest in just a handful of minutes.
On average, a person needs at least 64 ounces of water in their body per day. If you are highly active, you may need more water. Depending on your fitness level, you may need to increase your water intake as well. Ingesting this much water will keep toxins flushing out of the body and will keep you full so you will not want to snack. It boosts your metabolism, keeping you going through the day. The best part? Water has no sugar, no fat, and no calories!
Ways to Stay Hydrated
Besides drinking water and increasing your intake if necessary, you can find many foods also have a lot of water. Stay away from the caffeine, which acts as a diuretic. Many fruits and meats contain a high amount of water.
Some great examples of foods that will keep you hydrated include:
Hamburger Meat
Chicken breast (not fried)
Soups, Broths, and Stews
Smoothies
Flavored Water or Sports Drinks like Powerade
Watermelon
Grapes
Real Fruit Juice
Jell O
There are many things you can do to improve your body's hydration level.
Making small changes like replacing that soda with some water, can help your body work better and less harder.
Here are some ways to improve your hydration level:
If you do not like plain water, you can always eat foods that are high in water, such as those mentioned above.. Some foods can contain up to 90 percent water. While you do want to drink water regularly, you can always add lemon for flavor.
Stay away from drinks that will steal water from your body. These would be the sodas, coffees, and teas because not only are they diuretics, causing you to lose more water when you urinate. If you are already dehydrated or sick, stay away especially from apple juice and prune juice as you will lose even more water in the form of stool.
To increase your water intake, carry a bottle of water with you wherever you go. Whether it is exercising at the gym, working in your office, or driving your car, keeping water nearby will allow you easy access to hydration.
If you are flying, you may notice that your mouth feels dry. The air in the cabin dries out your body. Drink water before and during your flight so you do not feel this way. During this time, you should also avoid soda pop and alcohol while you are in the air.
Stay away from any "water diets" that claim to help you lose weight fast. Drinking too much water can be dangerous. Not only that, but your body can only absorb so much water before it just goes straight to your bladder. You will not burn fat doing a water diet.
Water is hard to digest when you are eating it with a meal. It also dilutes the digestive acids. If you do want to drink water with your dinner, try drinking sips of room temperature water. Drinking ice water will slow the digestion process.
As we said before, drinking two glasses of water when you wake up can help jump start your body for the day. It keeps your body in balance and allows your mood to improve. This is definitely a must when it comes to hydration.
Lay off the carbonated water as it only makes you burp. The gas from this will make you feel full in the stomach, which means you will not drink as much as you would with regular water. If you cannot live without a little fizz in your drink, you can always put some seltzer in your water.
You can lose weight by drinking more water. It can help to burn calories and can help you feel full between meals. Water will flush the kidneys and release toxins from your body, as well as some fat. If your kidneys are in great shape, the rest of your body will improve.
What Causes Dehydration?
There are many things that can lead to dehydration, namely lack of giving yourself water for your body. If you do not ingest water, you can die within days. Some foods can cause dehydration as well.
Below are 9 foods and drinks that can dehydrate your body.
White Asparagus: This vegetable has aspartic acid, which affects the kidneys, depleting water from your body. This will, in turn, cause you to be dehydrated.
Alcohol: Since alcohol is a diuretic, it will make you need to use the restroom more. Thus, you are losing water from your body. Too much alcohol will cause a hangover, leading to a headache, because of lack of water. If you do drink, try to drink water as well to keep yourself from a hangover later.
Cured Meats: Because of the high amount of protein and salt in cured meats, your body will lose water. It is recommended to drink water along with your cured meats to ensure the salt does not dry up the water within you.
Coffee: If you drink just one or two cups of coffee, you do not have to worry about it dehydrating you. However, if you drink a lot of coffee, it dehydrates you like alcohol does because coffee is also a diuretic. Plus, the caffeine is thought to speed up the process of dehydration.
Soy Sauce: We all like to add a little soy sauce to our rice now and then, but it does contain salt, which will soak the water up from your body. In 2013, a girl almost died from drinking a quart of it and it gave her an imbalance of electrolytes, causing dehydration. If you use it a lot, though, you should drink some water along with it.
Bouillon Cubes: Used for making soup, bouillon cubes contain a very high amount of salt, which aids in dehydrating you. Essentially, when it is used in soup, you are drinking flavored salty water. Even though water is used in the process of making soup, you will still need additional water to stay hydrated. If you are sick, you will want the extra fluids so water can replenish your body.
Popcorn: High in sodium, popcorn can cause you to feel very thirsty. Many like to drink a soda with their popcorn, especially in the theater. Try to replace that soda with water or flavored water to gain some fresh water for your body.
Fried Foods: French Fries. Cheese Sticks. Fried Chicken. If it is fried, it is going to dehydrate you. Fried foods and processed foods usually have a lot of salt, which can be over your daily intake amount. Avoid these foods or eat sparingly. Always replenish yourself with some water after eating these foods.
Sugary Drinks: Many sodas or juices contain a high amount of sugar, which are acidic as well. While they may be tasty, they are sucking water right out of your body. In turn, all of your organs are working harder to process the sugars, and your body has lost water. Cut back on the sugary drinks, by including more water within your daily diet.
What Happens to Your Body without Water?
Dehydration will occur when you do not have enough water in your body. You need to replace the water throughout the day to keep your body functioning properly.
Some signs that you are being dehydrated include:
Dry mouth
Feeling tired
Headache or dizziness
Muscle cramps
Dry skin
Constipation
There are more signs if you happen to be severely dehydrated, such as:
Irritability
Sunken eyes
Fast heartbeat
Fever
Little to no urine
Low blood pressure
There are more signs, but those are the major ones. The major causes of dehydration are: frequent urination, sweating, vomiting, diabetes, and diarrhea.
Nobody is immune to dehydration and it can affect you more, and this is especially true for certain people like:
The elderly
Sick people
Infants
Diabetics
Alcoholics
Those with adrenal gland disorders
Those with cystic fibrosis
The elderly are more likely to become dehydrated because as a person ages, the thirst mechanism in the body is not as strong. Therefore, they will lose water faster. If an elderly person has dementia, they will experience dehydration and the need to stay on top of their water consumption. Infants and small children are at risk of dehydration because their little bodies go through water faster, so they need to be sure to get water regularly.
While a person can live up to 3 weeks without food, the body can only go 3 days without water. Survival experts, stick by the Rule of Threes: You can live only 3 minutes without oxygen. You have 3 hours to find shelter in a harsh weathered environment. You can live 3 days without water, and you can live 3 weeks without food. There have been cases where people have lived a week without water, but those are rare. Since the body is nearly 70 percent water, you can see how essential it is for living.
Best Time to Drink Water
Believe it or not, there are times in the day that are better for drinking water, as well as a few guidelines that will help your body get all of the water it needs.
So, when is the best time to drink water?
Drink 2 glasses of water upon waking up. This helps to wake up your internal organs and get them ready for the day.
Drink 1 glass of water a half hour before any meal as it helps the digestion process.
If you are taking a bath, drink 1 glass of water to keep your blood pressure down.
Before going to bed, it is recommended to drink 1 glass of water for heart health. This aids in preventing a heart attack or stroke.
Another trick is, after drinking the 2 glasses when you wake up, you can brush your teeth and eat about 45 minutes later. From there, eat your breakfast and do not eat again for another 2 hours. This helps water to process through your body more efficiently.
Best Ways to Drink Water
There are three great ways to drink water and keep yourself healthy:
Drink at a slow pace. Keeping a steady pace when drinking water will keep you more hydrated than if you were to down a whole bottle in just a few moments. This is because your intestines can only take so much water at once. If water moves too fast, you will lose it through urination, instead of it being absorbed into your body.
Drink water with some lemon! Lemon has many health benefits as you will see below. You will feel more energetic and your body will be able to digest food better. Using a water pitcher that has an infuser will allow you to infuse your water with whatever fruit you want and the fruit will pour into your glass with the water.
Timing is key for drinking water, as we stated above. Knowing when to drink water will allow you to better absorb it giving you more energy and releasing more toxins. Drinking water is simple if you have some next to you at all times. You can use a tumbler and fill it wherever you need to, at school, at the office, or at home. Drinking as you eat will slow down the digestion process, as some people think.
Add a Little Lemon
Lemon is not only for enhancing your water with taste, but it can do wonders for your body. Here is how:
Lemon keeps you alert and full of energy because it contains potassium. This helps nerve function and brain function, and it reduces stress.
Lemon boosts your immune system with Vitamin C. This helps the body heal and helps to break up phlegm if you are sick.
A little lemon in your water will keep you not only hydrated but will not hold onto fat cells. They also absorb nutrients.
Since lemon has Vitamin C, your skin will produce more collagen, which keeps wrinkles at bay.
Lemons have pectin fiber, which keeps your metabolism regulated. This can help you lost weight and curb craving.
The liver loves lemons because it helps produce enzymes for your body. The liver works better and the bile helps in digestion. It also keeps toxins flowing out of your body by urination. Plus, lemons help bowel movement regulation.
Wrapping it up
Water is our life, truly. We need to take care of our bodies by drinking an appropriate amount each day. This lessens our risks of heart attacks, strokes, and sickness. It keeps your skin beautiful and helps boost your mood. Without water, we cannot survive. Hopefully, you have learned many things about water and can improve your daily regimen. Thanks for reading!