Therm-A-Rest NeoAir XLite Sleeping Pad: Getting A Padded Night's Sleep
If you have planned a camping or hiking trip with your friends or relatives, make sure that you take the most important things packed in a special kit. Keep in mind that you have to focus on the most important and most necessary things.
One of them is your sleeping pad. You have to stay refreshed and in a good condition while you are in the wilderness. Whenever you are low on sleep, you will feel fatigued and malaise, and this is why you need a comfortable sleeping pad.
There are many options that could be helpful, but the most convenient option for feeling rested and refreshed is the Therm-a-Rest NeoAir XLite Sleeping Pad. A sleeping pad is one of the most important items in the survival kit, and you have to take a special look when it comes to feeling rested.
Having a personal pad for sleeping on your outdoor activities or another travel adventure, is the best way to stay ensured that you would always wake up fresh and in a good mood. The first thing that you should look for in a sleeping pad, is its comfortableness.
Remember that the sleeping pad is not a luxury item, but it is a necessary product that has to be a part of your outdoor package. Pack this product in your equipment because it is only one pound weight, and you can provide yourself a good time of sleeping without carrying another additional tool.
This sleeping pad provides more comfort and warmth in a specific season, and it helps you stay rested and fresh for your upcoming activities. All inflatable sleeping pads are great and they have more lift, so you are sleeping further from the ground. Every sleeping pad which is inflatable has a distance from two to ten cm above the ground.
One of the most important things that you have to pay attention is the material the sleeping pad is made of. The material provides the thermal properties and they are especially important.
Feel free to make the best decision for yourself and to think about whether the Therm-a-Rest NeoAir XLite sleeping pad is a perfect choice over the other products on the market. We hope that this review will help you to decide and to purchase the most relevant product for your outdoor needs.
Review
Packaging
This product only weighs about a pound, so it will ship in a box that weighs 1.15 pounds. The product itself is 12 x 9 x 6 inches, so the package will be just a little bigger than that, and it is packed securely, with strong boxing that prevents against puncturing.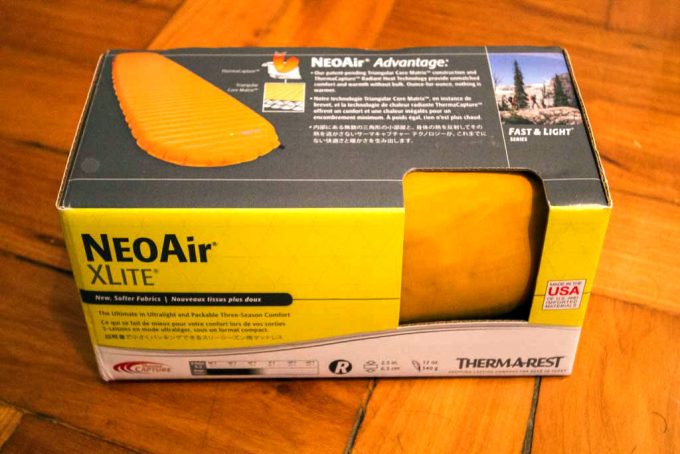 You will have pieces of plastic around some of the items inside, but that is to prevent scratching and puncturing. Inside will have the stuff sack and repair kit as well.
Design and Durability
This sleeping pad is an excellent product because it is made of materials with special advanced technique. The soft-touch materials are very good because they give the mattress stability and also great support. It is good to know that you are safe while sleeping and you don't slip off your sleeping pad.
To make sure that you are warm while you sleep during your hiking trips, the Therm-a-Rest NeoAir XLite Sleeping delivers more warmth than other products. The Therma capture advanced technology allows heat to be the number one priority when purchasing such a product.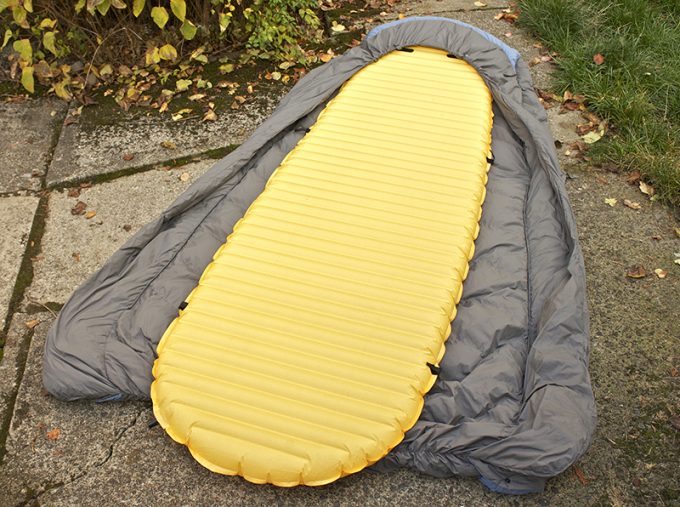 This type of sleeping pad is very good because it fits all of your body, while other products only fit your torso, without your legs being covered. This provides great comfort and also you get a fresh feeling when you wake up the next morning. Therm-a-Rest sleeping pad provides a better skin contact and has a positive mark when it comes to durability.
Ease of Use and Assembly
Using this sleeping pad is simple and painless. Lie the sleeping pad on a flat surface, where there are no rocks or sticks that could possibly puncture it. Then begin the process of blowing it up.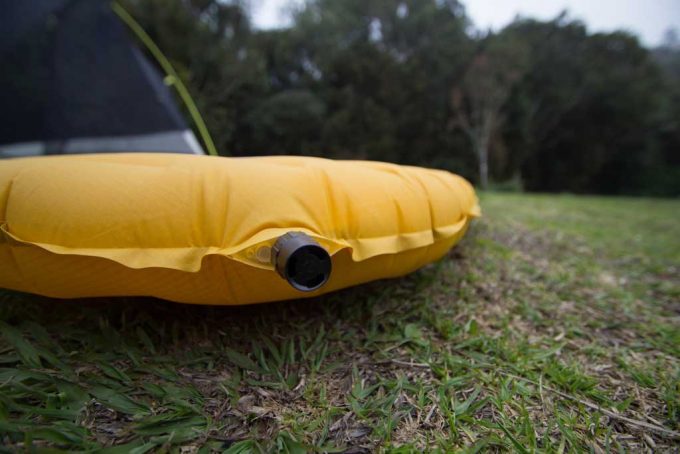 It is simple to pack down too, as you just need to open the flap and start rolling it up. It packs up small, so it fits right into your backpack, just be sure to get all of the air out.
Sizing
You can purchase this mattress pad in 3 sizes, all in Marigold, for your specific comfort and length level. The one we are reviewing, however, is the Large size. See the table below for sizing and other information so you can choose the one that fits your specifics best.
| | | | |
| --- | --- | --- | --- |
| Specifications | Size Small | Size Regular | Size Large |
| Weight Of Pad | 8 ounces | 12 ounces | 1 pound |
| Width Of Pad | 20 inches | 20 inches | 25 inches |
| Length Of Pad | 47 inches | 72 inches | 77 inches |
| Thickness | 2.5 inches | 2.5 inches | 2.5 inches |
| Packed Dimensions | 9 x 3.3 inches | 9 x 4 inches | 11 x 4.5 inches |
| Top & Bottom Fabric | 30 D Rip Nylon | 30 D Rip Nylon | 30 D Rip Nylon |
| Core Material Fabric | Nylon | Nylon | Nylon |
| Color | Marigold | Marigold | Marigold |
Therma Capture Technology
In this sleeping pad, there are many layers that are meant to keep you warm, due to the Therma Capture Technology. There are targets within the layers that capture heat, using a Triangular Core Matrix construction that adds up to 50 percent more warmth so you get a good night's sleep.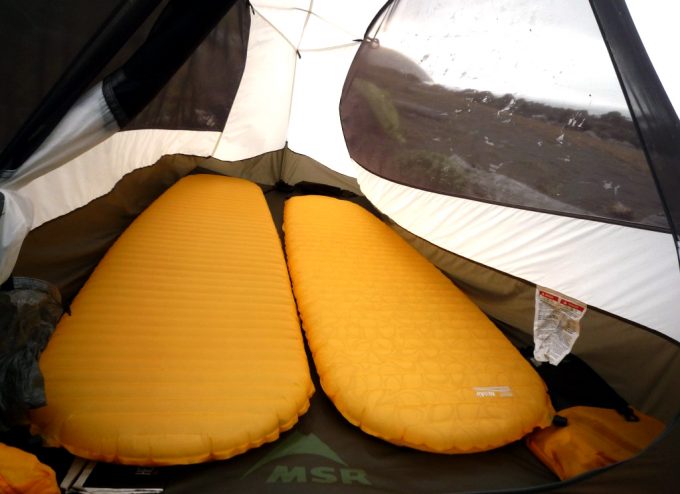 The Triangular Core Matrix uses triangular baffles on top of one another to keep the heat in and keep you warm all night.
Manufacturer's Recommendations
If you come across a leak that does not need a patch, you can use a glue that is urethane based to solder the problem. Use a small amount to seal the space and let it dry for 24 hours. You can also use tube patch kits to repair your sleeping pad.
If you have a large hole or have ripped the sleeping pad, you can use the included fabric patch. You simply cut the patch so it covers the tear or hole. You can also use the aforementioned urethane based glue on the back of the patch for extra strength sealing. You will also need to let this dry for 24 hours.
If you are too concerned to make the repair yourself, you can mail it to the company for repair. If you happen to get water inside of the sleeping pad, you need to use the valve to get the water out. You can then keep the mattress upside down and let it dry in a warm spot. This can take up to 3 days, so do not be alarmed.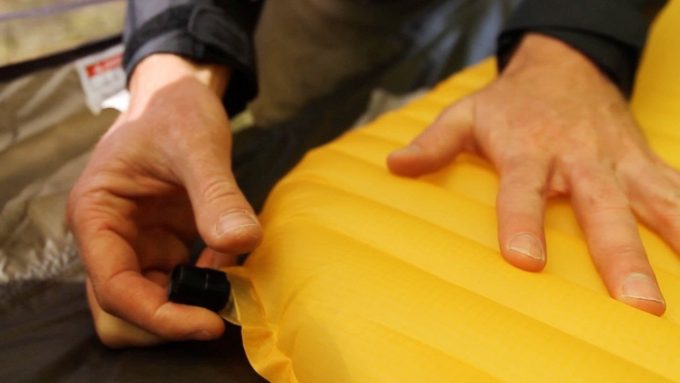 When you need to wash your sleeping pad, you need to know that you cannot put it in the washer. You need to use a water hose or clean it in your bathtub. Keep the valve closed so water does not get in. You can use an all purpose cleaner to get it clean.
It is recommended for harder to clean spots, say if you got tree sap on it, that you use a rag soaked in alcohol to remove it. Some people have had to replace the valve on their sleeping pad over time. This can be done by using a Valve Replacement Kit the company makes.
Value for the Money
While there sure are many sleeping pads on the market that are not as expensive as this one, you have to think about comfort and durability. Many users state that this is a great product for the value, however, those who are more money conscious say that they can find just as good comfort elsewhere, even though this sleeping pad has many advantages.
The Therm-a-rest sleeping pad is good for three season trips, and it provides great comfort as it is expected in situations like these. The price always guarantees the quality of the product. Make sure that you choose the product that seems the most available one for you.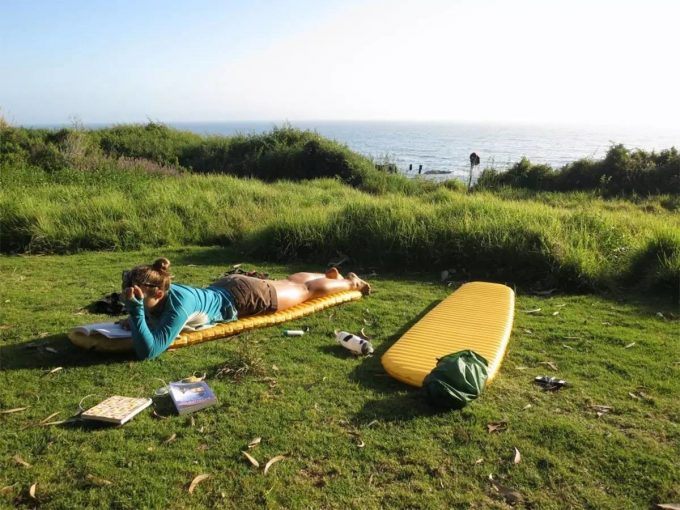 Its durability depends on the materials that the sleeping pad is made from. So it can be different for various products, even though from the same company. Choose wisely and take a special look at the special features of this product and think well if this product matches your needs.
To help you get a better insight on what the main reviewed sleeping pad offers, we have gathered a list of pros and cons for your review.
PROS:
Lightweight
Extremely comfortable
Very compact and small because of the low-bulk type of material
Inflate on an easy way after a long and exhausted day
Has high-quality and advanced construction
Easy to pack up
Minimize the loss of heat with the special construction of the core matrix
Unrivaled stability that provides a great support
Contains repair kit and a sack for the additional stuff
Durable
CONS:
Too narrow
Very thin mattress
Makes noise
A little slippery
With its advantages that are numerous, this product is a perfect match to your outdoor activities. Lightweight, very comfortable and provides warmth, this product is a dream to every hiker, alpinist or camper. This product is a must have tool in your backpacking equipment.
Don't forget to take your repair kit for the unwanted and inconvenient condition. It is good to be protected and stay safe. Put all the necessary things in the stuff sack and enjoy your trip while making unforgettable moments.
People who tried this product claim that this particular sleeping pad is easy to maintain and use and it provides good sleeping time. Most of the customers are satisfied with a few specific features like great comfort, very light weight and providing the warmth condition.
Therm-a-Rest Z Lite Sol Mattress: Great Outback Comfort
Are you an explorer? Do you enjoy trekking through dense forest paths, or up high mountains, or across vast strips of land? If so, then chances are you can't always get from point A to point B without staying a night in-between. Heck, you may be trekking out there with the sole intention of spending many nights in one place (aka camping).
When thinking about an overnight trip, it's important to consider not only where you'll be sleeping, but what you'll be sleeping on. That's why we've written this review on the Therm-A-Rest Z Lite SOL Mattress.
The Z Lite SOL Mattress from the Therm-A-Rest brand is considered by many to be the perfect outdoor camping mattress for both active day hikers staying overnight and passive campers staying at a fixed base. You might consider it the best sleeping option for backpackers during their travels too.
Weighing in at just 10 ounces in its small size and 14 ounces in regular size, the Z Lite gives people of most any body type, the ability to carry it with them on their hiking expeditions without too much effort. It's got a streamline design that provides comfort and insulation without adding any unnecessary weight to your backpack. This sleeping mattress is also incredibly durable, with a closed-cell foam pad design which has been specifically created to be nigh on indestructible.
A decent sleeping spot is often overlooked by inexperienced campers or hikers because they don't realize that after water, food and shelter, sleep is the fourth most important survival element. You will be able to enjoy the outdoors and your trip a whole lot more if your brain is functioning at its full capacity. In order to meet the next morning happy and energetic instead of groggy and uncomfortable, you need to get yourself a decent sleep-on item.
REVIEW
You can choose for yourself whether the Z Lite SOL Mattress is the best choice for you among its competitors on the market with this detailed review. So without further ado, let's get into it. Positives come first, so here are some of its great features.
Packaging
This pad does not come with the detachable components you would expect to find in mummy bags. However, it comes with a closed shell form that acts a barrier to moisture and keeps you dry throughout the night. Its egg-crate shape keeps the air flowing and its material offers perfect insulation from the ground.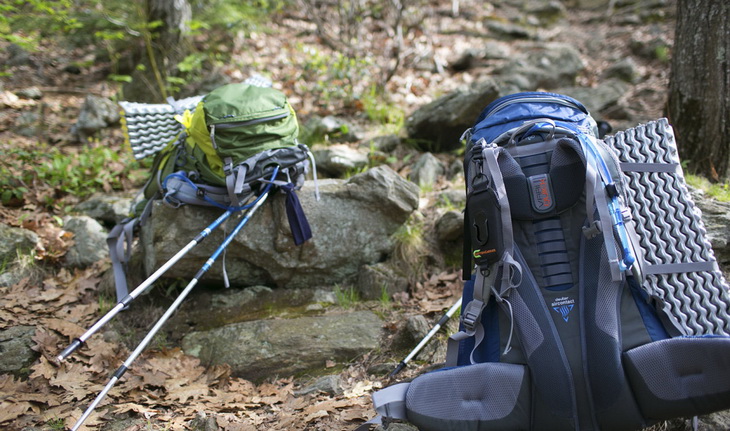 You can use this product with inflatable for a more comfortable experience. Its foldable design makes it ideal to carry around as the product can easily be stored in the backpack.
Design and Durability
With an extremely durable foam pad make-up, the Z Lite SOL Mattress provides overnighters the option of folding parts of it up double in order to even out the rough terrain and enhance their sleeping experience. These factors and others are summarized briefly in the table below.
| | |
| --- | --- |
| Best use:  | Camping, hiking, backpacking |
| Color:  | Silver and yellow |
| Unfolded Dimensions:  | 51 x 20 x 0.75 inches [Small]72 x 20 x 0.75 inches [Regular] |
| Folded Dimensions:  | 20 x 5.5 x 4 inches [Small]20 x 5.5 x 5 inches [Regular] |
| R-Value: | 2.6 |
| Material | Closed-cell foam – ThermaCapture |
| Unfolded Shape | Rectangular |
| Folded Shape | Cylindrical |
| Cost | Around $30USD [Small]$40 USD [Regular] |
| Shipping Weight | 1 pound |
Another particularly impressive thing about the Z Lite is its durability. Quoted as being nearly indestructible, it's nice to know your investment will go the distance with you. When buying any outdoor item, you should opt for the roughest and toughest version – that way you don't have to worry about your gear when deciding on which locations and terrains to go exploring in. The world becomes your oyster.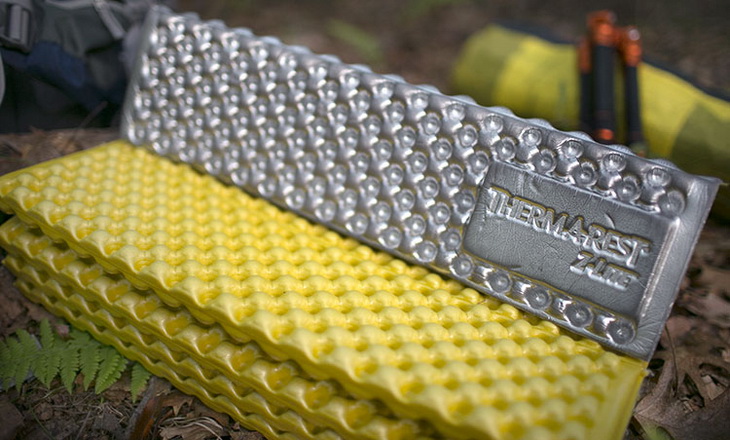 If there's a reason to purchase this product, it is because the Z Lite Sol is as tough as it can be. By far, this pad is the toughest and most durable products as it is able to withstand harsh weather and hardship zones. The aspect of comfort aside, this pad can be used in sharp rocks, uneven surfaces, or on cacti (although not recommended).
You can even take a hole to this product without destroying it. Its greatest advantage lies in the fact that the Z Lite Sol is indestructible in the field. If two parts of the pad come apart as a result of extreme folding (which is hardly conceivable), you can still tape them back together and your product is good to go!
Comfort
The Z Lite Sol is not the most comfortable pad on the market. Due to its small thickness, it is quite impossible for this gear to compete with other products that have a much higher thickness such as the 2 inch-Therm-a-Rest XLite. When you are using it on the ground surface, you'll discover that this pad doesn't have the thickness needed to provide adequate support for your nook and crannies.
When used on uneven surfaces, the Z Lite Sol is outdone by the thick air construction pads since they are unable to absorb lumps. With that in mind, there are better ways of using the Z Lite to provide the comfort you would need when you are sleeping in the wilderness.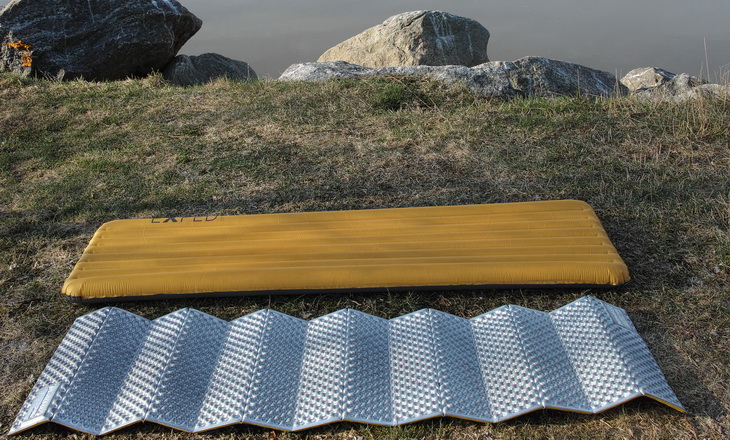 When using this product, there are a number of things which will assist you to get an amazing sleep. Anytime you are about to go to bed, you need to make sure you have selected the right site on which to place your pad. If you can find a place that has a level and smooth surface, then you are on your way to an excellent night's sleep. If you find a non-clumpy grass or pine duff, that will be a plus for you.
Additionally, you can try sleeping on your back so you can reduce the pressure points on your side or hip. Perhaps, one of the best ways to ensure you get the best out of these pads is to hike and trek enough so you can be very tired. That way, you will be too tired to feel any discomfort when you finally put your head to rest.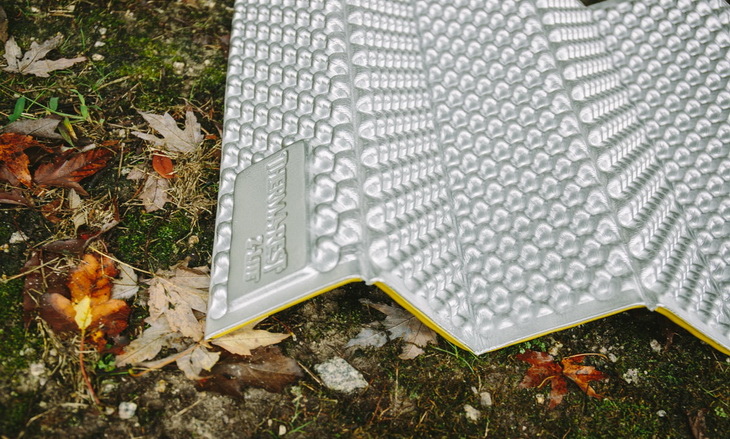 There have been instances when people have complained about this product the first time they use it, but on the second night, they are too tired from the long day of trekking and therefore sleep the entire night and wake up rested and ready for the following day's explorations.
If you like hammocking, the foam pads such the Z Lite Sol will perform much better compared to their inflatable counterparts since the suppleness of the pads places the under you. On the other hand, the inflatables usually slide out from under making them quite uncomfortable. Although comfort is not Z Lite's strongest feature, this pad definitely delivers on other aspects.
Weight
If you are in need of a super lightweight mattress to use in your outdoor adventures, the Z Lite is an excellent option which is ideal for your countless ultralight endeavors. The small version for this gear weighs just about ten ounces, making it the super light option. Additionally, you can cut its weight by customizing the edges to create a mummy shape.
The short version of Z Lite Sol is also preferable due to its lightweight aspect and performs extremely well when supplementing your winter inflatable pad. For four ounces or more, you can have the regular version of this product which is seventy-two inches long.
One of the greatest benefits of the foam pads is the fact that they can be used in replacing the back panel of almost all backpacks. The versatile Z Lite Sol is particularly suitable for this task due its excellent folding capability. You can fold it into two sections by stacking the two halves in parallel and sliding in inside your backpack.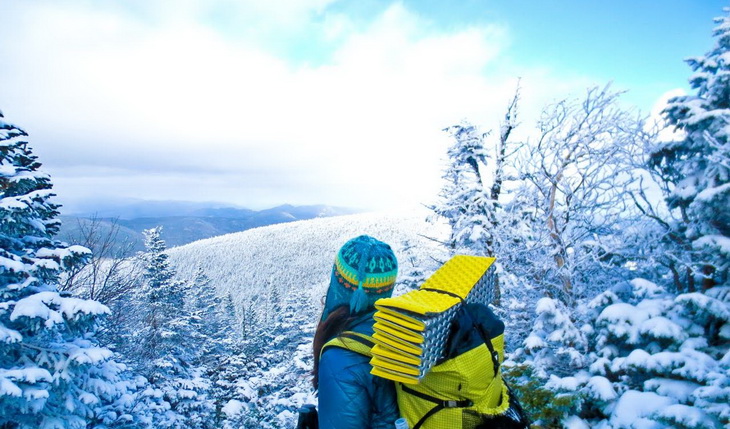 Of course, this will deduct your internal space, but a lot of backpack frame-sheets will have just about the same weight if not more. That way, the foam pads are able to equate to approximately zero additional ounces if they can be used to replace the frame!
When you compare the Z Lite Sol to other pads, you'll notice that this product packs down small thanks to their accordion style and dimples. According to the manufacturers and experts, this product packs down to approximately nine liters unless it's trimmed smaller.
If you own a backpack that has a removable back panel, you may opt to use the Z Lite Sol in place of the panel, although some volume in your pack will be lost. Alternatively, you can attach the Z Lite to the outside of your pack such that it takes no volume inside the pack.
Unique Features
The Z Lite Sol is a gear that comes with so many unique features to make your outdoor expedition a memorable experience. These features are as follows:
Has a share-able unisex design
Aluminium surface for heat reflection
Easily maintainable with water wash and dry
Comes in two sizes to give consumers greater choice of length
Egg-carton foam pattern increases the overall comfort of the pad
Durable foam can withstand years of abuse
Warmth
The Z Lite SOL improves upon old designs by adding a silver reflective coating to boost warmth. With an R-value of 2.6, this pad is warm enough for three-season use, but should be supplemented in winter, or rather, this pad should be used to supplement an inflatable pad.
Though it isn't very warm in itself, the Z Lite Sol is a superb pick if you're looking for a foam pad that you can couple with another pad for winter. Remember, R-value functions in a linear way, so if you add this pad, to a pad like the XLite that has an R-value of 3.2, in ideal conditions you'll have an added R-value of 5.8!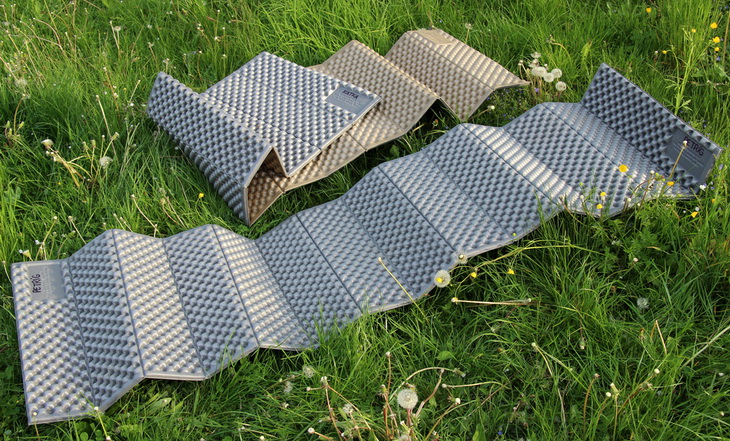 If your plan is to use the Z Lite Sol during the winter, there are a number of things you will need to consider. First, the dimples in the pad are meant to assist the product to fold up smaller and enhance its warmth. However, the fact that these dimples get filled with snow makes the pad a little less desirable. You will need to brush the gear completely to get rid of the snow before you can go to sleep or you risk having the snow melt into your gear.
During the winter, any sort of moisture is undesirable and must be battled with all means necessary. Placing the Z Lite Sol on the ground under another inflatable pad will help mitigate this problem since any melting snow will get trapped between the inflatable and the Z Lite Sol.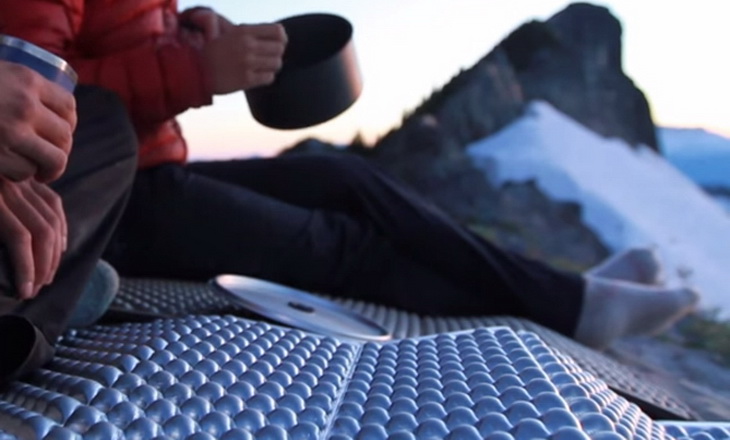 Another drawback with the dimples is that these features increase the pad's surface area, particularly on the bottom, maximizing the degree of heat that could be lost. If you're camping in a tent, it is advisable to place the pad on top of your inflatable after you have brushed the snow off the dimples.
Overall, this product is an excellent foam if you intend to supplement the inflatable. However, a special amount of care is needed if you are to get the best out of the Z Lite Sol.
Value for Money and Guarantee
The Therm-A-Rest Z Lite SOL Mattress is a brightly colored rectangular foam sleeping pad. Priced from around USD $30 to USD $40 for the small and regular sized versions respectively, this is a very affordable pad. What's surprising is the amount of functionality the designers are able to provide within this price bracket
The Z Lite SOL Mattress from the Therm-A-Rest brand is considered by many to be the perfect outdoor camping mattress for both active day hikers staying overnight and passive campers staying at a fixed base. You might consider it the best sleeping option for backpackers during their travels too.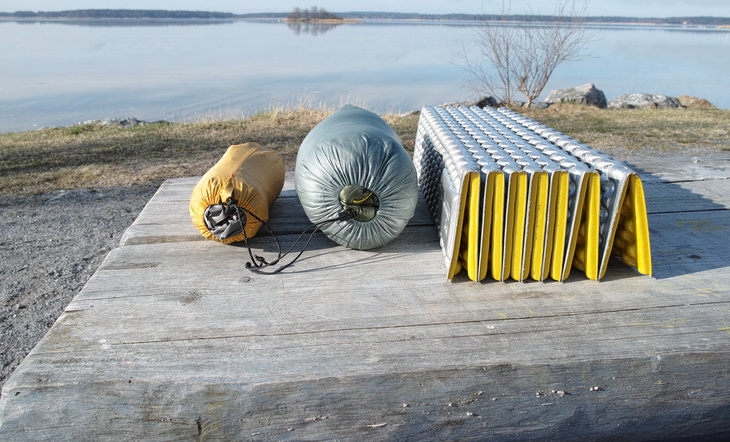 Weighing in at just 10 ounces in its small size and 14 ounces in regular size, the Z Lite gives people of most any body type, the ability to carry it with them on their hiking expeditions without too much effort. It's got a streamline design that provides comfort and insulation without adding any unnecessary weight to your backpack. This sleeping mattress is also incredibly durable, with a closed-cell foam pad design which has been specifically created to be nigh on indestructible.
To summarize, this is a quick list of pros and cons mentioned by real users of the Z Lite Mattress:
Pros:
Comes in two sizes
Great insulation warmth
Easy to set up and pack up
Lightweight
Reasonably priced
Highly durable
Cons:
Thin material can make for an uncomfortable bed base
Once again how you interpret the above results will depend entirely on what is important to you personally. Overall, however, we'd say that users seemed very satisfied with the Z Lite Sol Mattress. Even so, it's worth comparing this item with other products on the market, so here's our take on that.
Lightweight, durable, highly insulating and easy to pack up/down, the Z Lite Sol is capable of meeting the needs of most avid hikers and campers when it comes to sleeping bases. We like that it comes in two sizes so that you can have more choice over what you are going to be getting.
Remember to think about where you'll most likely be using the Z Lite Sol Mattress and to choose the sizing appropriately. A decent insulated item to sleep on will improve your camping experience tenfold.We'd highly recommend the Z Lite based on all the information in this review.
Therm-a-Rest ProLite Mattress: An Affordable Ultra-light Self-Inflating Mattress
Whether you travel with an ultralight tent to camp in designated campsites or you plan to chill under the tree's shadow, a mattress is a need to have. It's an obvious assumption that outdoor surfaces are notorious of sharp pebbles and rocks that might hurt your back when lying down. As thus, one needs protective sleeping pads to prevent blisters caused by rocky surfaces. Therm-a-Rest has a ProLite Mattress in response to your desires.
Whenever participating in any outdoor activity such as hiking, particularly the long mileage ones, a light weight, comfort, and durability are paramount. The bottom-line is to have a minimal hiking or backpacking gear as possible to avoid hurting your back and straining your muscles.
Can you imagine a heavy weight of having a camping tent, a mattress, and other indispensable accessories? That could be too inconvenient. Fortunately, Therm-a-Rest ProLite Mattress brings a compact design that is portable enough to fit in many backpacks for your convenience. So, the weight issue is dealt and done with.
But then the ProLite Mattress is designed to keep you warm only in 3 seasons except winter. It is not that sophisticated with its insulation to an extent of overcoming the winter's harsh outdoor temperatures despite having a warm tent. With this in mind, you will have to purchase an additional sleeping pad or a sleeping bag in order to survive, for example, the snowy surfaces because ProLite is only 1 inch high when fully inflated. It is nonetheless a great value for hikers that are fond of hiking in spring to the early fall when the temperatures are mild.
We have discussed the paramount features of this sleeping mattress below in order to give you a glimpse about its capabilities. These features can also be used as critical factors when evaluating similar products on the market prior to making a purchase.
Review
Packaging
The mattress will be shipped to your location in a 10 by 8 by 10 inch packaging, and it weighs 1.4 pounds. Since it is compact and lightweight, the mattress is sure to fit in your backpack easily, without stressing too much about space considerations or worrying that it will weigh you down when you decide to carry it during your hike.
Design and Durability
With a 50 denier Hex Rip Polyster, a ProLite sleeping mat reassures you durability of all the times. It can survive numerous uses in a variety of surfaces no matter how rough they are. Even if it gets punctured mistakenly, the pad can be patched with ease to keep its inflating features. This advantage is seldom seen in other sleeping mattresses due to their complex baffle designs. The urethane foam, the internal fabric, is also durable.
Weight is commonly an important feature that often trades durability when selecting sleeping mattresses. Many ultralight hikers focus on the weight to check if the product will not compromise their mobility whenever climbing steep mountains or travelling for hundreds of miles. But in most cases, with an ultraweight comes less durability and a compromised warmth in many sleeping pads. Just be vigilant about that.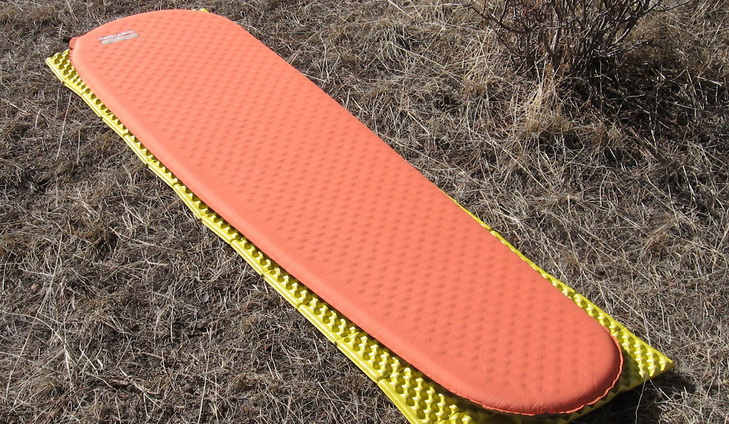 ProLite sleeping mattress proves the convention somehow untrue for sleeping pads. It is lightweight yet durable and comfortable. The design and the brand have existed for many years, and, as many customers have asserted, durability has not been compromised in spite of the quest to trim excess pounds. The mattress weighs 1 pound and 5 ounces with dimensions 10 X 8 X 10 inches. This light weight can take you places. The pad can fit in your hiking gear, and can also fit in ultralight camping tents.
Unique Features
Some of the ProLite mattresses' unique features are what sets it apart from others just like it on the market.
Comfort: Unlike its counterparts, the air construction sleeping pads, ProLite mattress offer a notably better comfort when camping on it. It has a flat surface and a self-inflating foam that plays a supporting role of providing comfort. What this means is that you can comfortably rest your body on this sleeping pad, either sleeping by side or against your back, without an adverse feeling of rocks or pebbles. Its self-inflating foam makes sure that it keeps the pad inflated at all times.
Furthermore, the Therm-a-Rest ProLite Sleeping Pad provides no bouncing sensation as is the case with other sleeping pads especially the air construction ones. Many campers have fallen in love with the ProLite's firm and stable feeling. Moreover, the pad has a grip surface for a fixed position of sleeping.
Warmth: If you tell me about a sleeping mattress that fails to optimize warmth, I'd rather advise you sleep on the ground of your tent. Warmth is critical and paramount, especially when taking into consideration the cold midnights in the wilderness. All you need is a warm sleeping pad that has a high heat retention to avoid unnecessary convective heat loss.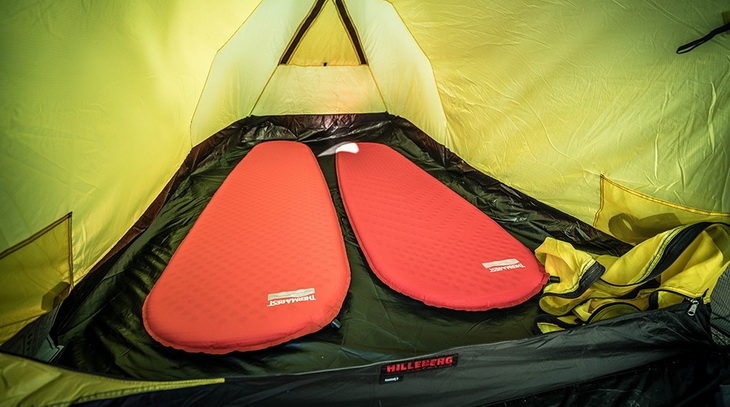 ProLite comes with an R-value of 2.4, and temperature usage range of 28 to 30 degrees Fahrenheit. With these features, the mattress is sure to keep you cool and warm. But, a word of advice, do a thorough research about the temperature fluctuations of your desired hiking destinations and then act accordingly to pair the mattress with some blankets or sleeping bags for an added warmth.
Self-Inflating : Perhaps or arguably the most attractive feature in this sleeping mattress is its self-inflating feature. Imagine that moment you're tired from a long distance hike, and then be faced with a non-self-inflating mattress to blow air into. That would be too much of a tedious work. ProLite mattress is self-inflating within the first 10 minutes of unfolding it from your backpack, although it doesn't self-inflate to the maximum level. You only need a minimal blow to complete the inflation process. Then you'll be all set up to sleep on your mattress.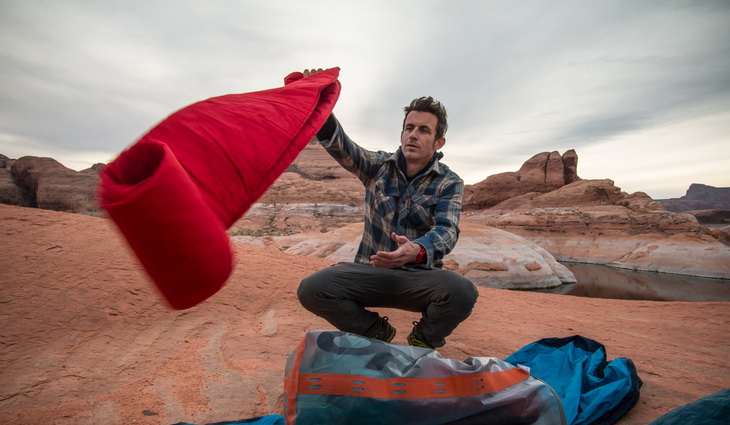 It is also compressible in case you want to re-pack it and move to the next destination. But if you remain fixed at a designated campsite, we reckon you store it inflated to avoid the energy exhaustion of having to prepare it daily. ProLite sleeping mat scores high with this feature because majority of sleeping pads needs a tremendous blow to inflate them.
Pack size: With a diagonally-cut foam and a tapered shape, this sleeping mattress is compact and portable. The tapered shape eliminates unnecessary excess space at your legs. As thus, this makes it possible for the pad to be packed small. It comes with varying sizes, which include small, large, and regular.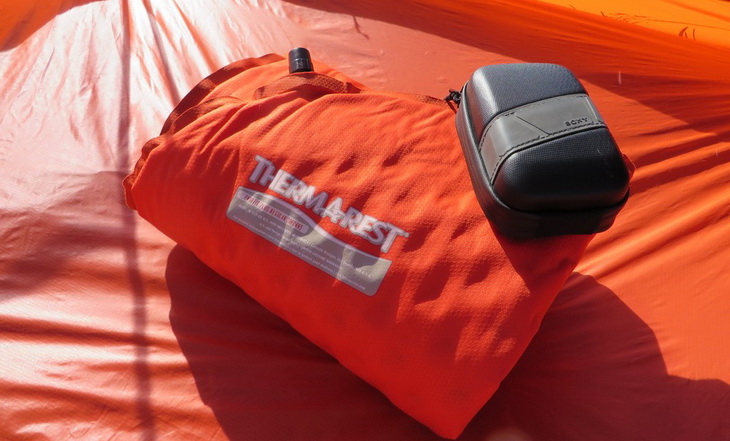 Furthermore, the pad's perforated foam construction trims the bulkiness that is seen in its predecessors. Its compressibility feature also plays a great role in its compact packable size. The stuff sack is provided to store the mat.
Versatility: It will be such a pleasure knowing that you can use your sleeping mattress in a wide range of applications or surfaces. Almost in every kind of hiking or backpacking, you can rely on ProLite mattress. Some of its uses include the following:
Laying it in an ultralight camping tent
Laying it directly on the ground on any surface when taking a rest during hiking
Laying it in your car to take a nap
Use it indoors in your household
Now that you are well-hooked up with the most paramount features of this mattress, let's unfold more of its technical aspects and many more in the review below. We have also discussed related products that can be paired with this mattress for a complete preparation for your hiking. Some of the accessories may warrant this sleeping pad's use in the winter season.
Value for Money and Guarantee
The mattress costs around $60 and $173. The prices vary according to the size of the mattress purchased. Additional costs may be incurred if you consider supplementing the sleeping pad with other products for an extra warmth, particularly for winter use. For instance, a compressible pillow from Therm-a-Rest can cost between $12 to $86, a Kelty Cosmic sleeping bag between $150 to $350, and another mattress from Therm-a-Rest between $35 to $115.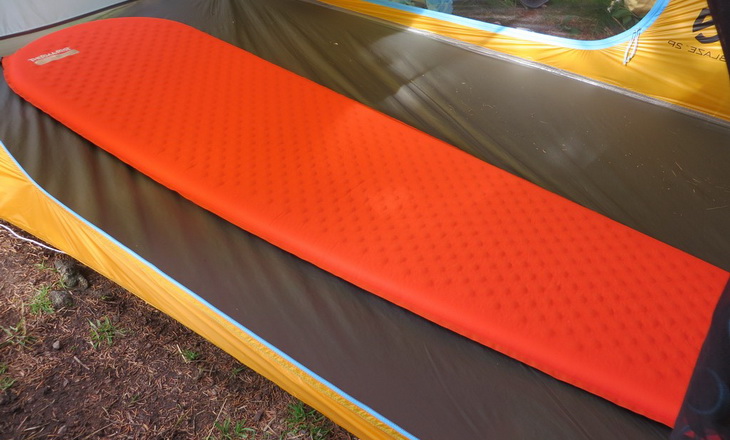 Spending such a whopping large sum of money is a good investment for outdoor enthusiasts. These products are durable, so you won't have to return to the store anytime soon unless if it's a factory, but that can be fixed by the supplier or the seller.
As you have seen in this review, this self-inflating mattress is a perfect companion for hikers who plan to blaze some hot trails in between spring and fall.  And it's not only hikers who can enjoy the ProLite mattress, anyone who loves the great outdoors, whether its campers, bikers and hunters, can benefit from it.
And why not? It is lightweight, comfortable and warm. One thing to note about its warmth, though, is that during the extremely cold winter months, the mattress needs to be paired with other blankets and a sleeping bag to achieve optimal warmth.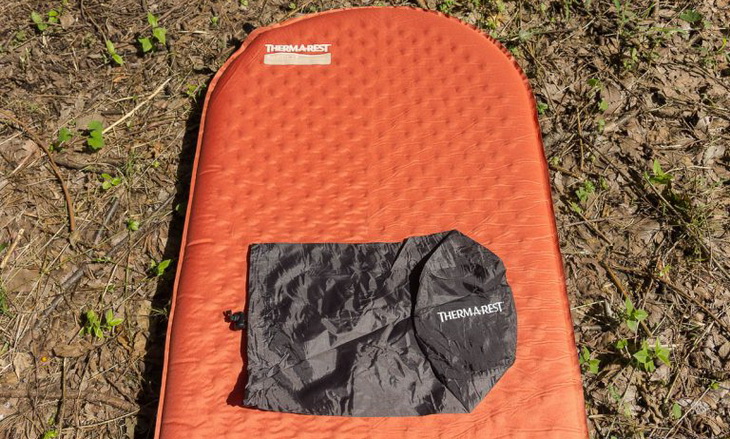 And the fact that it is also compact is a huge plus, meaning that when it is compressed it should fit right in with the rest of your gear without forcing you to leave anything behind. On top of that, you have the durability of the mattress to consider as well. Its 50 denier polyester exterior is tough and can withstand multiple outdoor trips while being soft and comfortable on the body.
Sometimes, manufacturers have to sacrifice one or the other, but this is not the case here. All these features add up to one mattress that we'd recommend to bring with you on your next outdoor adventure.
PROS:
Self-inflating
Comfortable
Durable with a 50 denier polyester
Affordable
Best fit in 3 seasons
Compact design and weighs 1.4 pounds
Versatile
Warm
CONS:
Not suitable for winter hiking unless paired with others
Only an inch after inflating it – insufficient to use in rocky surfaces
No baffle system on the perimeter or any lining to prevent you from falling off in the night
Based on our unbiased review of this product, we guarantee that you will not be disappointed with the product now that you know where its strengths and weaknesses lie. You don't have to sleep on the hard ground next time you need a rest during your hiking or camping trip; you just need this mattress instead to ensure you get adequate rest.
Sea to Summit Ultralight Mat: Bring Comfort to Your Outdoor Trips
Sleeping is the best thing for making us capable of doing things right, and it also makes us feel great throughout the day. When sleepless night occurs, we all have intense mood and all the things make us feeling nervous and distracted. So, we have to invest in our sleeping mattress not only in our sleeping room in the home, but also when we are in our favorite outdoor location, in order to avoid the inconvenient situations and provide a better quality of the upcoming day.
We are here to help you choose the most convenient sleeping mat on the market. More precisely, we will present to you one of our finest choices, and we would be grateful if you share your opinion with us and tell us if you like our suggested product.
With that being said, we can start our review. A Sleeping mat is one of the tools that you have to put on your outdoor equipment list. But, since there are many types of sleeping mats that you can find it on the market, how to know which one to choose?
The best ones are those called inflatable sleeping mats. The fact that they are using the air as an insulator from the ground, is an excellent point that makes them one of the best offered. This mark provides greater comfort, and that is what you should be looking for. The Sea to Summit Ultra Light Mat is our choice, and we will create a list with its features.
It is a good product for any outdoor activity, more precisely, for light weather conditions like those trips in late spring and hot summer nights. You can also use it for your scouting activities. It offers a great comfort too, and you can buy it for an affordable price.
As you continue to read the chapters below, you will decide if this Sea to Summit Ultra-Light Mat matches your needs and if it is a perfect choice when compared to the alternative products.
Review
Packaging
This Sea to summit sleeping mat is part of the ultra light series that packs in minimum volume and minimal weight. The air sprung cells are contributing to this feature, while maintaining the support of the mat. Comparing to air mats with baffles or tubes, this sleeping mat is lighter, therefore more suitable for your backpacking gear.
However, what's impressive is that the pressure support it is providing is also better than the tube mats. It is the only type of mat in which every individual cell could absorb individually the pressure without distributing it to the closest cell. Having this in mind, we definitely recommend this sleeping mat for your next backpacking trip.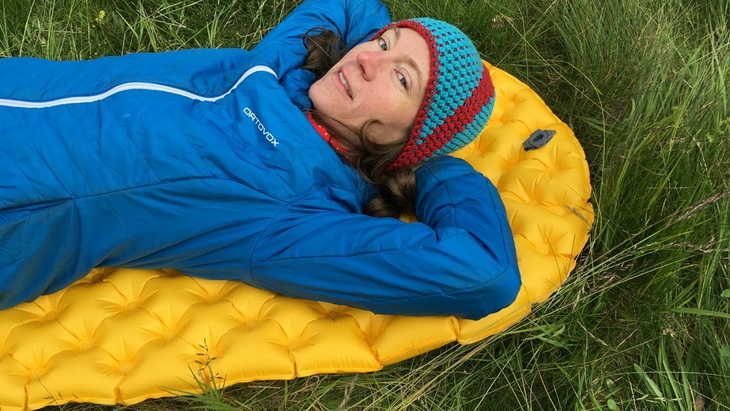 This sleeping mat is also pretty thin which is why we don't recommend it for rocky terrains. However, it is perfect for flat surfaces. Nevertheless, most air sleeping mats are not recommended for rocky terrains and the ones that are don't last a long time. Because of its thickness, we recommend this sleeping mat for stomach and back sleepers. However, for the side sleepers, it might feel a bit uncomfortable depending on the ground and your own preferences.
Design and durability
The inner design of the Sea to Summit sleeping mat is responsible for its remarkable features that are incomparable to other products on the market. Having this in mind, the most important feature this Sea to Summit sleeping mat possesses is the Air sprung cells. The air sprung cells are allowing the user a better support and they are making sure you don't end up touching the ground with your body. They do so, by copying the individual coil system in sprung mattresses.
This means that the pressure that your body is making when sleeping on the mat is distributed evenly throughout the entire mat. Even more, the pressure which is applied to one air sprung cell don't affect other cells. For this reason, the weight is distributed evenly and you are left with a high quality mat and a good night's sleep.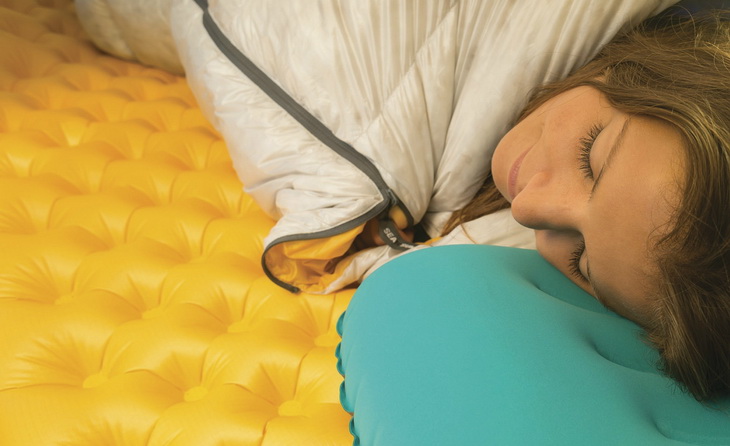 The manufacturing technology Sea to Summit is using in the manufacturing process of this sleeping mat is aeronautical grade, which means that it is a highly durable product that you are going to use for years to come. Mouth inflation is usually being avoided by the sleeping mats manufacturers since there is a risk from internal mold growth. When you are inflating the mat, you are letting inside a moist and bacteria rich air which over time could lead to mold growth that could infect you if used continuously.
However, the Sea to Summit are using a specific design that is preventing this process. They are using liquid anti-microbial treatment in the form of TPU bonds, that is sticking to the shell of the fabric and is creating a protective layer that is acting as a barrier between the bacteria and the shell of the fabric. This is allowing you to use the mat for a long time, without the risk of growing mold inside and having to get rid of it after a while.
Insulation
The Sea to Summit sleeping mat is made from high quality nylon material, more specifically 40 denier ripstop fabric which is contributing to the lightness of it. However, this material is also very durable and it is somewhat resistant to damage. Even though these features might come very useful in warm weather conditions, the insulation is not one of them. Its thin material, is usually making the users doubt whether it is going to get punctured or not.
However, as long as you use it on the leaves or dirt, you have nothing to worry about. It will serve you for many wilderness trips to come. The thinness of the material also means that you would be nice and warm, but only if the ground underneath is warm. When the temperatures drop, you will need a different type of material with heavier insulation properties.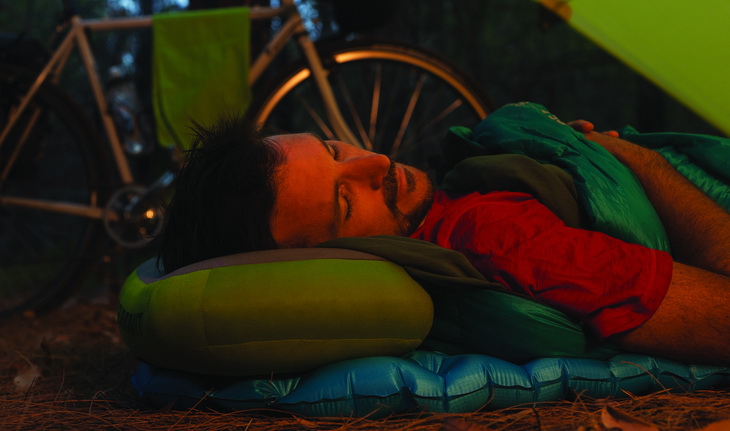 Nevertheless, even though the material is thin, compressing it and packing it to the small sack might be a bit more difficult. It requires that all the air is pushed out of the mat and no one likes this activity. However, the comfort during the night is making up to the lack of insulation, at least in spring time.
Warmth
Even though the temperature rating is not mentioned in the manufacturer's specifications, this is spring and summer sleeping mat. Even though its comfortableness is indisputable, this is not an insulated pad for cold weather conditions. If you are looking for such item, look through our other pad reviews. Its R value is 0,7 which makes it less of an insulator between you and the cold ground and more of a supportive pad that will keep you comfortable throughout the night.
Comfort
The comfort of the Sea to summit sleeping mat is greatly connected to the intensity of inflation that you choose to do. The inflation and deflation process is usually the main issue with the air mats, which greatly affects the comfort level. However, the Sea to Summit inflation system is easy to use and quite effective and, most importantly, it stays the same for the entire night. This ensures that you start with a certain comfort of your choice and wake up with the same one in the morning.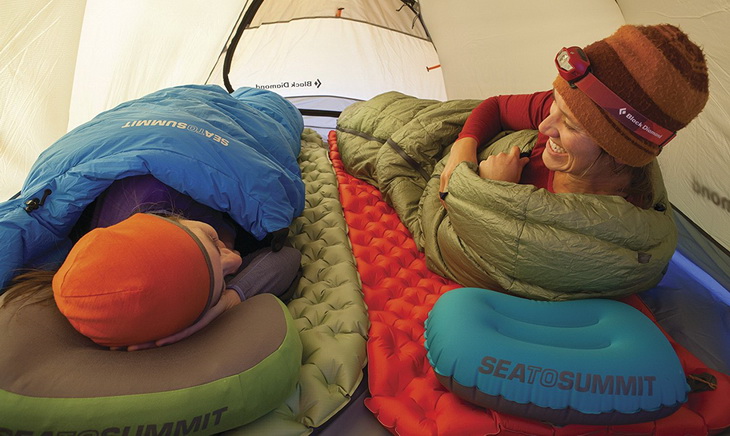 For this reason, they are pending their patent approval, which would make them the only company using such inflation system. The mat contains low profile valves and this is the main reason why the inflation and deflation are occurring faster than with any competitive model. There is also a possibility of tuning your comfort level, which means that you could sleep on a harder surface by inflating it more or a softer one with only 30 seconds of inflation.
In order to do so, this mat is equipped with the Sea to Summit pump which is completely electronic free, even though it is as effective as an electronic pump. The inflation process wouldn't require you more than 1 minute even if you intend on inflating it hard. It would only require 8 to 12 full breaths, so there is no risk of fainting while inflating it as it is the case in some competitive products. The deflation process, however, is even faster and it takes only few seconds.
Water resistance
This sleeping mat also comes with a high quality sack, which is made from nylon material. This makes the sack completely waterproof and breathable. It is important for the packaging sack to be breathable because if it gets wet for any reason, it will partly dry itself while you are transporting it.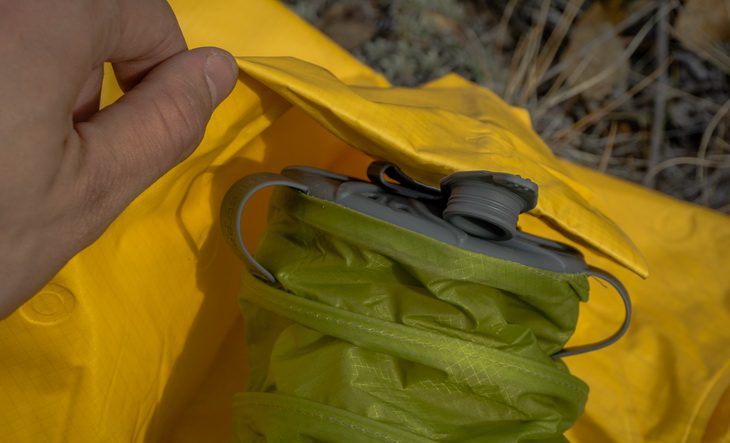 However, this doesn't mean that you shouldn't dry it out before compressing it; drying it out on the sun is always necessary. A 3M kit for repairing the mat is also included in the package. The kit contains 6 patches, and one spare silicone valve insert which works one way.
Noise
The main issue with air pads, is their noise, when you are moving in the middle of the night. Unfortunately, Sea to Summit hasn't solved this issue and it is a bit noisy if you are a restless sleeper. However, there are mats that are more noisy, so it is not too bad. If you are a tight sleeper though, this sleeping mat would be ideal for you.
Unique features
Ultralight: This sleeping mat's main advantage compared to similar models on the market is its weight which is considerably lighter. It owes this feature to the thinness of the mat itself and its durable material. The material is durable enough so that it won't get damaged easily, yet it is light enough so that you have a considerable lower amount of weight on your back during your trip to the nature.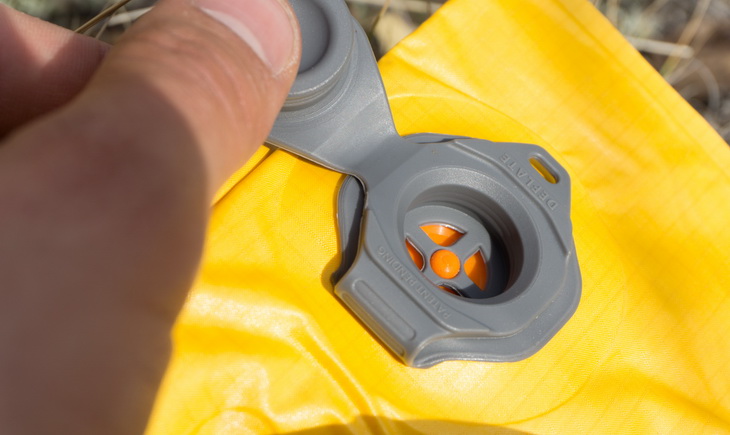 Inflation and deflation: Sea to Summit have recognized their leading feature and failed a patent request for their inflation and deflation technology. With the help of multi function valves, the inflation and deflation process is very fast and effortless. As mentioned before, the process itself, doesn't take more than a minute and only 8 to 12 mouth inflations depending on your preferences for the sleeping mat's hardness.
Air sprung cells: The air sprung cells is a feature that is bringing this sleeping mat to the top between its competitor's models. The cells have an involvement in the packed volume of the sleeping mat as well as its minimum weight properties. They also let it operate as a pocket sprung mattress which means that the support they are providing is incomparable with any other model on the market.
Value for Money & Guarantee
The Sea to Summit provides a great value for the price offered, at least if you use it as recommended. If you try using a sleeping mat such as this one on colder weather, or on rocky terrain you will of course be dissatisfied. However, when used right, you will definitely be amazed by the features and comfort it has to offer.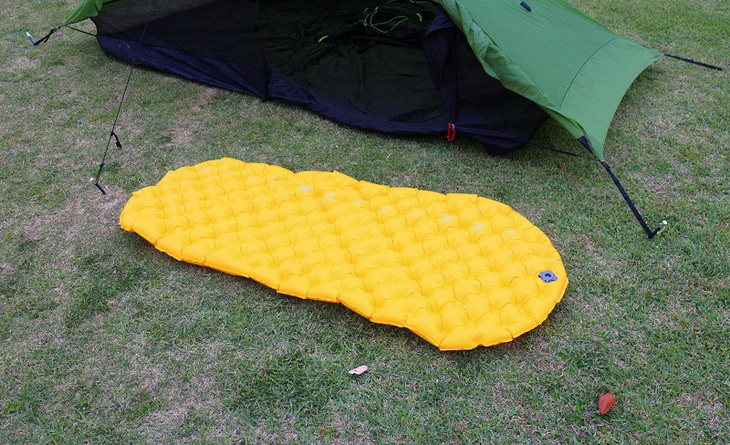 It provides the user a wonderful experience, starting from your trip, all the way to the top of the mountain. It will not let you down and it will prove to you that there is a possibility that a product is both lightweight and with an excellent quality.
If you have ever spent a restless night on an uncomfortable sleeping pad, you are ready to go through every buying guide available online. Hopefully this buying guide gave you an answer to all of your questions and doubts regarding sleeping pads intended for hikers, backpacker, and campers. You have certainly learned about which mat to take on a long expedition and which mats are more suitable for a one night sleep.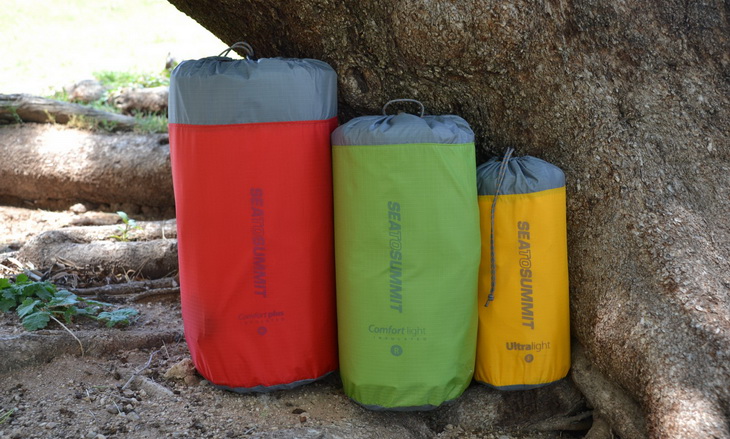 Presented above are all the features and the downsides of this product. We have included our own review as well as the opinions of the other users. It is up to you to choose the lightest, cheapest or the best version of a mat, according to your own opinion and your needs.
Pros:
Extremely lightweight
Easily inflatable
Easily deflatable
Antimicrobial technology
Comfortable
Cons:
Bad customer service (stated by the users)
Thin at first glance
A bit noisy
The trick in finding the best option for you is always measuring the pros and cons and whether the pros are compatible with your needs. One product could have all the desirable features, but if those are not suitable for your trip, every feature it has is redundant. Therefore, above all, you should consider your trip's conditions and decide accordingly.