Therm-a-Rest Z Lite Sol Mattress: Great Outback Comfort
Are you an explorer? Do you enjoy trekking through dense forest paths, or up high mountains, or across vast strips of land? If so, then chances are you can't always get from point A to point B without staying a night in-between. Heck, you may be trekking out there with the sole intention of spending many nights in one place (aka camping).
When thinking about an overnight trip, it's important to consider not only where you'll be sleeping, but what you'll be sleeping on. That's why we've written this review on the Therm-A-Rest Z Lite SOL Mattress.
The Z Lite SOL Mattress from the Therm-A-Rest brand is considered by many to be the perfect outdoor camping mattress for both active day hikers staying overnight and passive campers staying at a fixed base. You might consider it the best sleeping option for backpackers during their travels too.
Weighing in at just 10 ounces in its small size and 14 ounces in regular size, the Z Lite gives people of most any body type, the ability to carry it with them on their hiking expeditions without too much effort. It's got a streamline design that provides comfort and insulation without adding any unnecessary weight to your backpack. This sleeping mattress is also incredibly durable, with a closed-cell foam pad design which has been specifically created to be nigh on indestructible.
A decent sleeping spot is often overlooked by inexperienced campers or hikers because they don't realize that after water, food and shelter, sleep is the fourth most important survival element. You will be able to enjoy the outdoors and your trip a whole lot more if your brain is functioning at its full capacity. In order to meet the next morning happy and energetic instead of groggy and uncomfortable, you need to get yourself a decent sleep-on item.
REVIEW
You can choose for yourself whether the Z Lite SOL Mattress is the best choice for you among its competitors on the market with this detailed review. So without further ado, let's get into it. Positives come first, so here are some of its great features.
Packaging
This pad does not come with the detachable components you would expect to find in mummy bags. However, it comes with a closed shell form that acts a barrier to moisture and keeps you dry throughout the night. Its egg-crate shape keeps the air flowing and its material offers perfect insulation from the ground.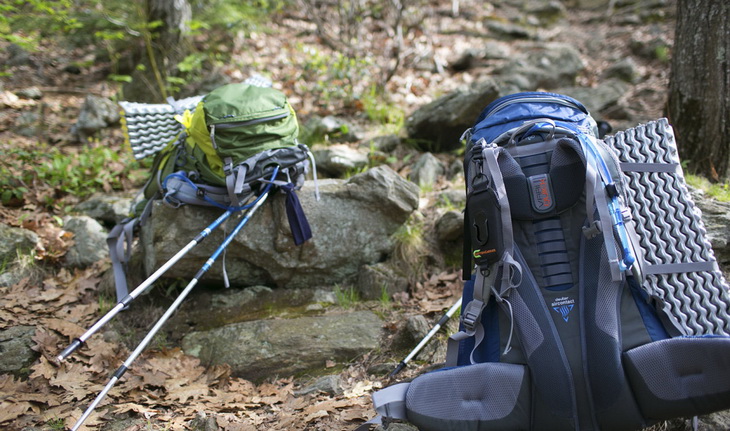 You can use this product with inflatable for a more comfortable experience. Its foldable design makes it ideal to carry around as the product can easily be stored in the backpack.
Design and Durability
With an extremely durable foam pad make-up, the Z Lite SOL Mattress provides overnighters the option of folding parts of it up double in order to even out the rough terrain and enhance their sleeping experience. These factors and others are summarized briefly in the table below.
| | |
| --- | --- |
| Best use:  | Camping, hiking, backpacking |
| Color:  | Silver and yellow |
| Unfolded Dimensions:  | 51 x 20 x 0.75 inches [Small]72 x 20 x 0.75 inches [Regular] |
| Folded Dimensions:  | 20 x 5.5 x 4 inches [Small]20 x 5.5 x 5 inches [Regular] |
| R-Value: | 2.6 |
| Material | Closed-cell foam – ThermaCapture |
| Unfolded Shape | Rectangular |
| Folded Shape | Cylindrical |
| Cost | Around $30USD [Small]$40 USD [Regular] |
| Shipping Weight | 1 pound |
Another particularly impressive thing about the Z Lite is its durability. Quoted as being nearly indestructible, it's nice to know your investment will go the distance with you. When buying any outdoor item, you should opt for the roughest and toughest version – that way you don't have to worry about your gear when deciding on which locations and terrains to go exploring in. The world becomes your oyster.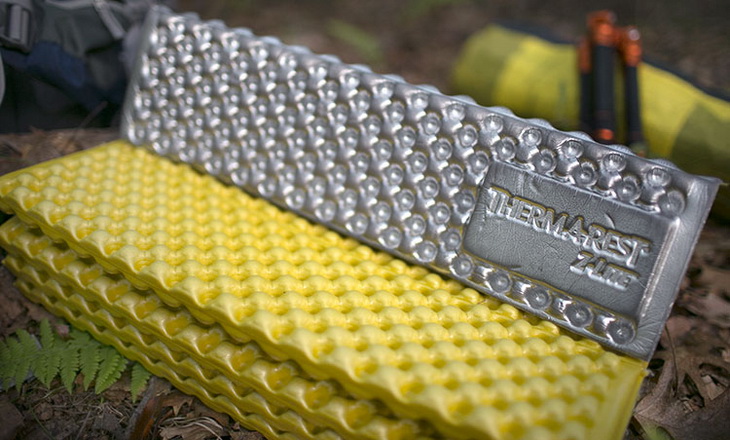 If there's a reason to purchase this product, it is because the Z Lite Sol is as tough as it can be. By far, this pad is the toughest and most durable products as it is able to withstand harsh weather and hardship zones. The aspect of comfort aside, this pad can be used in sharp rocks, uneven surfaces, or on cacti (although not recommended).
You can even take a hole to this product without destroying it. Its greatest advantage lies in the fact that the Z Lite Sol is indestructible in the field. If two parts of the pad come apart as a result of extreme folding (which is hardly conceivable), you can still tape them back together and your product is good to go!
Comfort
The Z Lite Sol is not the most comfortable pad on the market. Due to its small thickness, it is quite impossible for this gear to compete with other products that have a much higher thickness such as the 2 inch-Therm-a-Rest XLite. When you are using it on the ground surface, you'll discover that this pad doesn't have the thickness needed to provide adequate support for your nook and crannies.
When used on uneven surfaces, the Z Lite Sol is outdone by the thick air construction pads since they are unable to absorb lumps. With that in mind, there are better ways of using the Z Lite to provide the comfort you would need when you are sleeping in the wilderness.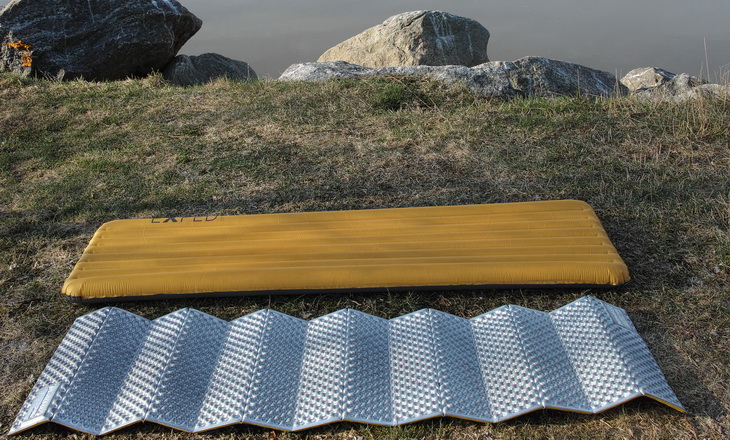 When using this product, there are a number of things which will assist you to get an amazing sleep. Anytime you are about to go to bed, you need to make sure you have selected the right site on which to place your pad. If you can find a place that has a level and smooth surface, then you are on your way to an excellent night's sleep. If you find a non-clumpy grass or pine duff, that will be a plus for you.
Additionally, you can try sleeping on your back so you can reduce the pressure points on your side or hip. Perhaps, one of the best ways to ensure you get the best out of these pads is to hike and trek enough so you can be very tired. That way, you will be too tired to feel any discomfort when you finally put your head to rest.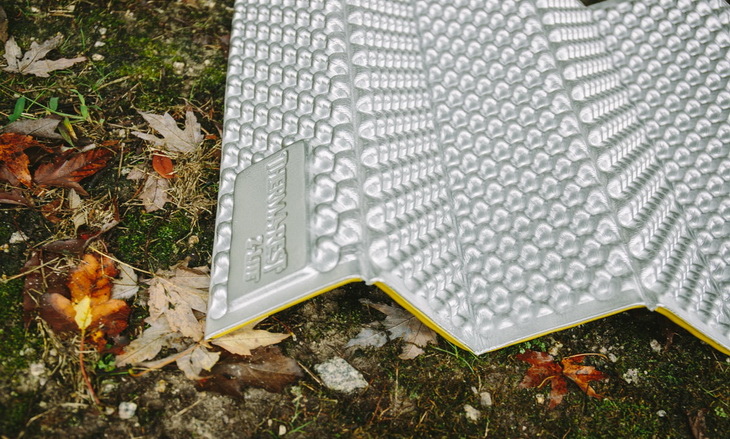 There have been instances when people have complained about this product the first time they use it, but on the second night, they are too tired from the long day of trekking and therefore sleep the entire night and wake up rested and ready for the following day's explorations.
If you like hammocking, the foam pads such the Z Lite Sol will perform much better compared to their inflatable counterparts since the suppleness of the pads places the under you. On the other hand, the inflatables usually slide out from under making them quite uncomfortable. Although comfort is not Z Lite's strongest feature, this pad definitely delivers on other aspects.
Weight
If you are in need of a super lightweight mattress to use in your outdoor adventures, the Z Lite is an excellent option which is ideal for your countless ultralight endeavors. The small version for this gear weighs just about ten ounces, making it the super light option. Additionally, you can cut its weight by customizing the edges to create a mummy shape.
The short version of Z Lite Sol is also preferable due to its lightweight aspect and performs extremely well when supplementing your winter inflatable pad. For four ounces or more, you can have the regular version of this product which is seventy-two inches long.
One of the greatest benefits of the foam pads is the fact that they can be used in replacing the back panel of almost all backpacks. The versatile Z Lite Sol is particularly suitable for this task due its excellent folding capability. You can fold it into two sections by stacking the two halves in parallel and sliding in inside your backpack.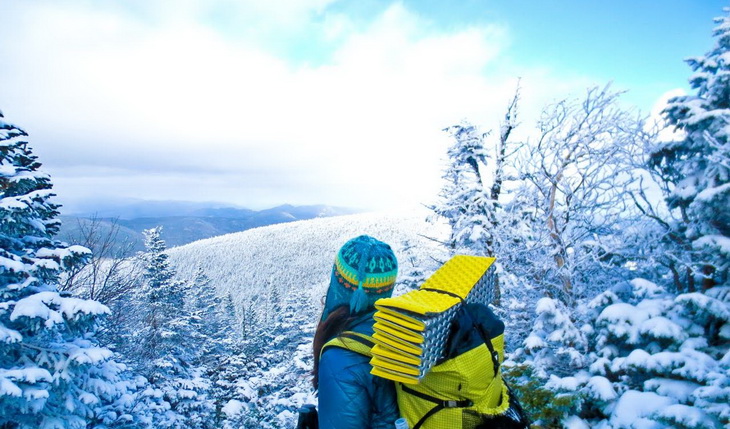 Of course, this will deduct your internal space, but a lot of backpack frame-sheets will have just about the same weight if not more. That way, the foam pads are able to equate to approximately zero additional ounces if they can be used to replace the frame!
When you compare the Z Lite Sol to other pads, you'll notice that this product packs down small thanks to their accordion style and dimples. According to the manufacturers and experts, this product packs down to approximately nine liters unless it's trimmed smaller.
If you own a backpack that has a removable back panel, you may opt to use the Z Lite Sol in place of the panel, although some volume in your pack will be lost. Alternatively, you can attach the Z Lite to the outside of your pack such that it takes no volume inside the pack.
Unique Features
The Z Lite Sol is a gear that comes with so many unique features to make your outdoor expedition a memorable experience. These features are as follows:
Has a share-able unisex design
Aluminium surface for heat reflection
Easily maintainable with water wash and dry
Comes in two sizes to give consumers greater choice of length
Egg-carton foam pattern increases the overall comfort of the pad
Durable foam can withstand years of abuse
Warmth
The Z Lite SOL improves upon old designs by adding a silver reflective coating to boost warmth. With an R-value of 2.6, this pad is warm enough for three-season use, but should be supplemented in winter, or rather, this pad should be used to supplement an inflatable pad.
Though it isn't very warm in itself, the Z Lite Sol is a superb pick if you're looking for a foam pad that you can couple with another pad for winter. Remember, R-value functions in a linear way, so if you add this pad, to a pad like the XLite that has an R-value of 3.2, in ideal conditions you'll have an added R-value of 5.8!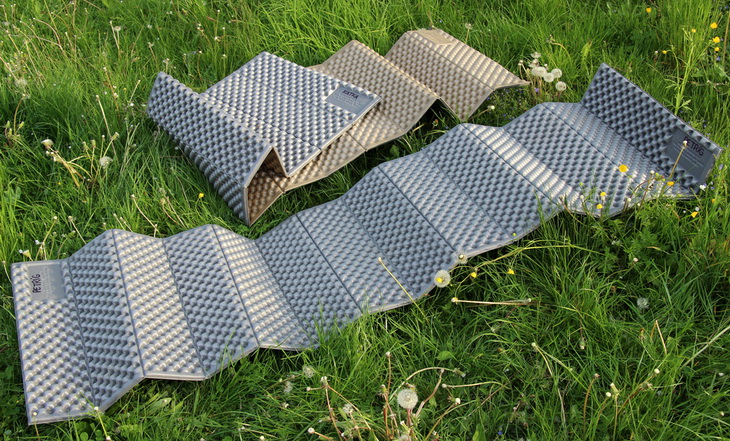 If your plan is to use the Z Lite Sol during the winter, there are a number of things you will need to consider. First, the dimples in the pad are meant to assist the product to fold up smaller and enhance its warmth. However, the fact that these dimples get filled with snow makes the pad a little less desirable. You will need to brush the gear completely to get rid of the snow before you can go to sleep or you risk having the snow melt into your gear.
During the winter, any sort of moisture is undesirable and must be battled with all means necessary. Placing the Z Lite Sol on the ground under another inflatable pad will help mitigate this problem since any melting snow will get trapped between the inflatable and the Z Lite Sol.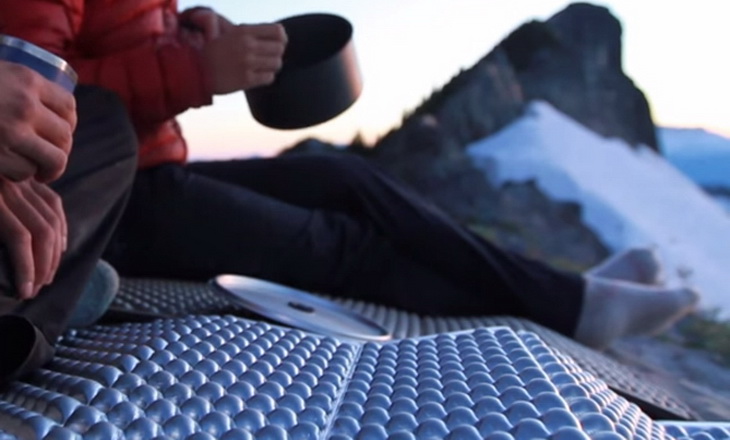 Another drawback with the dimples is that these features increase the pad's surface area, particularly on the bottom, maximizing the degree of heat that could be lost. If you're camping in a tent, it is advisable to place the pad on top of your inflatable after you have brushed the snow off the dimples.
Overall, this product is an excellent foam if you intend to supplement the inflatable. However, a special amount of care is needed if you are to get the best out of the Z Lite Sol.
Value for Money and Guarantee
The Therm-A-Rest Z Lite SOL Mattress is a brightly colored rectangular foam sleeping pad. Priced from around USD $30 to USD $40 for the small and regular sized versions respectively, this is a very affordable pad. What's surprising is the amount of functionality the designers are able to provide within this price bracket
The Z Lite SOL Mattress from the Therm-A-Rest brand is considered by many to be the perfect outdoor camping mattress for both active day hikers staying overnight and passive campers staying at a fixed base. You might consider it the best sleeping option for backpackers during their travels too.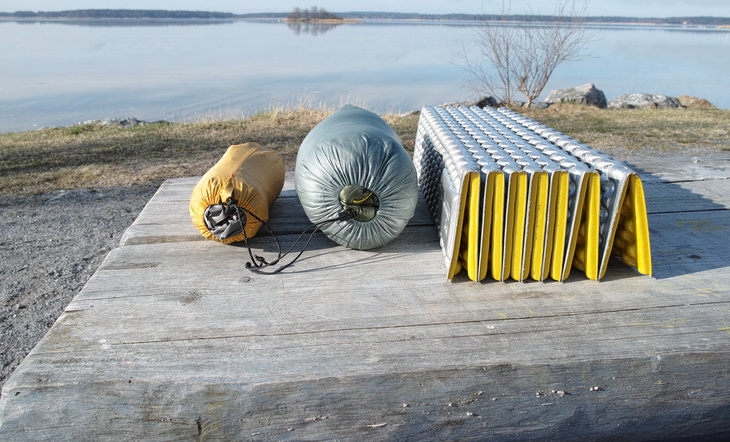 Weighing in at just 10 ounces in its small size and 14 ounces in regular size, the Z Lite gives people of most any body type, the ability to carry it with them on their hiking expeditions without too much effort. It's got a streamline design that provides comfort and insulation without adding any unnecessary weight to your backpack. This sleeping mattress is also incredibly durable, with a closed-cell foam pad design which has been specifically created to be nigh on indestructible.
To summarize, this is a quick list of pros and cons mentioned by real users of the Z Lite Mattress:
Pros:
Comes in two sizes
Great insulation warmth
Easy to set up and pack up
Lightweight
Reasonably priced
Highly durable
Cons:
Thin material can make for an uncomfortable bed base
Once again how you interpret the above results will depend entirely on what is important to you personally. Overall, however, we'd say that users seemed very satisfied with the Z Lite Sol Mattress. Even so, it's worth comparing this item with other products on the market, so here's our take on that.
Lightweight, durable, highly insulating and easy to pack up/down, the Z Lite Sol is capable of meeting the needs of most avid hikers and campers when it comes to sleeping bases. We like that it comes in two sizes so that you can have more choice over what you are going to be getting.
Remember to think about where you'll most likely be using the Z Lite Sol Mattress and to choose the sizing appropriately. A decent insulated item to sleep on will improve your camping experience tenfold.We'd highly recommend the Z Lite based on all the information in this review.
The Western Mountaineering Sleeping Bag: The Most Important Outdoor Gear For Adventurers
The difference between backpacking and hiking is that the former implies you will spend at least a night in the wilderness. As a result, backpacking can be quite different from hiking, especially when you consider the duration you will be spending outdoors and the kind of gear you will need to take with you.
However, whether hiking or backpacking, a rough night spent in the wilderness could ruin your entire experience. Since a sleeping bag is crucial for most of these trips, looking for one that suits you will go a long way in ensuring you have a memorable expedition.
The best sleeping bag should cover you in a cocoon of comfort and warmth, enabling your whole body to recover, so it's ready for the next day's expedition. But selecting the right gear can be a little cumbersome.
That is why we are going to show you the Western Mountaineering Cypress Gore WindStopper -30 Degree Sleeping Bag so you will have to search no more! This semi rectangular sleeping bag is so comfortable and warm, that you can literally sleep in really frigid temperatures and still stay toasty inside! Let us dive into all of the information about this summer time sleeping bag!
Review
Packaging
Your sleeping bag will come compressed in the package that is just a little bigger than 6 x 14 x 22 inches. The package weight should be about 7 pounds and include the sleeping bag as well as the stuff sack so you can compress your bag down to a size that lets you tote it around.
Durability and Design
This sleeping bag is designed to be semi rectangular, very warm, and cozy. It is designed with a storm flap, draft tubes that keep cold air out, and is weather resistant with the Gore Wind-Stopper. It is also highly durable, has a left side zipper, and will last you for many years of outdoor adventures! This sleeping bag has proven to be great for summer use, but it can be used on warm winter nights as well.
It has a temperature rating of 25 degrees F, so it will work down past freezing temperatures. It may get too warm for you if the temperature outside is too warm, but it gives you the ability to vent the sleeping bag so you do not feel too warm or get sweaty. This bag is made to give you the perfect sleeping experience no matter where you are sleeping. If you feel the need for more padding, you can put a sleeping pad inside of it with ease.
Shell and GWS
The shell of the Cypress GWS is excellent and adds to the amazing features of this bag. This component is extremely water resistant and highly breathable as well, given its weight-to-performance ratio. The GORE-TEX WindStopper shell offered by Western Mountaineering makes the sleeping bag ideal for use in humid areas as this feature is water repellent. Good breathability, is essential in a cold weather sleeping bag as the build-up of perspiration will compromise the down's lofting power during your extended trips.
Insulation
The Western Mountaineering Cypress LZ Gore WindStopper Sleeping Bag is amazingly wide, with more girth and insulation compared to other bags, in its rating. Even though the Cypress GWS isn't a mummy bag, it's capable if keeping you warm at thirty degrees Fahrenheit.
With an average loft of eleven, this bag will engulf your body with a wall of the best thermal protection. The bag consists of 850+ fill power premium goose down. The Cypress Gore Wind-Stopper is an excellent way to cover yourself in a warm goose down as each of them is filled with almost fifty ounces of it.
In addition to its excellent fit, the Cypress GWS Sleeping Bag is made of a down collar that runs on the upper side of the chest to prevent heat from escaping during the night. Additionally, this product has a full zipper which is significant for venting in warm weather. The down filled draft tube is also important as it helps prevent side drafts.
A goose down is the most compressible and the lightest insulator available, giving a bag a surprisingly high warmth-to-weight ratio. In that case, a 30o down bag would weigh less compared to a synthetic sleeping bag of the same rating. Down insulation is important for hikers or backpackers who are looking to pack more efficiently.
Manufacturer Recommendations
Do not store a wet bag. Always ensure the sleeping bag is dry before you can store it
For goose down options, never store them in a stuff sack. Store them in large bags, such as the laundry bags. The synthetic options are quite forgiving and can be stored, at least for some time, inside the stuff sack
If you have to wash your bag, make sure you utilize a front-load machine, with some cold water and soap.
Never dry clean a bag, especially those filled with goose down.
Value for the Money
The value of thus sleeping bag is one that is hard to bear. One of the greatest reasons why most backpackers would go for quality down sleeping bags is that these products have a long lifespan, and the Cypress GWS is not an exception. Compared to the synthetic products, these models can be easily stuffed and unstuffed without damaging their insulation. If you can acquire a quality sleeping bag that can handle the on- and off-trail adventures, you'll be able to save a lot of money in the long term.
At about $1,130, the Cypress GWS sleeping bag is quite worth the investment. In addition to that, if this bag is able to withstand abuse, and can sustain being used for an extended period without losing its efficiency, then it's worth the investment. Given its features, the Cypress GWS can be used for all backpacking adventures, as well as periodic ski tours and mountaineering expeditions. These aspects are what make it a go-to option whenever you are in need of something that can serve you efficiently while in the wilderness.
Cypress LZ GWS utilizes down from free-range mother geese. With its features, you can use this bag to climb mountains and camp in areas you've always dreamed of. As the wind blows through the night and the cold is almost freezing your bones, you can zip yourself in the Cypress GWS for warmth. As mentioned, the bag is packed with 850+ fill power down to create a loft of about 11" so you are able to sleep soundly, dreaming of accomplishing your tour objects come the next day.
The Gore WindStopper shell fabric offers the weather resistance you desire in extreme temperatures and weather. Who would have imagined that all the warmth of this sleeping bag can weigh in at about 7 pounds?
The Cypress GWS comes with outstanding features that make it suitable for your outdoor needs. These include an insulated draft tube on the inside of the zipper combined with a storm flap covering on the outside, a three-dimensional draft collar (insulated), a GWS outer shell material, and a second zipper that allows the bag to open entirely around the foot. Other features of the Cypress GWS are as follows:
Full down collar
64/39" foot/shoulder girth
Insulated external hood ruff
5 ¼" V-block side baffle
This sleeping bag compresses down to a smaller size in a compression sack. This is an important aspect for backpackers looking to save some space on their pack. If you are a mountaineering enthusiast, you are aware that the size of the sleeping bag is directly proportional to the size and weight of the backpack you carry, since it takes almost fifty percent of the space in the pack.
The GORE-TEX WindStopper fabric, the soft, lightweight, and lofty materials of the Cypress GWS make this product quite attractive and a suitable place to sleep in. If you prefer comfort over anything else, then this is the right product for you. It offers the softest and most comfortable touch compared to most sleeping bags within the same ratings.
PROS:
Temperature rating down to -30 degrees F
50 oz of down filling
Weather resistant, Has Gore Windstopper
Adjustable Collar
Warm and well insulated, includes storm flap
5 inches of loft
CONS:
Very pricey, over $1,000
Only comes in one color
Gets too warm around 50 degrees F
When it comes to choosing a backpacking equipment such as a sleeping bag, there are numerous aspects you will need to consider to ensure you make the right choice. This guide provides some essential pointers that will help you to make an informed decision as far as selecting a sleeping bag is concerned.
Make sure you choose a bag that has the features that will enable you to survive the outdoor conditions. One of the best options that would suit you during cold weather camping and backpacking is the Western Mountaineering Cypress LZ GWS Sleeping Bag.
Jetboil Stove Review: The All-in-One Integrated Stove & Cookware System
Nobody enjoys doing chores. Unfortunately, even when you're out in the wild these necessities can be unavoidable. Cooking, cleaning, heating, washing… these are simply requirements if you want to stay at all hygienic during your outdoor expeditions. Our best advice is to simply get them over with as quickly as possible.
The more efficient you are about these activities the faster they'll be done and the quicker you can get on to enjoying fishing, hiking, hunting or other adventures. The easiest way to speed these things up is to utilize the right equipment and we think we've found a real wonder on the market. The Jetboil Flash adds a whole new level of convenience to outdoor water heating & cooking.
So much so that we've decided to provide you with a full write up of its features and how it could be used to make your next outdoor trip even more fun by minimizing your 'chores' time. So without further ado, let's jump straight into discussing the features of The Flash Personal Cooking System in this Jetboil Stove review
Review
In less than two minutes the Jetboil Flash can help you prepare a hot drink or an instant hot meal. This is the ideal choice for anyone who is in need of efficient cooking/boiling energy. The Jetboil Flash is well-organized, lightweight and fast.
High fuel efficiency, and all-in-one package, means that you do not need additional cookware. Here are the specifications that make the Jetboil Flash Personal Cooking System special.
Packaging
The very first consideration to make when shopping for an outdoor cookware is packaging. The Jetboil Flash Personal is one of the lightest, weighing in at 0.88 pounds when removed out of the box. The weight along with the system's dimensions (7.09 by 4.09 by 4.09 inches) makes the stove the ideal choice for backpackers. The cookware will fit comfortably in your backpack.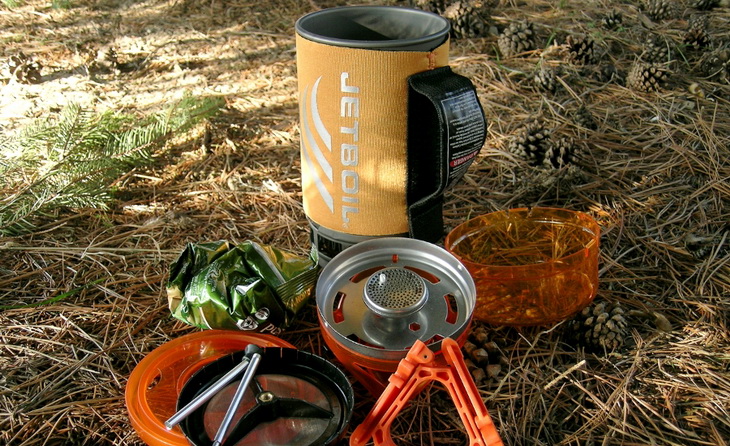 Apart from the weight and dimensions, the major benefit of the Jetboil Flash Personal cookware is simplicity. Basically, it contains fewer parts: 1 liter of the FluxRing cooking cup, adjustable burner, and fuel canister. The fuel canister and stainless steel burner stow suitably inside the cup. This makes backpacking remarkably easy.
Design & Durability
The cooking system's construction is undoubtedly higher end with the burner being made of stainless steel and the cooking cup of aluminum. Both these metals are known for their durability, which is an incredibly important factor when assessing outdoors products. You want to know that a bit of rough and tumble won't break your brand new stove, and we're fairly confident you can be sure of the stove's durability.
The cookware seems to be a cooperation of a well-made cooking cup and an unrivaled ignition system. Out of the box, you will observe at first glance the cute packaging. Each piece fits in the cup for easy transport. This simply signifies how resourceful and versatile the design is when compared to other backpacking stoves in the market.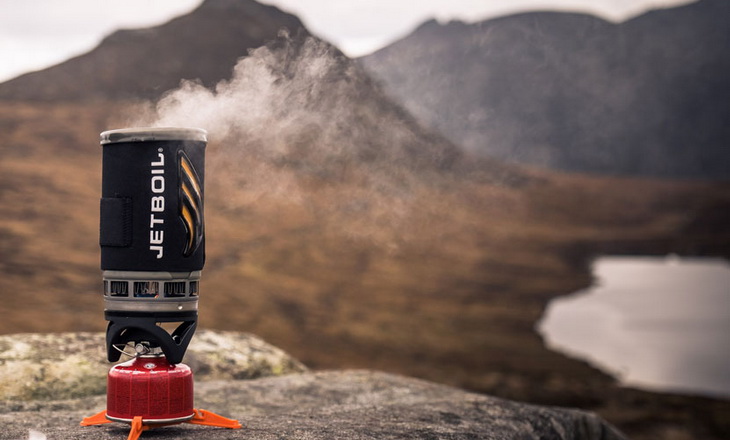 The multipurpose plastic cover found at the bottom of The Flash Personal Cooking System's cooking cup is very useful for the minimalist outdoor packer. You'll find that it has three uses (that we can think of), namely use as a measuring cup, a small bowl, and as a protective cover on the bottom of the cooking cup to keep your hands from being burnt by the heat while you enjoy whatever is inside.
The cooking system has a clever tripod for added efficiency. The tripod is specifically engineered to be used on rugged terrain and accommodates the little stove perfectly. We think the idea has a fair bit of merit, and anyone who has spilt hot water on themselves before, is sure to agree. The tripod doesn't add any inconvenience to your transportation needs either as it folds up and fits with the rest of the system into the cooking cup.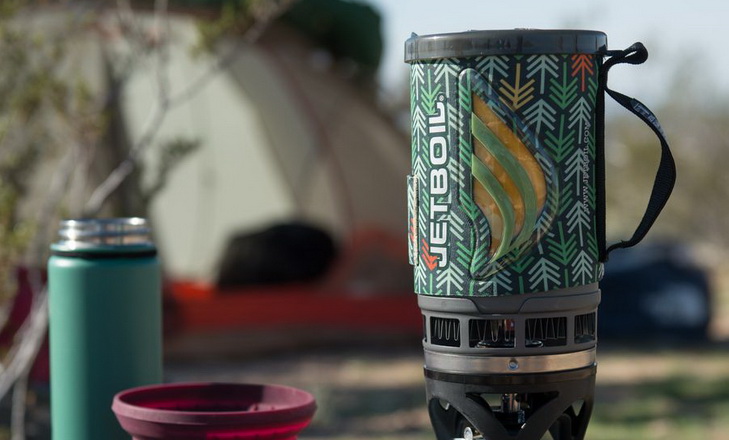 The cooking cup of The Flash Personal cookware not only includes something useful at its base (the plastic cover), but also at its top. Built into the neoprene upper lining of the cup is a wonderful little heat indication window. This window will slowly turn orange as the interior contents of the cup heats up, which is a highly resourceful feature when boil water.
You could probably tell that the cup is ready without this window when you are boiling water as the device tends to make a small bubbling sound and let off some steam. Where the heat indication window really shines is when you are cooking up a delicious rehydrated mini meal. Just sit back and relax and wait for the little window to turn orange to let you know your food is hot and ready to be consumed.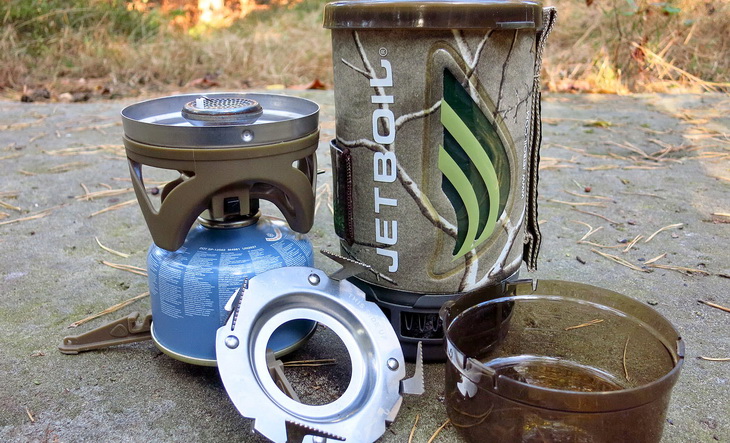 The Flash Personal Cooking System is ready to go in any weather thanks to the elemental resistance screen. The system not only runs off hot jet fuel, but protects its flame from wind and rain by utilizing a barrier around its flame area. This is great because when it is cold and rainy what can often help to brighten your mood the most is a nice cup of hot cocoa or coffee – this stove makes that possible.
Ease of Use & Efficiency
To use the stove, you have to link the canister to the clever tripod. There is an ignition button, which you have to push to turn on the stove once you have switched on the gas flow. The igniter has actually simplified your work. Then add water to the 1 liter cup and have it fixed to the stainless steel burner. The one liter capacity will allow you to prepare two cups of hot coffee or cocoa in two minutes.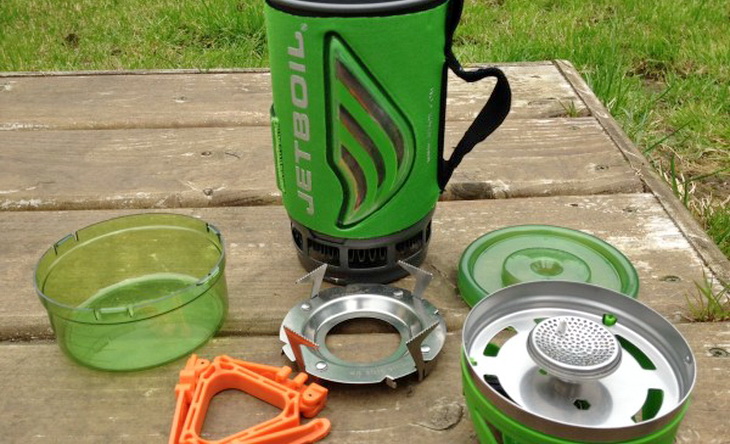 Basically, the one liter capacity is sufficient, but you are strongly urged to boil less amount of water at a time to circumvent accidents. The reputation of the Jetboil Flash Personal cookware is attributed to its boil time. In actual fact, the boil time is the main reason why most outdoorsmen like the cooking system. Impressively, the stove boils one liter of water in two minutes under normal conditions, and four minutes in extreme conditions.
Storage after Use
To ensure the durability of the cookware, you have to store it correctly after every use. Once you are done cooking, turn the control valve off so as to put out the flame. Then go ahead and separate the cup from the base of the stainless steel burner. Have the stabilizer removed from the fuel canister. At that point, unbolt fuel container from the burner base.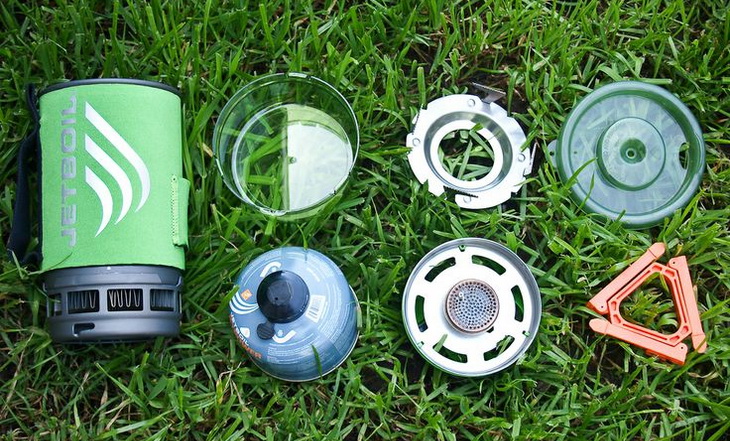 Make sure you replace the plastic fuel cap. For easy storage, position the stabilizer in the bottom of the cup, followed by the burner base, and eventually the fuel canister. Place the lid to secure the items inside the cup. Never forget to disconnect the fuel cartridge once you are done cooking. To ensure the cup is not damaged, you are advised to wash it by hand.
Unique Features
Jetboil FluxRing Technology: The burner is handily connected to the cooking cup by use of FluxRing tech. This ensures there is minimal or no heat loss during boiling or cooking, thus better boil times.
Built-in Windscreen: Unlike traditional camping stoves that are known not to function properly in windy conditions, the Jetboil Flash Personal has a built-in windscreen that allows it to perform exceptionally in windy climate.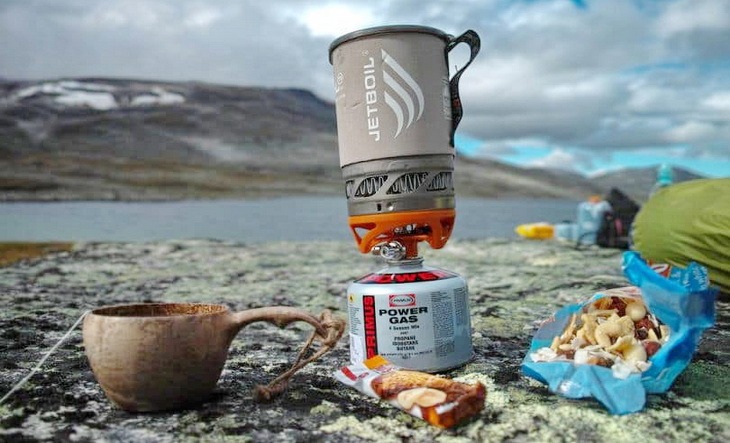 A Resourceful Neoprene Lining: The cooking cup is enclosed by a neoprene lining that maintains the warmth of drinks and food for the considerable time duration. The lining also incorporates a color changing window that always signals when food or drinks are hot.
Quick Ignition Ability: The quick ignition ability of The Flash Personal Cooking System makes it ideal for big families who will have multiple users handling it. There is an auto-start filament built into the system which enables the jet flame to be created without the use of matches. Anyone who has ever forgotten to pack matches for their trip will know that this is a big help.
Value for Money & Guarantee
The Jetboil Flash Personal Cookware is worth your every dollar. The price is reasonable when you consider its amazing features and performance, especially its boil time. At approx. $100, you get a fully functioning stove that prevails both in normal and windy conditions. Some individuals may consider it to be an expensive unit; but camping and hiking enthusiasts will appreciate the price.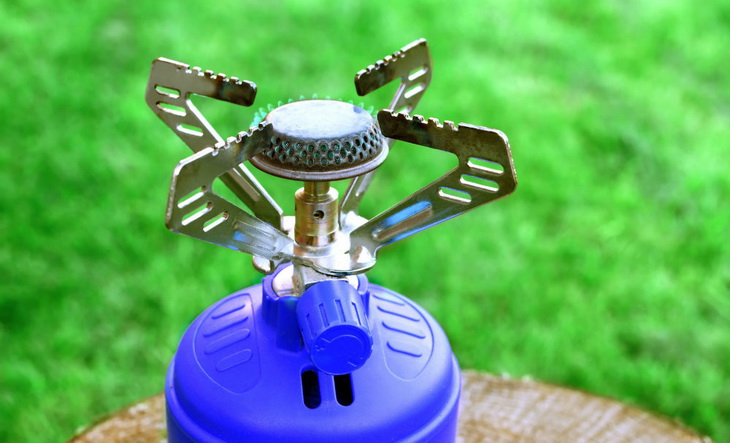 There are compatible accessories and products that are sold separately, including: 1.5L cooking pot, 1.8L spare cup, 1L tall spare cup, and an 8-inch FluxRing fry pan. There is a manufacturer's warranty for the cooking system in case it does not perform as expected under normal use. However, the warranty does not cover damages due to improper use, accidents, negligence, poor maintenance, and normal wear and tear.
The Jetboil Flash Personal is the best backpacking canister stove system that addresses the shortcomings of traditional cooking systems. The most defining feature of the Jetboil Flash Personal is the fact that it is an integrated stove system. As aforementioned, it combines a fuel cartridge with an effective built-in windscreen, stabilizer, stainless steel burner and a FluxRing cooking cup.
As far as the Flash Personal cooking system is concerned, every part has its unique purpose and contributes to the general performance of the stove. The FluxRing heat exchanger makes sure that the flame is uniformly distributed at the base of the cup so as to maximize fuel efficiency. The creative temperature indicator alerts you when food or drink is hot and cooked, saving fuel.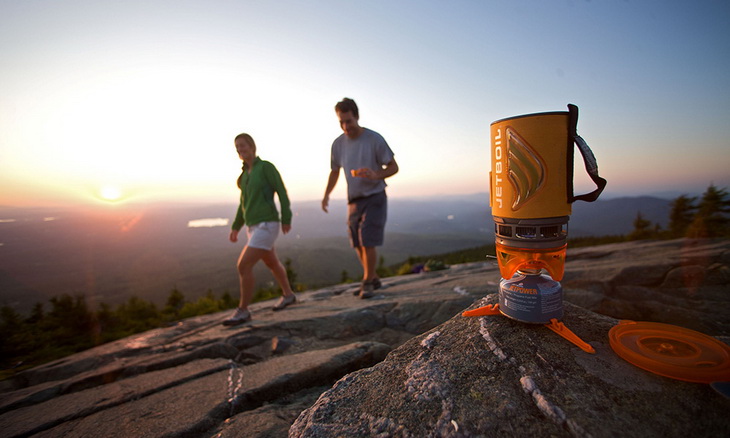 The adjustable burner is enclosed by an inbuilt windscreen so as to reduce heat loss and at the same time improve fuel efficiency. You really do not need a match to ignite the stove, since the push button electric igniter is enough to start a flame. This makes the Flash Personal System a very reliable choice for emergency situations other than regular outdoor adventures.
Pros:
Stabilizing tripod base for added convenience & safety
Plastic cover acts as a measuring cup, small bowl & heat protector
Interactive cooking window indicates when food is hot & ready
Fabric cozy provides helpful handle and attractive exterior
The overall construction is high quality with durable materials
Resistive barrier allows the stove to be used in any weather conditions
Auto-start filament for matchless immediate ignition included
Cons:
32-ounce capacity only provides enough room for 1 or 2 people rehydrated meal preparations.
Relying on the supply of isobutene and propane gas (unable to run off renewable energy)
Does not work well in high altitudes and very cold climates. 
A decent Jetboil stove is a worthwhile investment that can take hours off your outdoor 'chores' time over the course of years. The Flash Personal Cooking System is one of our favorite choices because of its clever design and easy portability. If you're looking to create quick and easy meals or simply boil water for purification, then it's a great option.
BioLite Stove Review: Highly Efficient and Good in an Emergency
These smart stoves are absolutely amazing. As such, we've decided to write a full BioLite stove review on our favorite one: The BioLite Wood Burning Campstove. We'll cover the good, the bad and the ugly about this little stove in this review. So if you've been looking for a camp stove in general or at this one in particular, then be sure to read this review. We'll start with the specifications.
Review
Packaging
This unit will be shipped to you in a 5 by 5 by 8.3 inch box that weighs 2.9 pounds. The unit itself is lightweight and compact, weighing in at 2.1 pounds. This means that you should have no trouble fitting it in a backpack in case you need to carry it with you on a hike. Plus, it definitely won't weigh you down.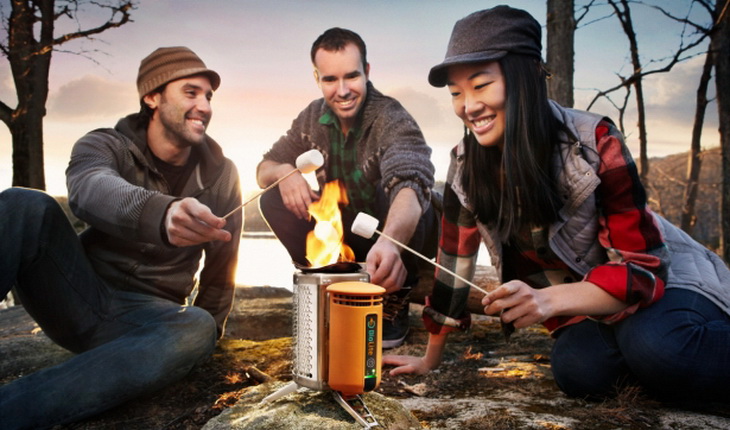 The stove consists of two main components: the stove itself and the power module (where the USB port, fan and internal battery are located). The power module can be placed inside the stove when not in use, reducing its size considerably to be the same as a 1-liter Nalgene water bottle. It also has a grill top for balancing your pots when placed on top the stove. It also comes with a nylon stuff sack that you can place it in after unboxing for proper storage.
Design and Durability
The BioLite Wood Burning Camp stove is a sturdy piece of equipment built to make outdoor fire use easy. Its technology features are some of the best in the outdoor stove industry, including both a USB charging port and fans to help fires burn hotter. That it runs off biomass as well makes this stove particularly attractive due to emergency and environmental benefits.
The stove's frame is mostly made up of aluminium. This metal is known for being both strong and lightweight, which is a great combination for any portable item. Although still too heavy to carry on extremely long hikes, we certainly think it'd earn an easy spot in the car or boat transport as well as short backpack trips.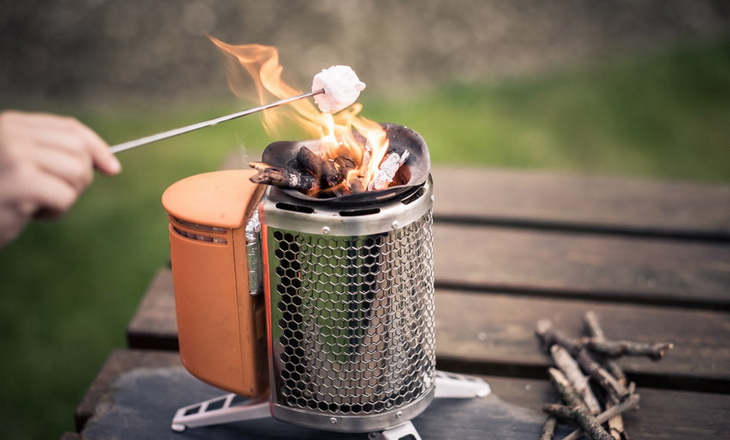 The creators of the stove have made it a good size in terms of dimensions, not adding more than needed but not leaving anything crucial out either. You might want to test carry an item of similar weight and dimensions to ascertain whether this stove is right for you.
Overall the shape and outer design of this stove are well thought through. They complement its inner, smart technology design well, by making it functional. We appreciate that they've kept it relatively small so as to make it easier to transport. There are a few other feature worth mentioning though, so here's our take on the main features to be aware of if you're thinking about buying this stove.
Unique Features
This stove comes with some rather unique features that give it an edge over the competition.
Thermoelectric Generator: This BioLite Campstove allows its owners to personally generate electricity from nothing more than burning wood. This means that you can choose to take a variety of USB chargeable items with you when visiting the great outdoors and charge them as you cook or boil food/water. This thermo-electric generator is perfect for those who want to enjoy the great outdoors while remaining contact-able.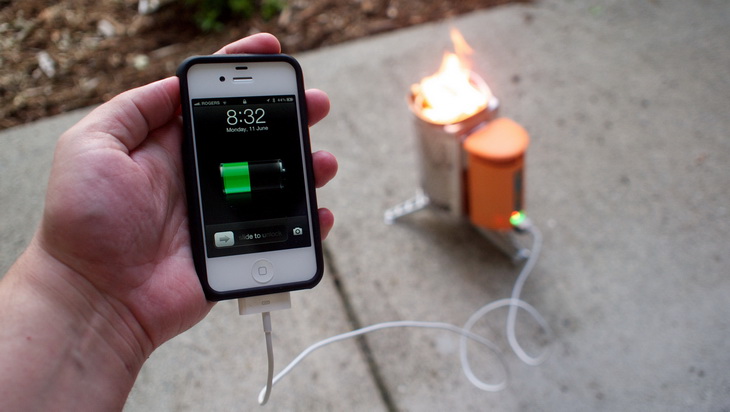 You'll get approximately 60 minutes of talk time on regular smart phones from 20 minutes of charging time on a strong fire. We'd recommend turning off your electronic devices now and again anyway to enjoy the outdoors more, but in general this is a fantastic concept. The best part about it is that the thermo-electric generator technology works off principles and airflow, meaning it's usable for as many times as you want or have wood for. No running out of battery charge ever again!
Burn Increasing Fan: The internal fan and gas jets built into the BioLite Campstove is ideal for outdoors people who want to get their fires up and running quickly (and don't we all?). Having appropriate kindling or dry wood certainly helps, but isn't a necessity with this cool stove's design.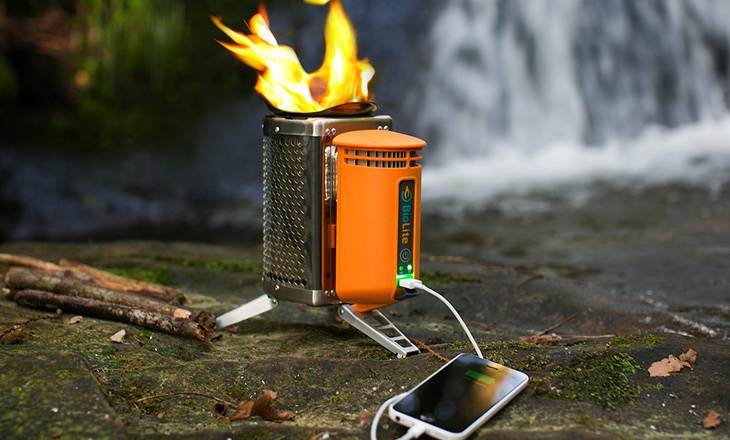 The HI/LO set-able fans push air into your fire which improves the combustion system. You'll get a hotter, more efficient flame, much faster, and some find the air circulation helps with smoke control as well. If you intend to get started on making your fires late in the evening, this is a perfect choice for you.
Biomass Fuel System: The BioLite Campstove takes renewable energy to a whole new level. The system not only runs off renewable biomass like twigs and sticks found while out and about, but also takes that renewable energy and turns into electrical energy to charge your devices with! We love that it's not reliant on coals or petroleum. It's a much more environmentally friendly approach to fire starting and we give it a big thumbs up for that.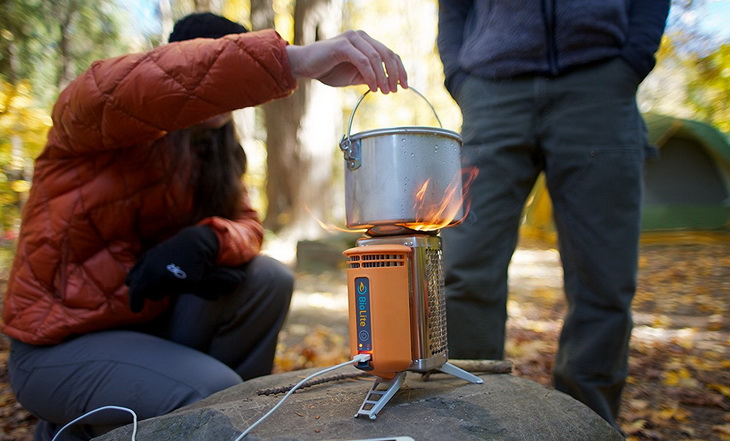 NOTE: This stove would be useful in emergency situations because it is not reliant on petroleum or electricity to start. You can charge your electronic devices from it, despite power line outages using just biomass (twigs and wood) from your surrounding gardens. Stay on the grid!
User Friendly Interface: The big, ON button, and easily discernible USB charging port on the BioLite Campstove, are just a couple of the user friendly features of the design. When looking for a smart camp stove you ideally want something that anyone can use. This system makes it easy to start fires by storing a little charge to fan your initial fire starting with.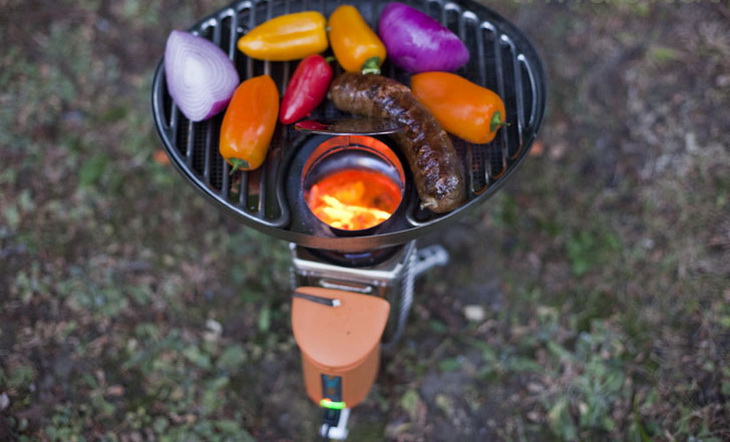 That means even beginner fire starters should be able to get the flames going in this stove. For those who have tried fire starting themselves, you'll know it's not always as easy as it looks, especially if your wood is damp. That's why the user friendly fans and gas jets to help start this stove's fires are so great.
Value for Money and Guarantee
Once you consider how much you will actually be saving in terms of purchasing fuel for a gas powered stove, the decision to get the BioLite Campstove becomes easy. Furthermore, you also don't need to buy any extra emergency battery packs in case your phone dies on you.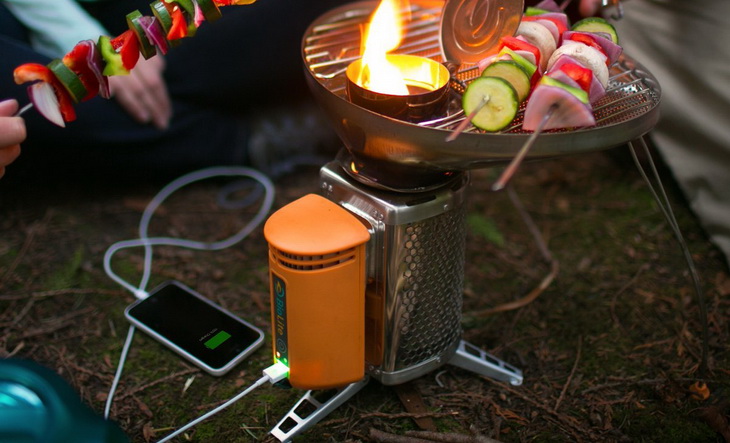 The unit costs approx. $130 on Amazon. It is currently not available on the BioLite website, so people looking for this unit will have to purchase it on Amazon. Once you add up the specifications, it is easy to tell that getting the BioLite Campstove will provide you with great value for your money.
We would definitely recommend this BioLite Wood Burning Campstove to anyone looking for a high quality piece of fire making and cooking outdoor equipment. Do, however, ensure that you are aware of the size and weight of the item prior to purchase. To get it to your outdoor spot you'll have to transport it!
In addition, we'd also recommend taking a couple of small fire-starting cubes and some waterproof matches with you when you head out. This will make the fire-starting process even easier, though the design of the camp stove makes that pretty easy already.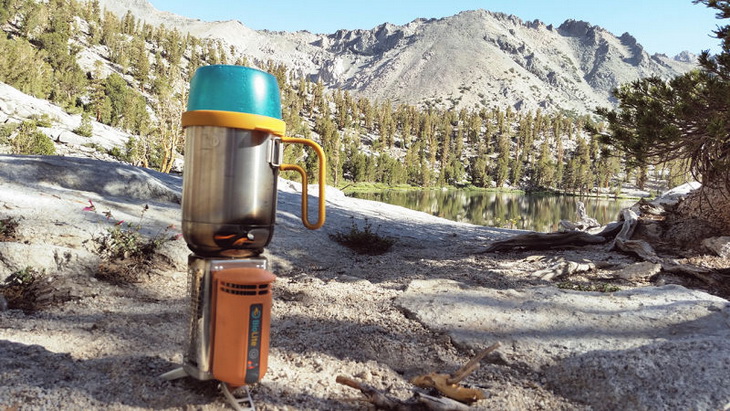 A final note is to choose pots and pans to use with this system that are metal, no more than 10 inches in diameter, and no more than 8 pounds in weight. Other than that, this stove is ready to go. You'll find it adds a whole new level of cool to your outdoor experience and makes cooking/boiling food/water so much easier. When it comes to camp stoves it can be worth digging a little deeper in your pocket to get a great multifunctional product, that will go the distance with you.
PROS:
Compatible with most common USB devices
Can generate better flames than average stoves because of its fans and gas jets
Easy to use scalloped upper design supplies a sturdy surface for pots and pans
Cool to the touch safety conscious honeycomb exterior
Aluminium frame is lightweight and strong
Smart technology runs completely on biomass fuel which is renewable and readily available
CONS:
Slightly heavy
Somewhat bulky
(Some may find that carrying a portable camp stove around is too inconvenient when they know they can just find sticks and build a fire on the ground at their destination site).
A pros and cons list is good to ensure that you get an unbiased review, and we hope that you agree with us that the pros more than make up for the cons. This is based on our educated opinion, and we are confident in recommending this stove as one of the most highly efficient, easy-to-use and useful outdoor stoves around. If you take it to the great outdoors for off-grid living, you will not be disappointed.